Finally the vacation we where planning to have. We had planned a vacation trip in April 2020 here would first visit Portugal and then a week of cycling in the Netherlands.
Day 1 (June 22nd)
Well that did not work out due to a little virus that took over the world. Now we are making up for it with a 6 week trip to various countries in Europe. Starting with Portugal. Here we are now and that little virus is still around. Portugal still requires a recent negative PCR test before entering. I got tested the day before the trip. Turnss out I cut it a little close as only 1 hr before check-in got the Negative result back. During checkin they did not ask for it. Duhh. Even we arrived in Lisbon they did not ask for it.

Since the plan is to do a lot of biking on the trip. We brought our bikes, both packed up in their Orucases. Mine was the heaviest with 23 kilograms. I even packed my drone in the bike, which is surprisingly heavy. Paula's weighted "only" 19kg. Neither were a problem getting checked in at the TAP Portugal checkin desk.

My carry-on though looked too bulky and was 12kg (4 kg overweight). But after moving some stuff from the carry-on to my backpack, the carry-on looked slim enough, despite still being 2 kg overweight. The desk lady was nice enough to let it go now.
We still had 2.5 hours to spare after we passed through security, which we spend in the Air France lounge in Terminal E at Logan Airport. Paula found the phone charging station, where you can lock away your phone while charging. I had pointed this out to a lady that needed her phone charged as well, who then addressed me with mr. Handsome. ☺️

Day 2 (June 23rd)
The flight took 6+ hours, we had left with a half an hour delay around 11:15pm. After dinner and a movie I was able to sleep for about 2.5 hour. Paula did not sleep well at all. When we were close to Portugal we could start seeing the beautiful cliffed coastline and later the river Tagus that passes Lisbon into the ocean.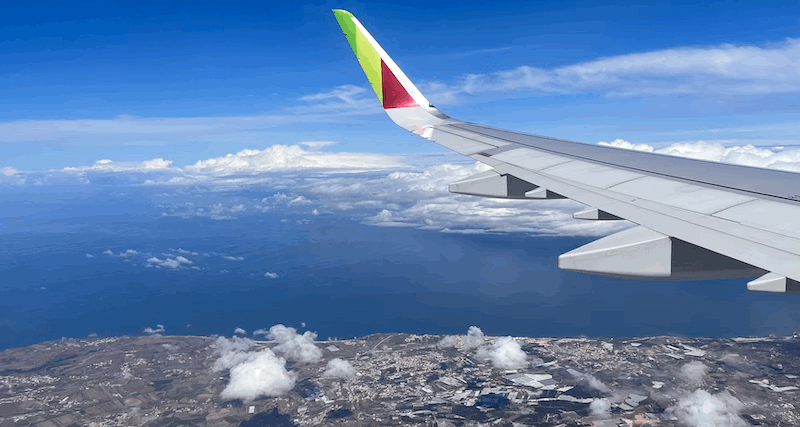 There were long lines for the passport control, fortunately the automatic European passport control line was much shorter. Soon we were on out way to the rental car service.  I had picked a little SUV, it turned out to be a Nissan Rogue with the required space for the large bike cases.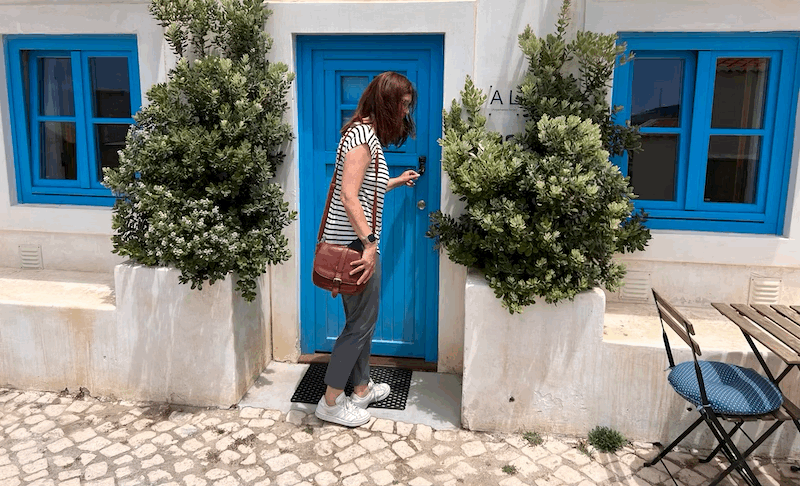 The drive from the airport to the apartment was about 30 minutes. Fortunately I had been practicing my stick shift handling at home with the Honda Fit. The drive to the house started out going thu the outskirts of Lisbon, we passed the Benfica stadium. After a bit of highway, tinier and tiner roads followed to closer we got to the apartment which turned out to be overlooking the ocean.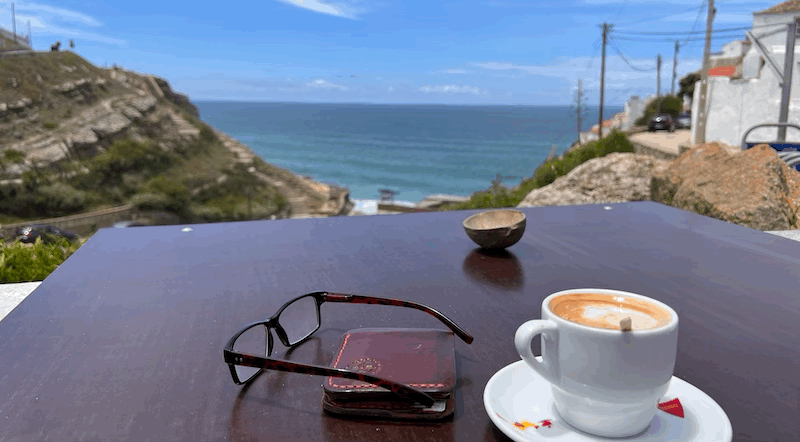 Since we arrived 30 minutes before checkin we found a little bistro and cappuccinos and grilled cheese sandwiches. It's little seating area overlooked the small bay and the ocean. The apartment was part of a old fisher's village hewn out of the rocks. Everything was beautifully painted bright white and blue. With a open kitchen, bathroom and a bedroom that extended deep into the rock It was more spacious than it looked from the outside.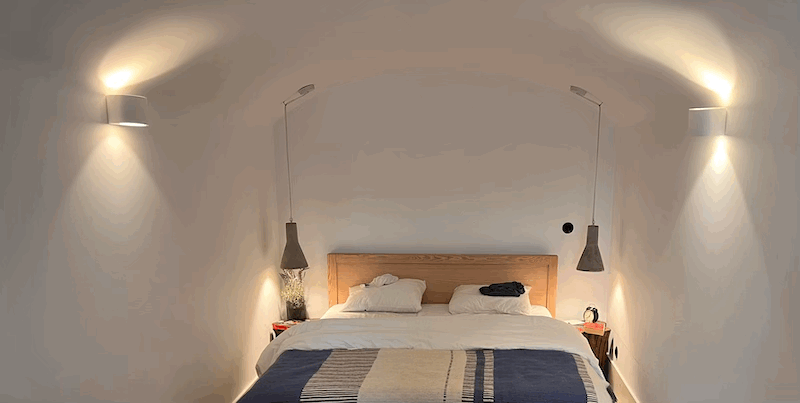 After checkin we walked along the cliffs and enjoyed the views of the ocean and the village (including our apartment) that was balancing on the side of the rocks. We then hung out at at bar overlooking the "infinite" salt water pool overlooking the ocean. After some drinks and sitting in the sun for a bit, we were ready to dive in the pool. It was refreshing and once completely immersed very comfortable.

When we walked back to our apartment, we took a little detour to make a patio seating reservation at a nice little restaurant 200 meter away for 8pm. After a quick shower, we showed up promptly at 8pm and enjoyed a lovely dinner. Paula had the grouper and I had the turbot, to go along the dinner we had a nice vinho verde called Dona Paterna Alvarinho.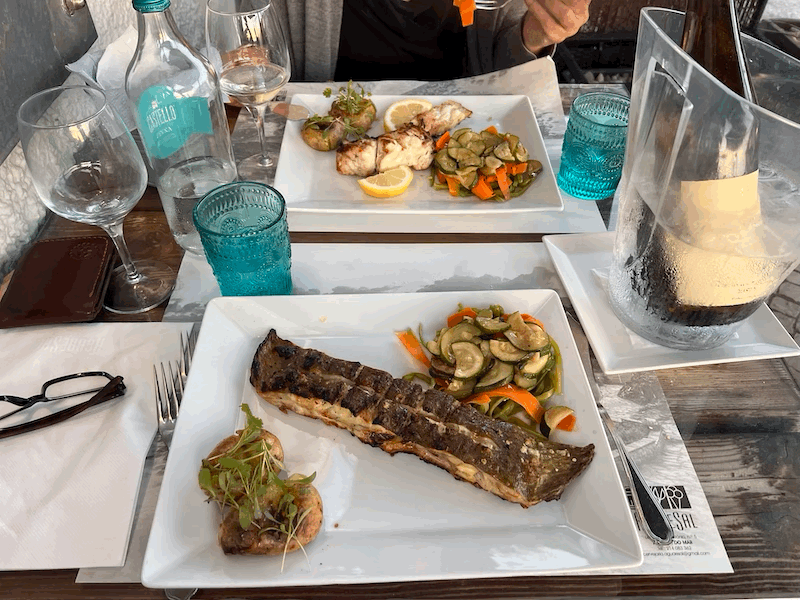 After desserts of chocolate mousse and gelato we were ready to go home and bed. But before leaving we had a nice chat with some co New Englanders from Connecticut with a Portuguese background who give us some great food tips.

Day 3, June 24th
After sleeping for more than 9 hours (83 fitbit score) we went to next town Praia de Maças to get some breakfast and the start of our next adventure. We had tea, cappuccinos and a egg, avocado, salmon sandwich. While enjoying our breakfast, Nino and his family who met the night before joined us and gave us more tips on local food and places.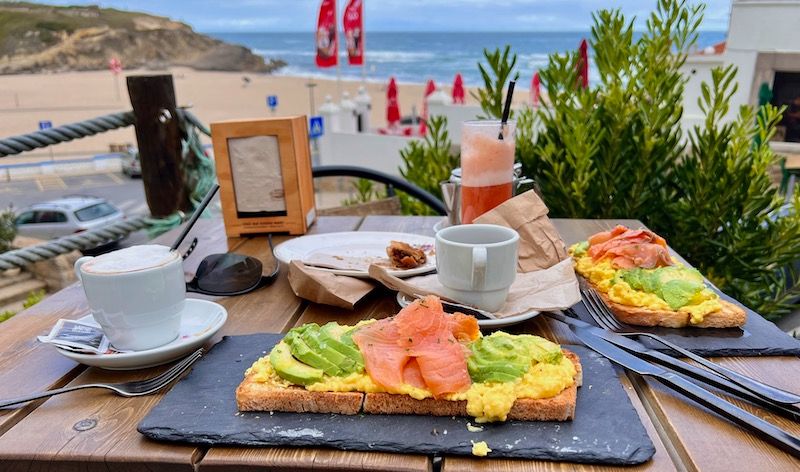 After breakfast we took a classic tram from Praia das Maças to Sintra, a 8 km ride that took about 45 minutes. Watching the driver steer the tram with the various controls was quite a spectacle.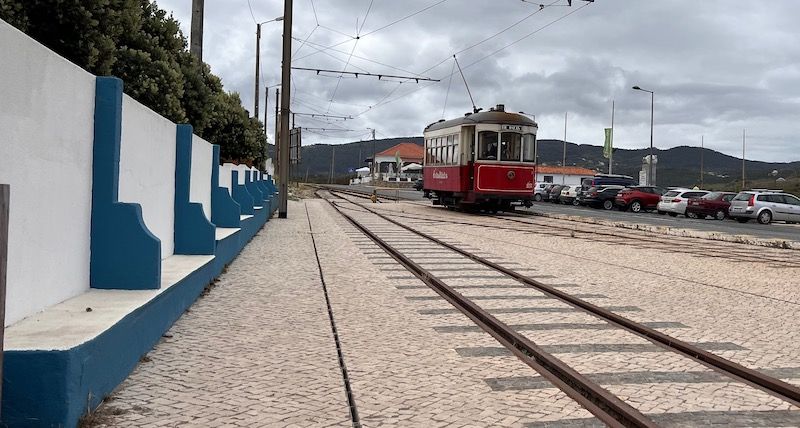 The bell foot control announcing the tram to the other traffic was used frequently and sometimes even intensively when a car would block the rails. At some point a parked car blocked the train and the driver's assistant had to get out and find the owner.

The main attraction for today was Quinta da Regaleira near historic Sintra. It is a palace with large gardens.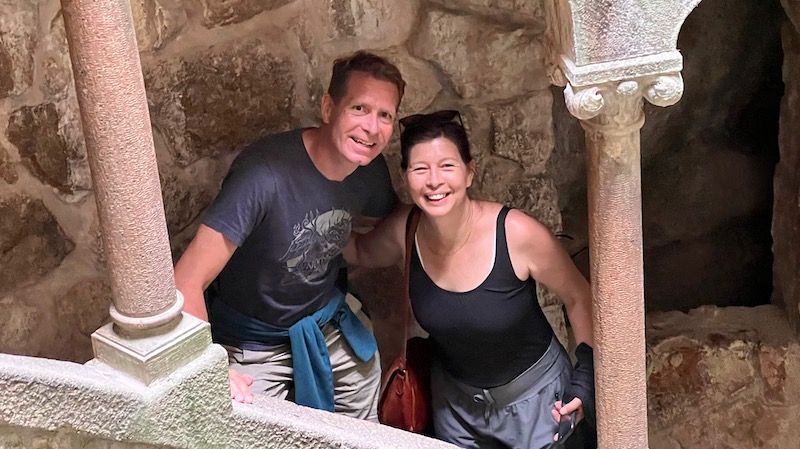 The gardens features all kinds of structures, little caves and water features. We spend hours perusing through it.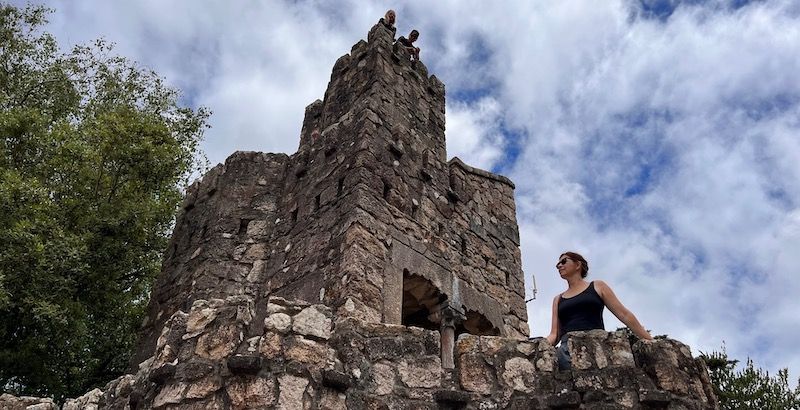 Back into the classic center we followed up on one of Nino's recommendations to get some pastries at Piriquita. We had queijadas and travesseiros. Very tasty. Afterwards we took the bus back to our appartment.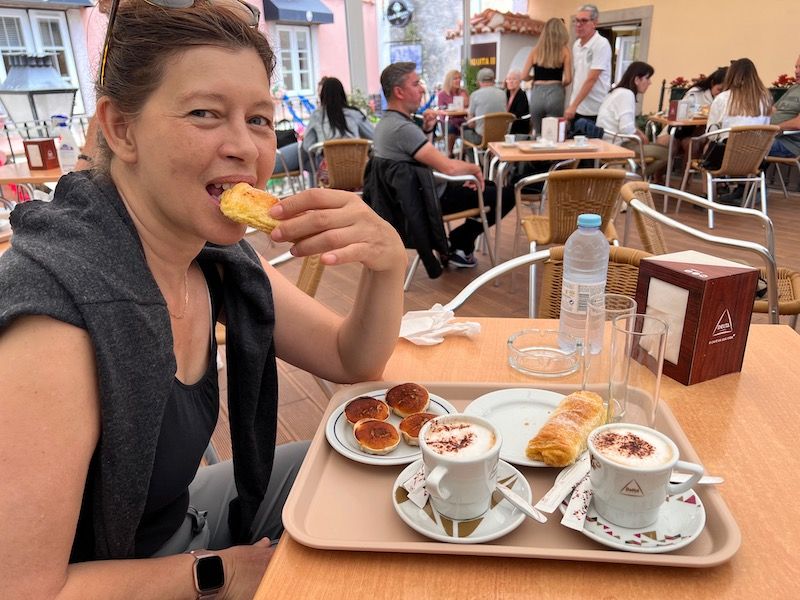 Day 4, June 25th
We started the day with a breakfast based on another recommendation from Nino. He recommended Bolas de Berlim from a small bakery in Praia das Maças. These are freshly baked roles filled with custard cream. We also bought some cheese / chorizo roles for later at lunch. We ate the custard roles with some cappucinos, tea and espresso at the little coffee place we were the day before as well.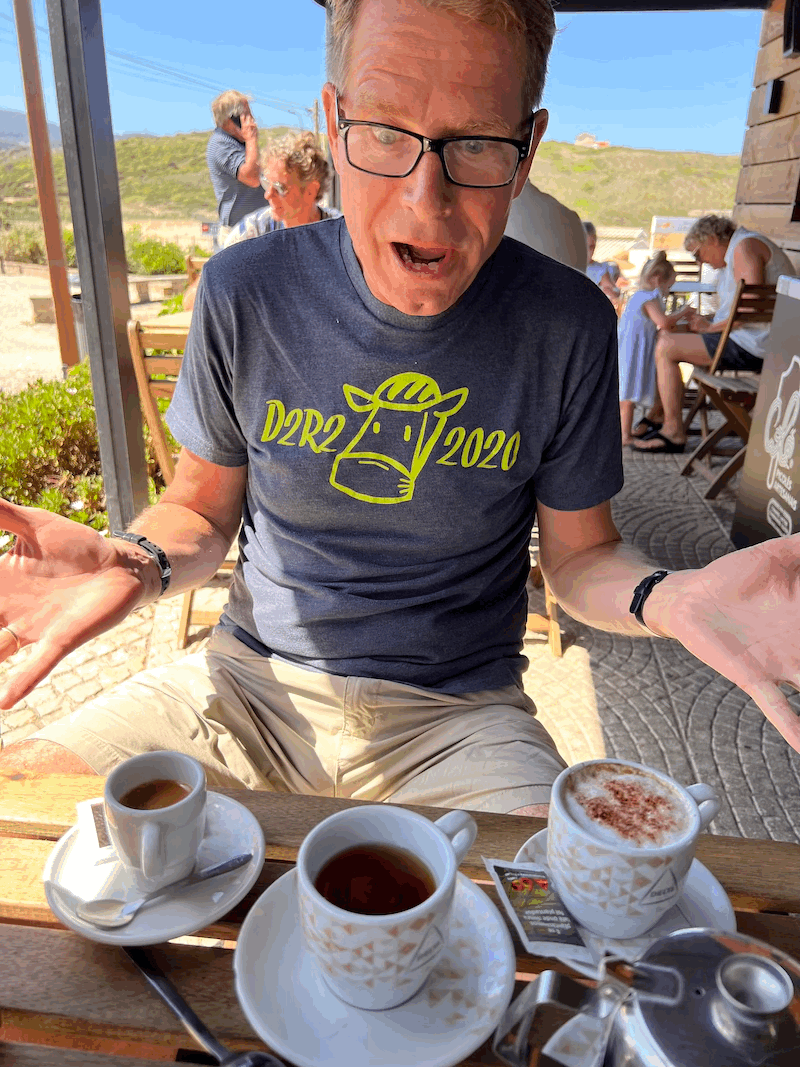 The espresso was an accidental order, I had asked for sugar with my cappuccino but the waittres thought I wanted another Espresso. Definitely caffeinated after that.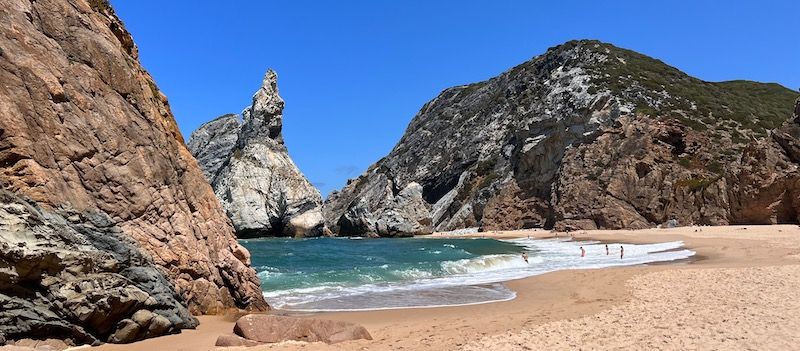 It was a 20 minute drive to our main attraction of the day: Praia da Ursa. A secluded little beach that required a 1.6 mile hike down the cliff edge to get there. We parked the car at the Cabo da Roca. The most westernly point of mainland Europe. From there we hiked along the road for a bit where we saw a bunch of classis VW busses drive by. I waved and they all honked back at us.

After a half mile we took a dirt road that lead to edge of the cliff and the start of a steep trail along side it. It took a 25 minute exciting hike using our hands and feet before we arrived at the beach.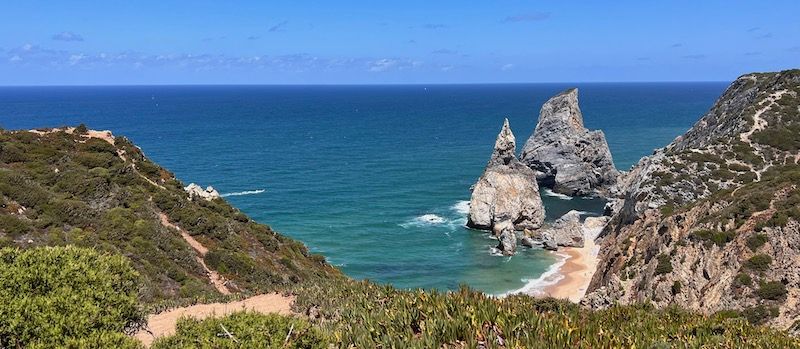 When we finished exploring the 300 meter long beach we found a place to hang out. Paula and I went for a swim in the ocean, which was pretty rough with big breaking waves. I was even able to do some body surfing, but after a big tumble called it a day.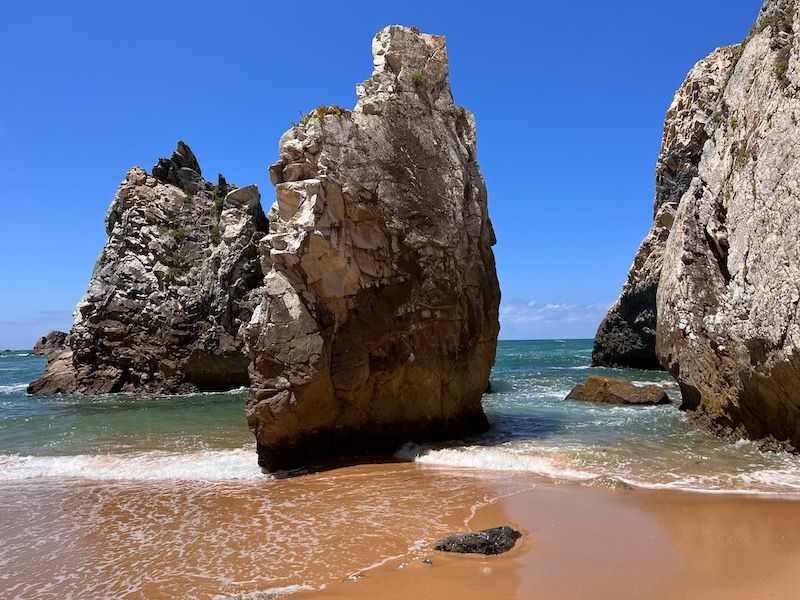 Time for our fresh cheese and chorizo bread lunch. Soon we headed back up the cliff. The way up was much easier than down. A quick look at the lighthouse and the crowded area around the most westernely point marker we headed back at the apartment.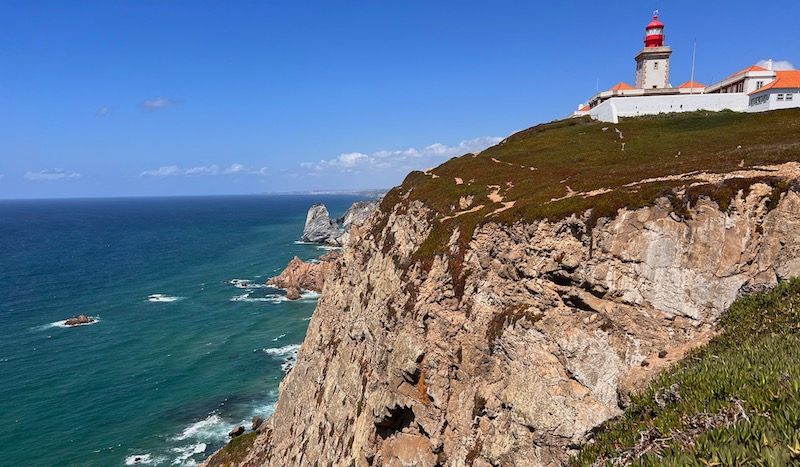 Since it was still relatively early we decided to head down to the bar below at the ocean front. It was busy on this Saturday late afternoon, but found a table with 2 spots available. A young couple from the Netherlands was also sitting at the table and we started a conversation. Turned out to be an interesting conversation as it was 2 hours later when we were all cold and the beach bar almost empty when we left.