This was supposed to be a recovery week, which worked out as we were vacationing along the south Californian coast. However the postponed Northern Reaches mixed terrain ride blew all the recovery out of the water on the last day of the week.
While vacationing we did a lot of walking while in California. No cycling but on Wednesday morning did my regular 5k run. This time in a spectacular setting. I ran along a trail along the Californian coast. With the trail along the rail tracks that lined the Pacific ocean beach. I finished the run on the San Clemente pier out and back.

Later that day we had hired a wave surf instructor to teach us how to surf. I had wind surfed when I was young. But wave surfing had been on my bucket list. We met the instructor on Data Point a famous Californian surfing spot. He had foam (sponge) boards for us. It was lighter and smaller than I had expected.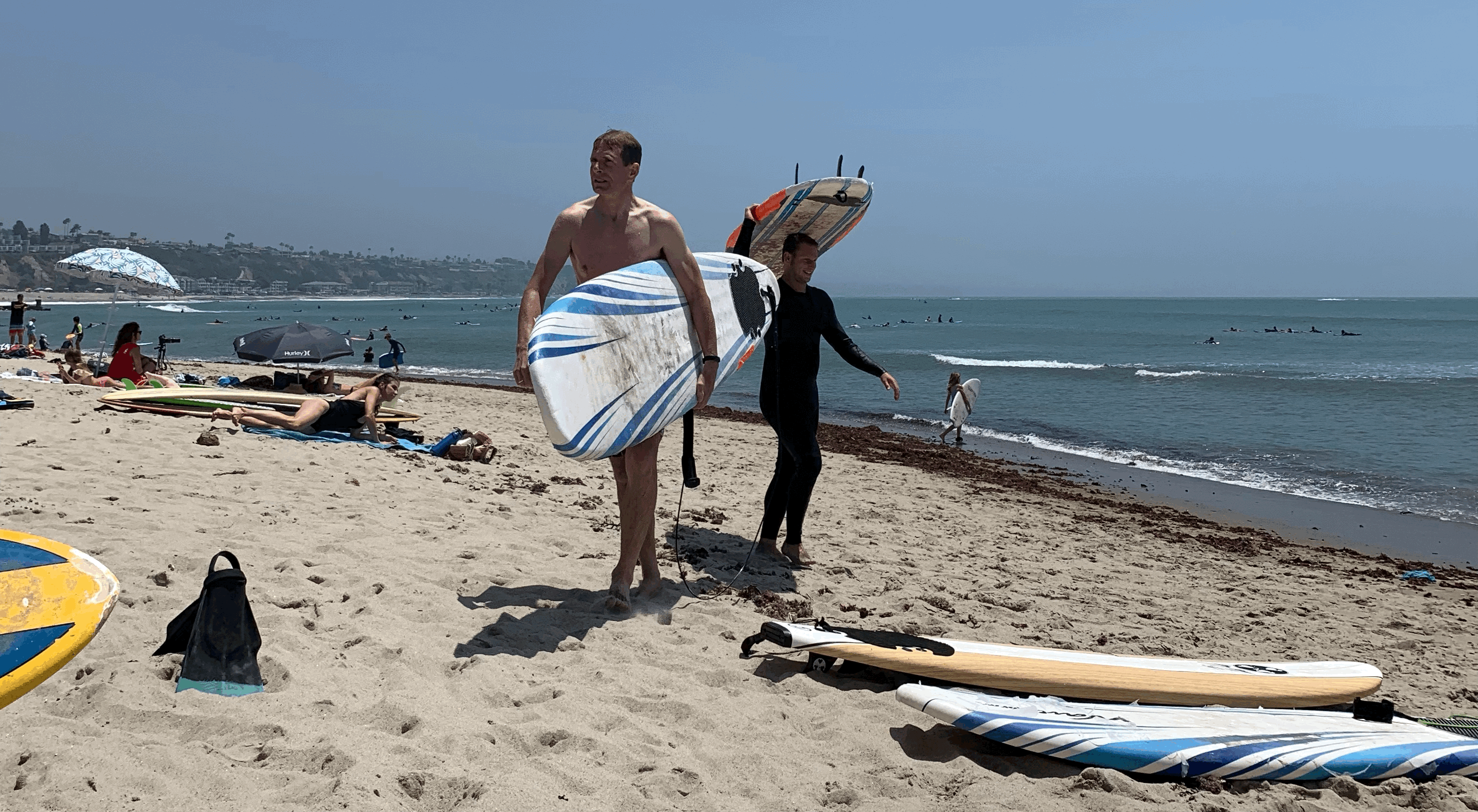 After some initial instructions we went into the ocean which was, let say, refreshing without wet suite. We paddled the board with our arms.  I then realized, that the shoulder I had injured in February was definitely not healed. I could barely get my right arm out of the water, which made it hard to move the board fast.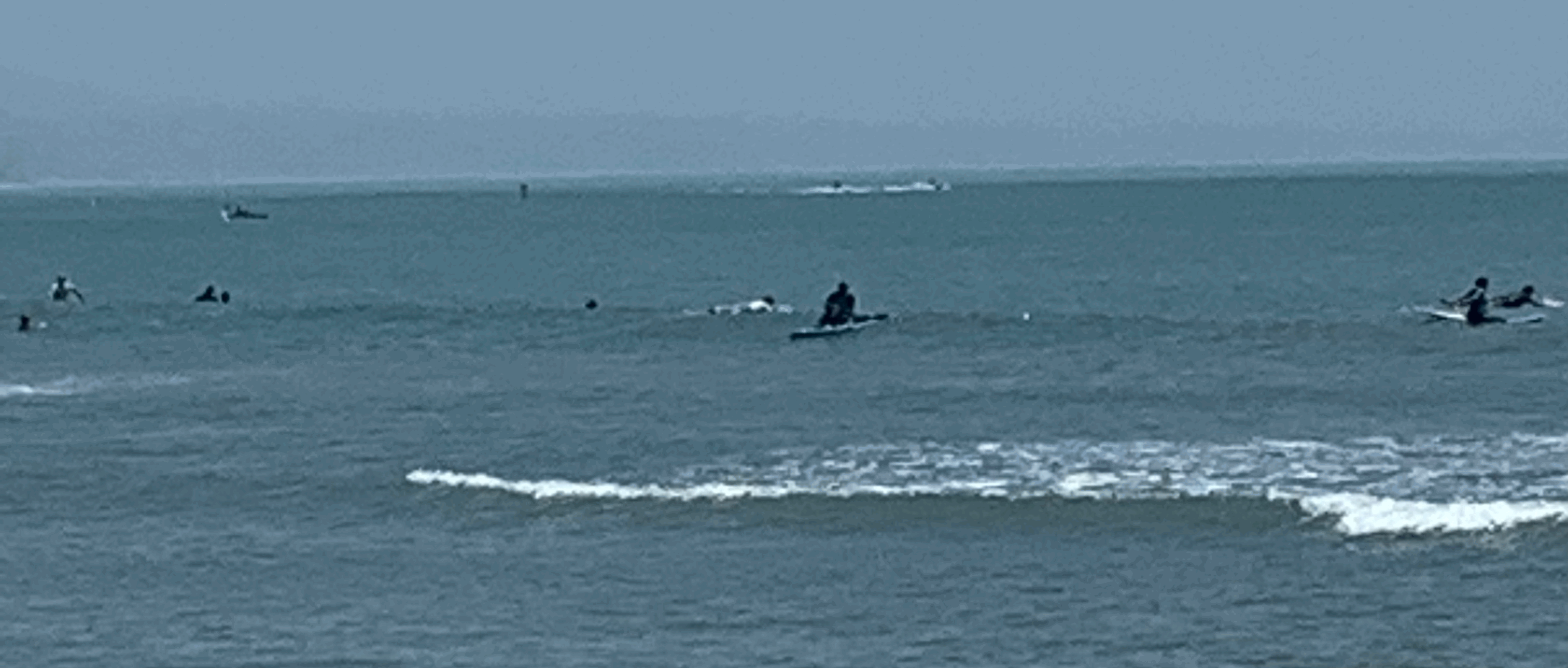 After a couple waves rolled underneath me (I could not make enought speed with the shoulder), I finally caught some waves and tried to immediately stand, which resulted in wipeouts. After a while just rode the waves on my belly or knees which was an awesome feeling. By then my whole body was shivering of the cold water despite the nice weather and called it a day. Definitely worth trying again.
We returned from LA on Thursday evening and on Friday afternoon went on an easy 25 miles ride to shake off the bloat and spider webs of our travels.
Saturday Paula and I did a 22 mile loop to Sherburne Falls along Bray rd and had an iced mocha at the Baked coffee shop. Then we had a quick peek at the dam which had broken again due to the heavy rain fall of late. We continued our loop with a short section on rt 2 and came back over Bartwell's ferry.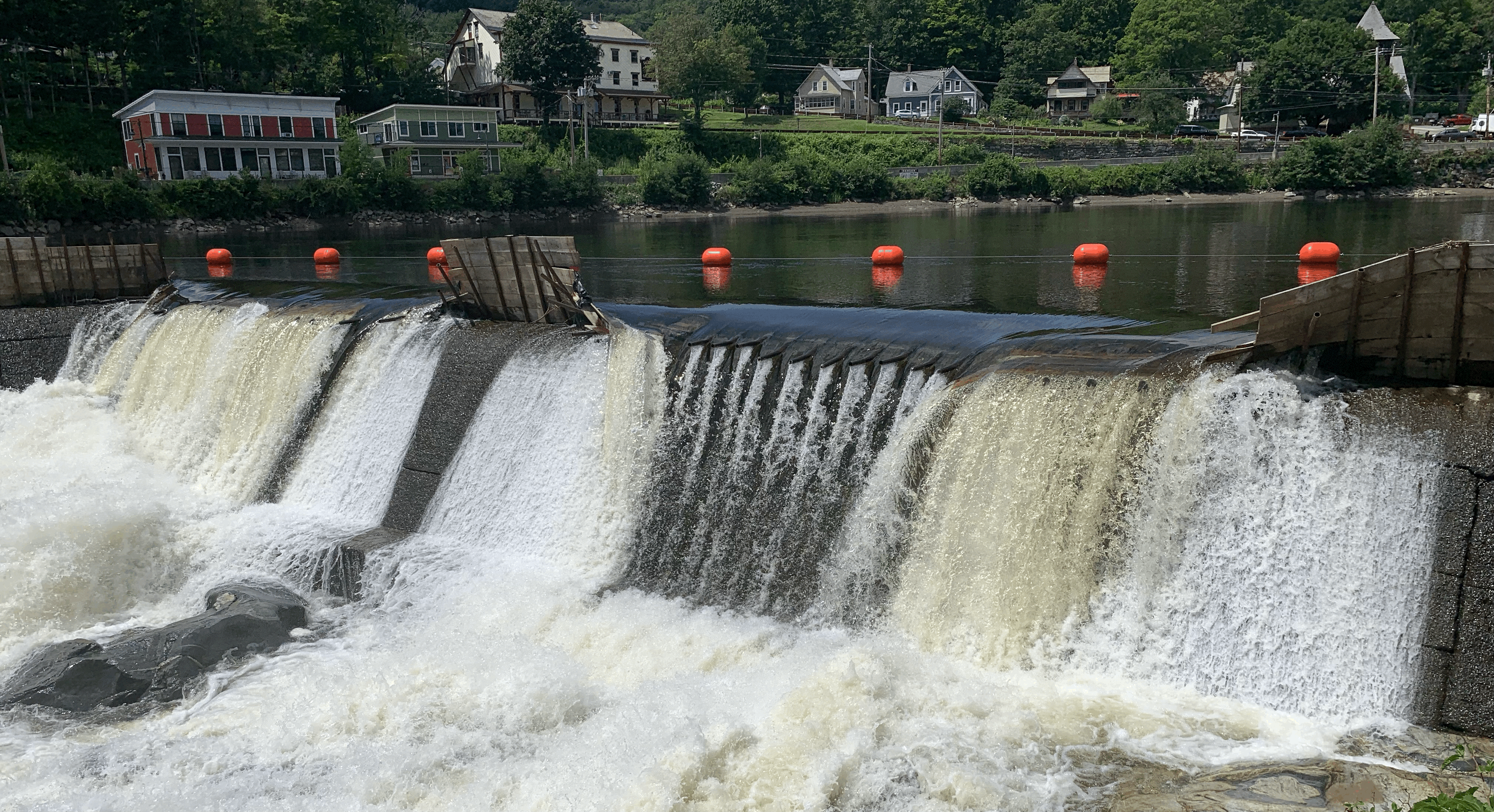 Sunday was the Northern Reaches mixed terrain ride, which got moved from 2 weeks before. Mike and I had signed up for the 100 mile version. Mike could not make it with the new date. So I had no riding partner. Since I did not feel great thought to just do the 100k version.
The ride had a staggered start to keep riders separated. When I arrived and went to the start saw my Pedal Power team mates: Shane, Jenny, Josh and Caitlin. They were just departing. I was supposed to start 15 minutes later, but asked if I could leave earlier, so I could catchup to my team mates. I caught them after about a half hour.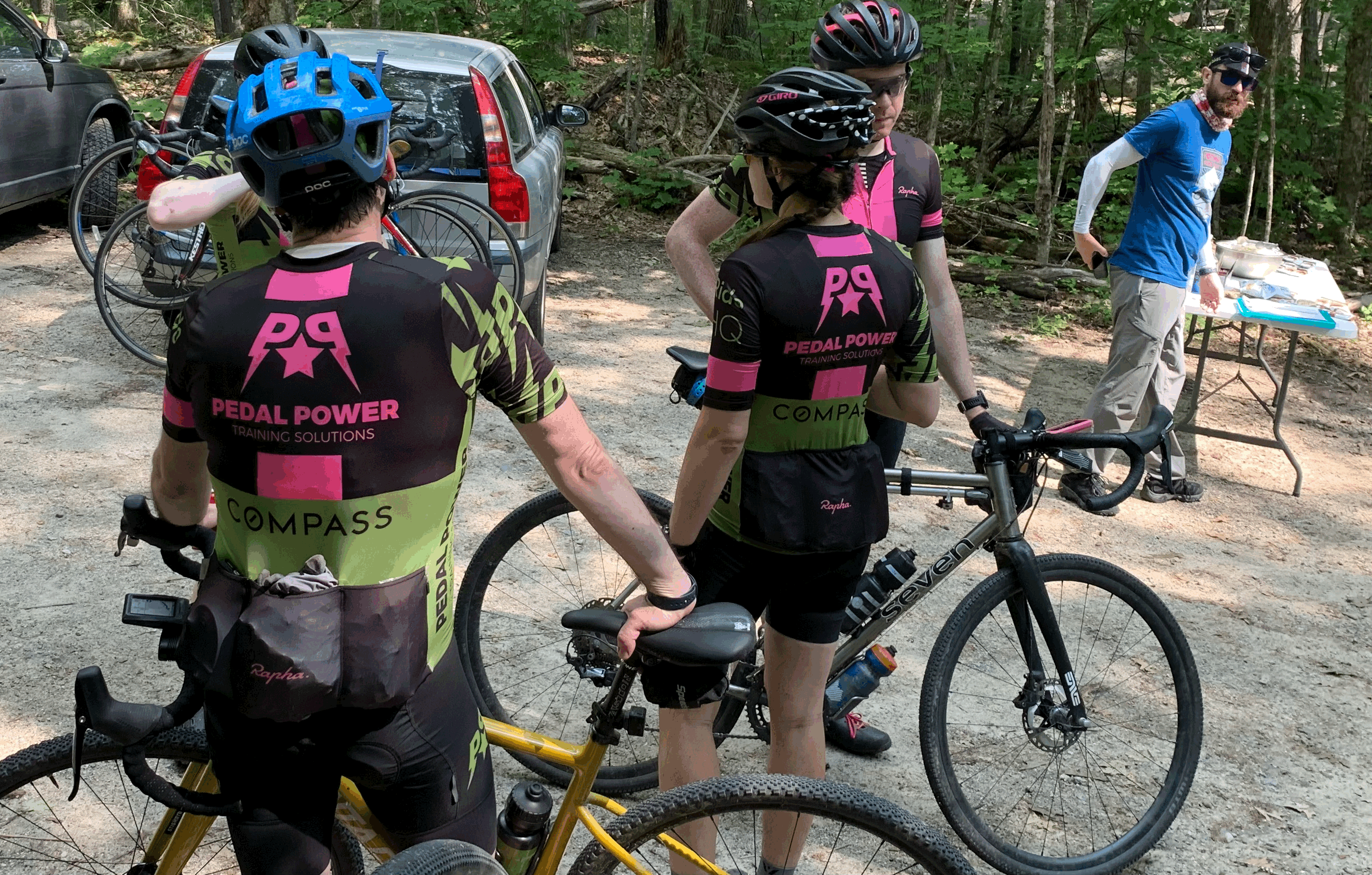 I rode with them for a while until I got a pinch flat. I asked them to not stop and continue without me. It took me some time to check the flat tire. It turned out to be a pinch flat. Then I used the first of my three spare tubes. It took me a long 13 minutes to change the tire. well I also added a bio stop. In the meantime 3 pair of riders had passed me. I then rode for 90 mins by myself and passed the riders that had passed my, but did not see my team until the first rest stop.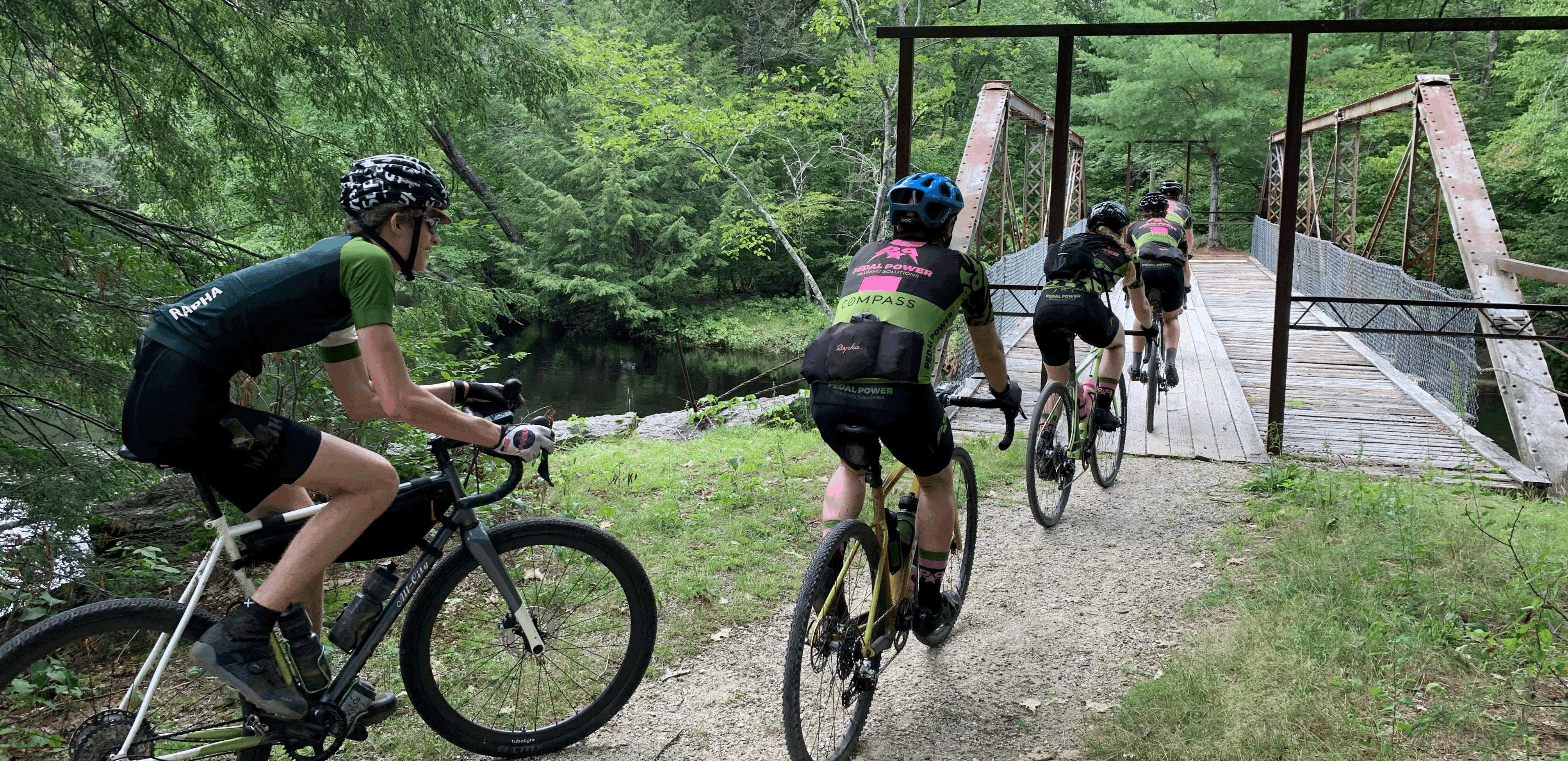 When I reached the rest stop before 11am decided to go for the 100 mile version and joined my team again for the 32 mile loop to the rest stop. At some point in the loop we came into a muddy hilly grass field with lots of twigs we had to walk and then I made a mistake to ride it and I got my 2nd flat. The tire emptied so quickly I felt it on my legs and thought it was sealant spraying from my front tire and when I looked down it was still full. So I thought the sealant had fixed the leak. Turned out it was my rear tire. Another pinch flat.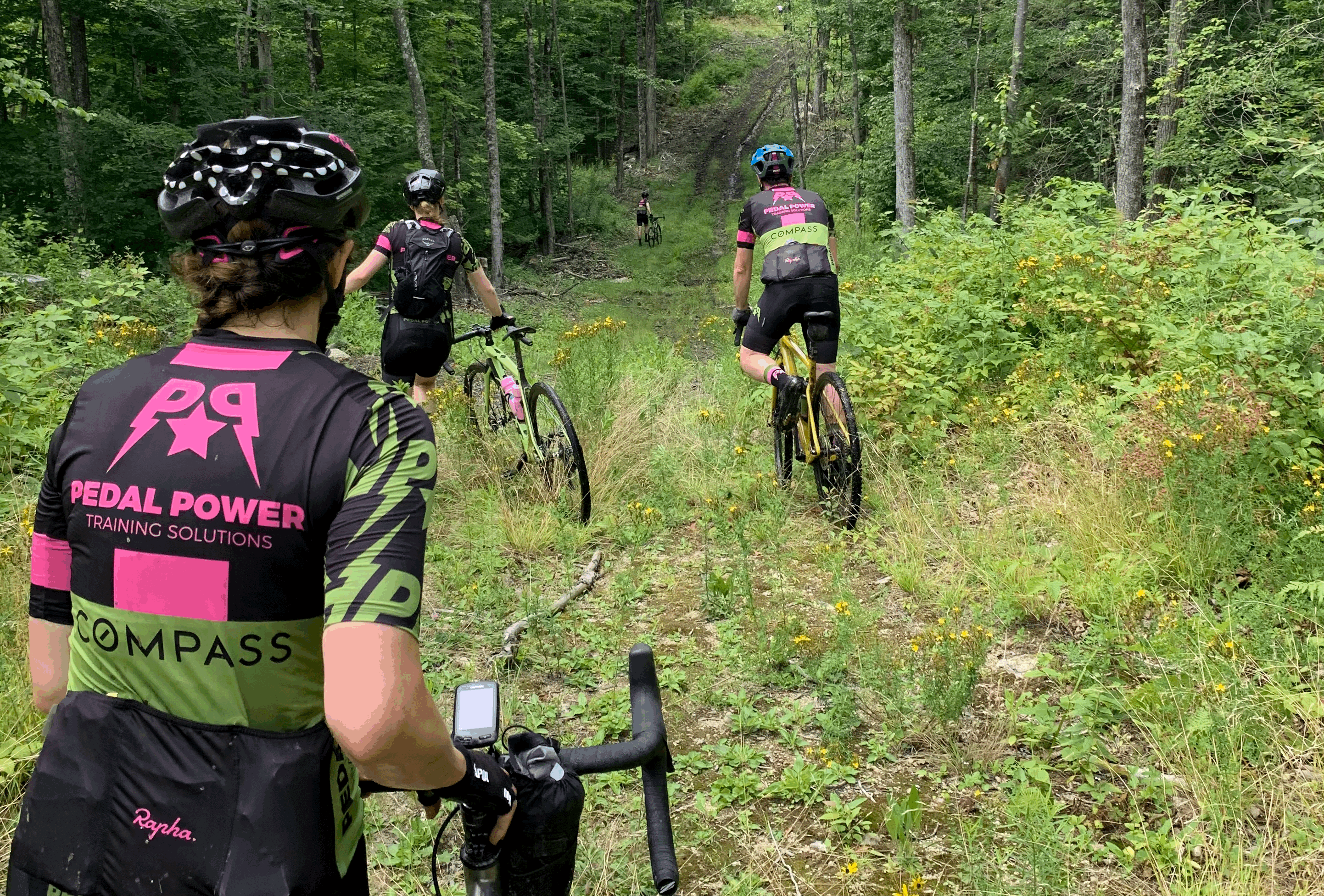 Again I asked the team not to wait for me and found a shady spot to replace the tube. This time it took me 10 minutes to replace the tube. While I was putting air in my tire Shane came back to check if I was ok. That definitely lifted my spirits. We then continued for the last section to the reststop. I then either had not eaten enough or overheated as I had no power anymore. I could barely put out 150 watts (50% lower then my average) and slowly rolled into the reststop.

At the rest stop filled up with fast energy: coke, salty chips and caffeine shot. I also picked up some caffeine gummies for the last part. I joined my team for the last 27 mile stretch and was able to keep up and felt my energy coming back.
We finished the 100 mile with 8000 feet of climbing in 8.5 hrs with stops and an average speed of 13.7 mph which is fast considering the various road conditions: asphalt, gravel, loose sand, mud, knee deep puddles and bouldered river beds. All in all a great adventure.
Here the veloviewer overview of this week