Day 1, Thursday, July 7
Today is the start of our 3 week camper van trip. Ben, our nephew, was kind enough to pick us up from Ingrid's. He lives in Zwolle and works in Coevorden at his dad's, my brother Eric. We rented the camper van from my brother. He bought a Knaus camper van, it is 20ft long and almost 9 feet wide and more than 10ft high. Big but not too big.

After Eric showed us how the van worked we were on out way. First stop was to pickup all out stuff including bikes at Ingrid's. While loading the van paula slipped off the stairs and hurt her foot. It was very painful and we needed to ice it. Fortunately Fons gave us an ice pack.
Then we were on our way about 150 miles to the south of Holland, we booked a campsite near Valkunburg, The Cauberg, one of the famous climbs from the Amstel Gold bike race.

Our timing was a little off as the reception just closed for an hour and the gate was down. Paula had the great idea to make dinner while waiting. After some Indonesion food we could checking and park our van.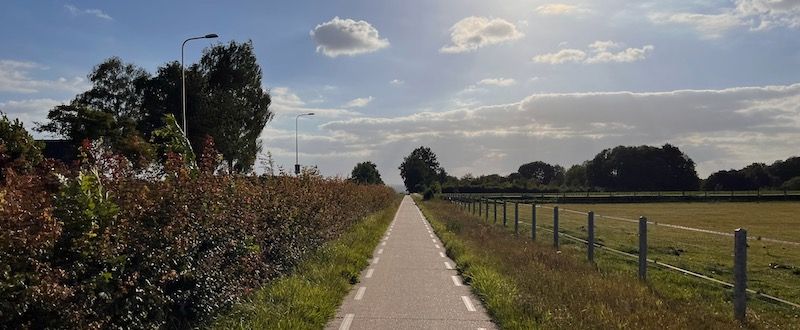 It was now 6:30pm and we took out bikes from the van. I had found a 10 mile loop on ridewith gps that came along the campsite and we decided to follow it. Turned out to be a really good route. It included some famous climbs such as the Vogelzangweg, the Bemmelerberg and the Cauberg offcourse back to the campsite.

The Vogelzangweg, was a descend on the route but at the bottom I turned around climbed it and descended again. We stopped at a restaurant in Valkenburg for dessert. My vanilla icecream with advocaat (egg based liqeur) and whipped cream was delish.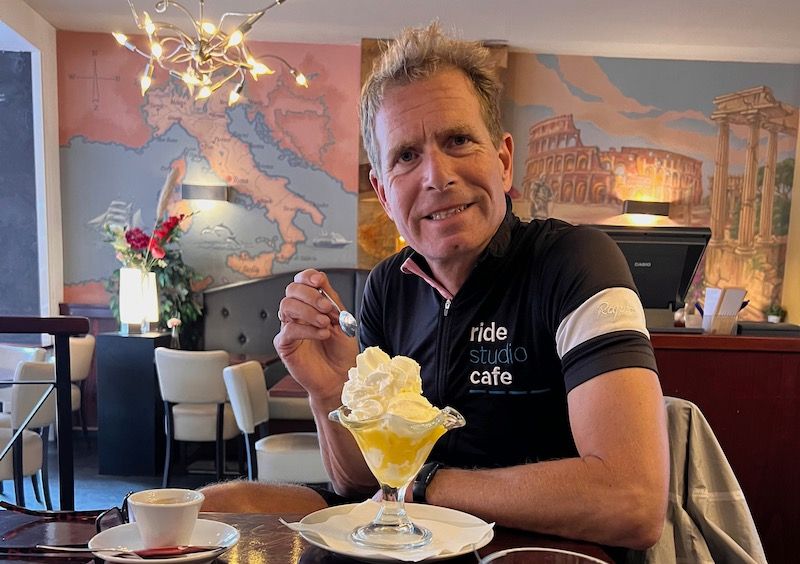 When we returned we eat in the van watching the Tour de France. The Van has a satellite reception and we were able to watch Dutch TV on it.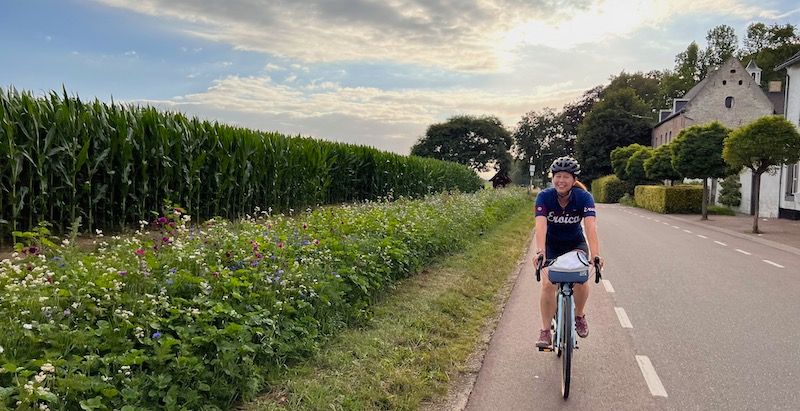 Day 2, Friday July 8th
The next morning we had to leave the campsite before 11am. We had ordered some fresh buns. Pickup for the buns was at 8:30am. When we finished breakfast at 9:30 am we went for another bike ride.

I had made a route that included the Keutenberg on John's recommendation.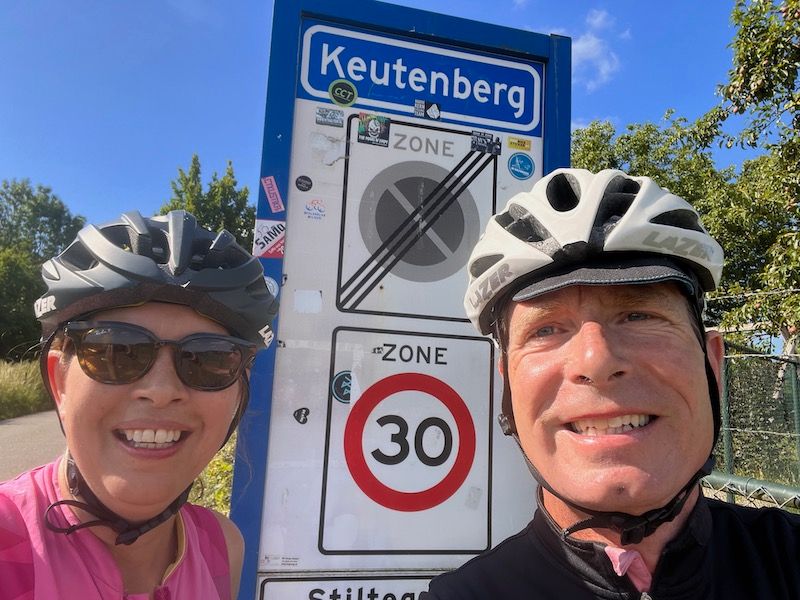 Again the route was beautiful and the Keutenberg climb was steep. It had a 24% warning sign. It was too steep for Paula and had a to walk a section. Then we were back on the plateau and it was easy riding back to the campsite. There was even a narrow road called the Matthieu van der Poel Allee.

We were back at the campsite at 10:45am. And we left at 11:05 that is the amazing thing about a camper van. Quick in and outs. I did empty the grey water tank and topped of the fresh water tank before we left.

We then drove around 120 mile to our next campsite called Kockenbesch. We had called ahead to reserve a spot. Turned out that was good, because when we arrived the campsite was full.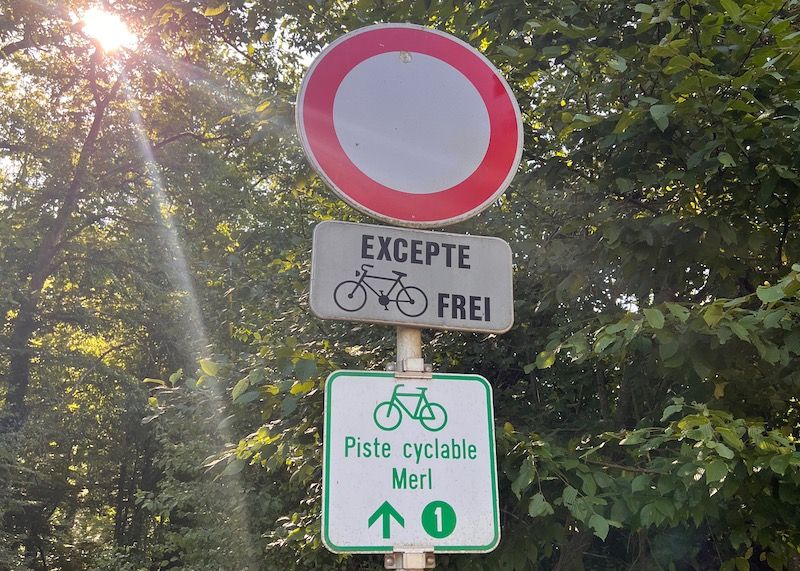 After a lunch with Dutch sandwiches I went for another ride. Paula stayed at the campsite to read a book. I had found an old mountain bikey route on ridewithgps.

Well that made it interesting. After a quarter of mile on a bike path it pointed to a trail totally overgrown. I decided to skip that and continue to follow the bikepath in the hope it would reconnect to the route. Turned out the bikepath went to the city of Luxembourg. I decided to turn around and found an alternative way to get me back on route. Most of the trails were jeep track some of them single track and rooty occasionally.

And just when I though with 4 miles to go I was golden (at the furthest point) the trail got totally overgrown and I had to revert. Once I was back to a trail next to the road I used google maps to bring me back to the campsite.
Fortunately after 2 miles it reconnected me with the original route and I was able to complete the ride with 2 bonus miles.
Day 3, Saturday July 9th
Next stop, we drove another 166 miles from Luxemburg to Arc-en-Barrois. An hour north of Dijon. Paula had found a campsite called the old mill, that looked promising. Normally we would call ahead to make a reservation. In this case we got an answering machine with some rapid fire french that was incomprehensible for us. We decided to just go for it.
The campsite was in a small village. The campsite was almost empty and had no reception desk. But we found a sign that said to pick a spot and pay later when the host came by. Interestingly enough it had a pizza making machine.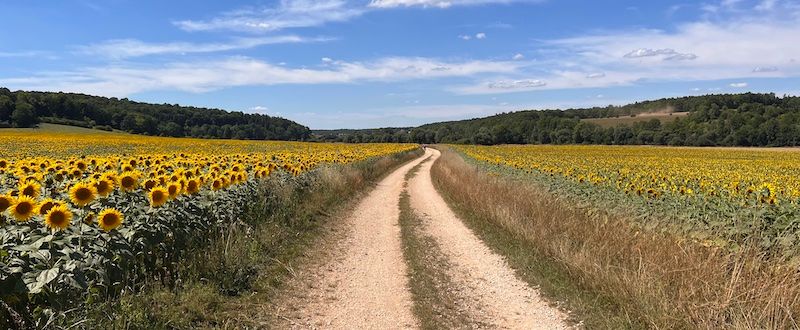 After lunch I went on ridewithgps to find a route to ride. It turned out that the OSM cycle map had an official 10 mile route in the fields above the town, mostly gravel.
The gravel started within a quarter of a mile and we were surrounded by sunflower fields. The gravel kept giving and in the end the route had 70% unpaved surface. We started out ascending out of the valley and had great views of the surroundings and other side of the valley.

After we descended a very sketchy steep road with very bad asphalt (chausee tres deformee) we were almost back into the town. There was one more little jeep track next to a golf course. We passed the golf course and at the entrance we went to the clubhouse. We ordered some refreshments; a beer and an ice cream.

We were now almost back at the campsite. Before returning we went to a supermarket for some fruit, beer wine and some snacks. At the campsite we relaxed for a while. The campsite hosts now came by and we paid our dues 14 euro and changes for 1 night.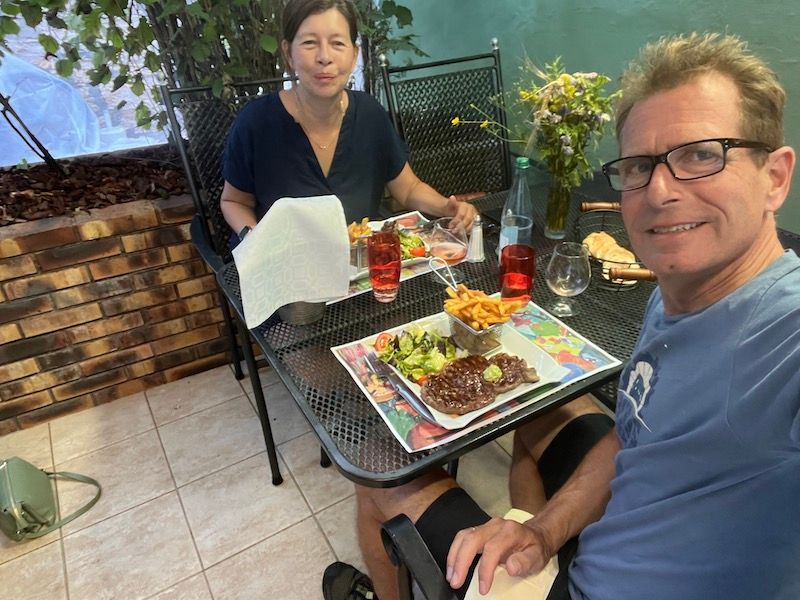 In the way into town we saw a sign for a restaurant called le coq d'argent and we decided to check it out. They had a courtyard and we decided to dine there. There were a few tables. The customers seem all French. We both had the steak frites, although it was called the menu rapide and consisted of an entrecote with french fries and salad. It was very tasty, especially with the rose we ordered along it.
For desert we shared an icecream with fresh strawberries, strawberry sauce and whipped cream (chantilly).
The walk back through the village gave us great sunset-lit views of the church and castle.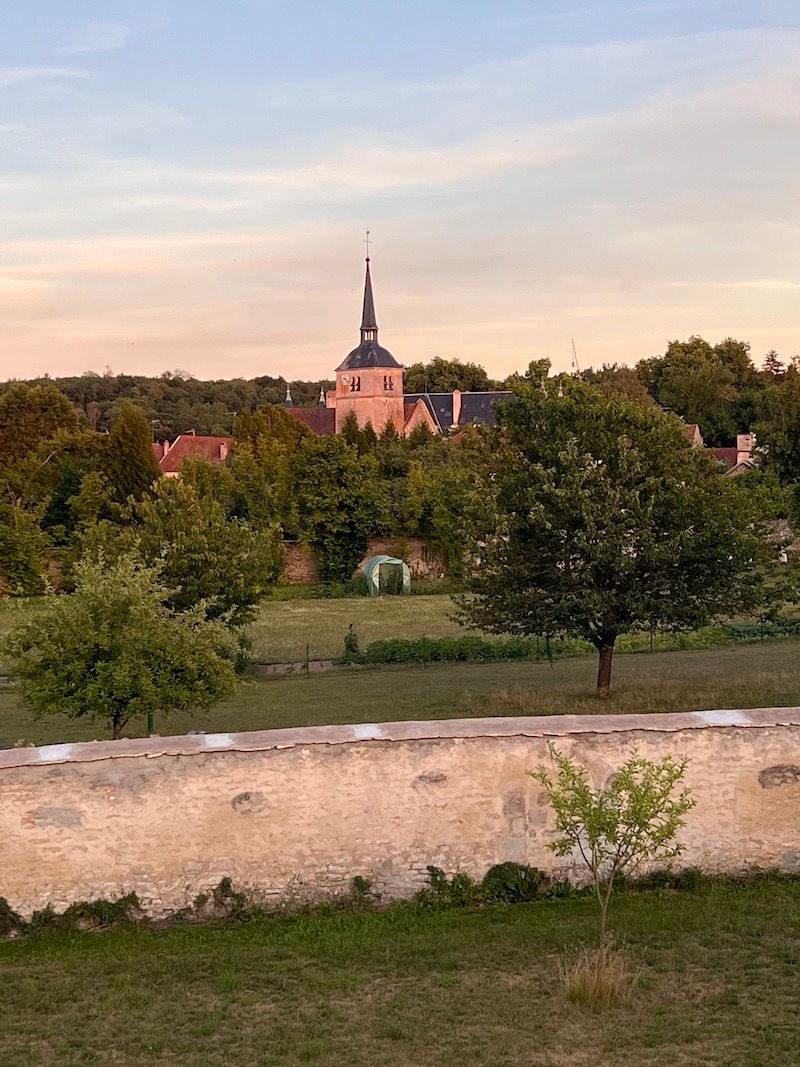 Just another spontaneous day that worked out very well.
Day 4, Sunday July 10th
After a longer drive 3.5 hrs we arrived at campsite Le Daxia just south of Lyon. We had a bit of a delay due to a detour. The campsite was hard to get to as the it was on the other side of the rail track and a tunnel underneath was too low. But after some more driving we found away across.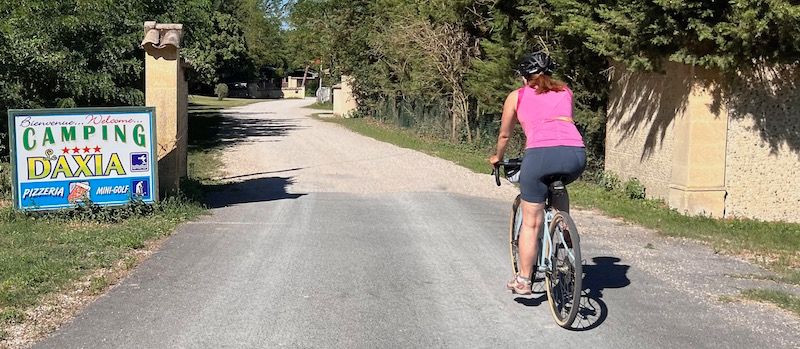 After a late lunch I mapped out a route along the Rhone both ways from bridge to bridge. It was a 10 mile loop. After riding through a village we reached the river side. Here we entered a gravel path and followed it to the first bridge. To get on the bridge was a bith challenging as folks had dumped trash on the trail. Crossing the river gave a great view of the Rhone and the vineyard lined valley it meanders  through.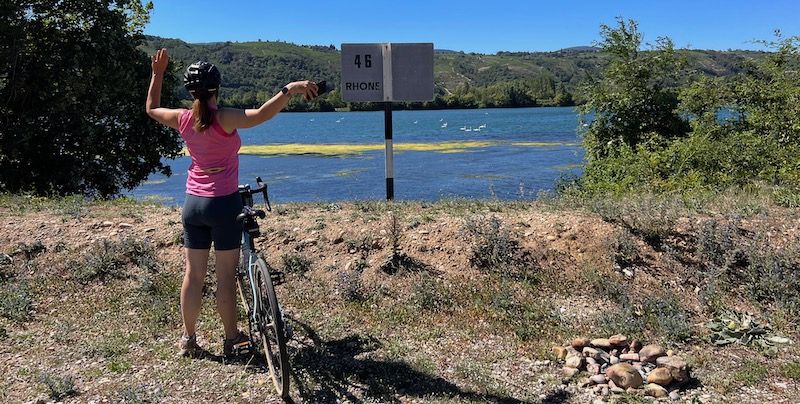 The other side of the river was a bike path on what looked a former rail bed. It was a bit bumpy due to the tree roots. After a few miled we reached the village on the other bridge. We were looking for a cafe for some refreshments, but could  not find one.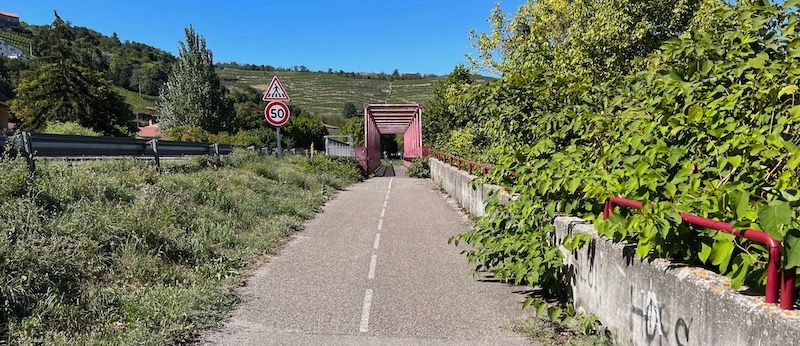 The route along the river on the other side did not look to enticing as there was a large chemical plant. We then used google maps to bring us home with the bike routing feature.

After some a beer at the camper van we went to the pool to cool  off. The northern  wind was pretty cool and I even got cold a little. I did go down the water slide once.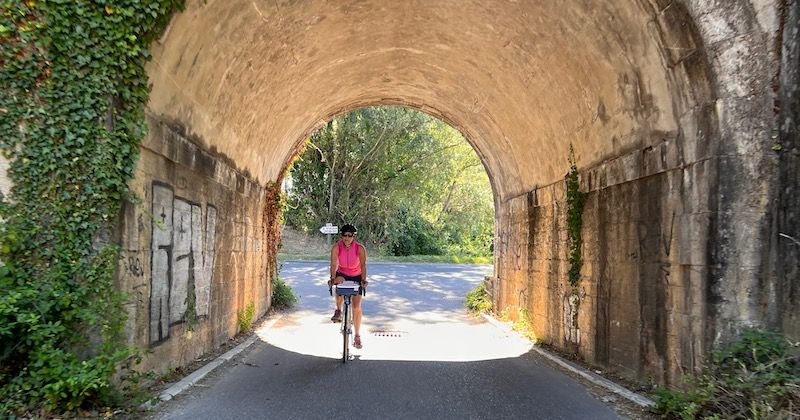 Back at the camper we eat the boeren kool (kale stew) we brought from Holland, a quick hearty meal. And after watching the Avond etappe (a Dutch Tour de France talkshow) It was time for bed. Days are flying by.
Next stop Mont Ventoux.