In an earlier post I focussed on my experience of the races at the CX worlds in Fayetteville, Arkansas. In this post I'll describe the various cafes, breweries and restaurants we visitied in Fayetteville and Bentonville.
On Friday after we saw the relay race Mike and I went to our Airbnb we had rented for the weekend. It was a small 2 bedroom ranch on a quiet street about 2 miles from Fayetteville center. From the kitchen you could see the next door RV park and a big chemical plant just across the street. Surprisingly enough I actually slept very well on the super soft mattress. No back pain.
After we settled in the Airbnb we went looking for a place to get a beer. We found a brewery called Crisis brewing on our side of town. The brewery served their own beers which were really good. I like their Kölsch (Luftschloss) and their IPA (Identity). Other then some free bar snacks, they did not serve food. But you could order food from the next door restaurant Penguin Ed's barbecue via the dedicated red phone in the brewery, it also gave you 5% discount. If you made an order over the phone and picked it up yourself. Mike put in the order and picked it up. The Smoked Chicken sandwich I ordered was delicious.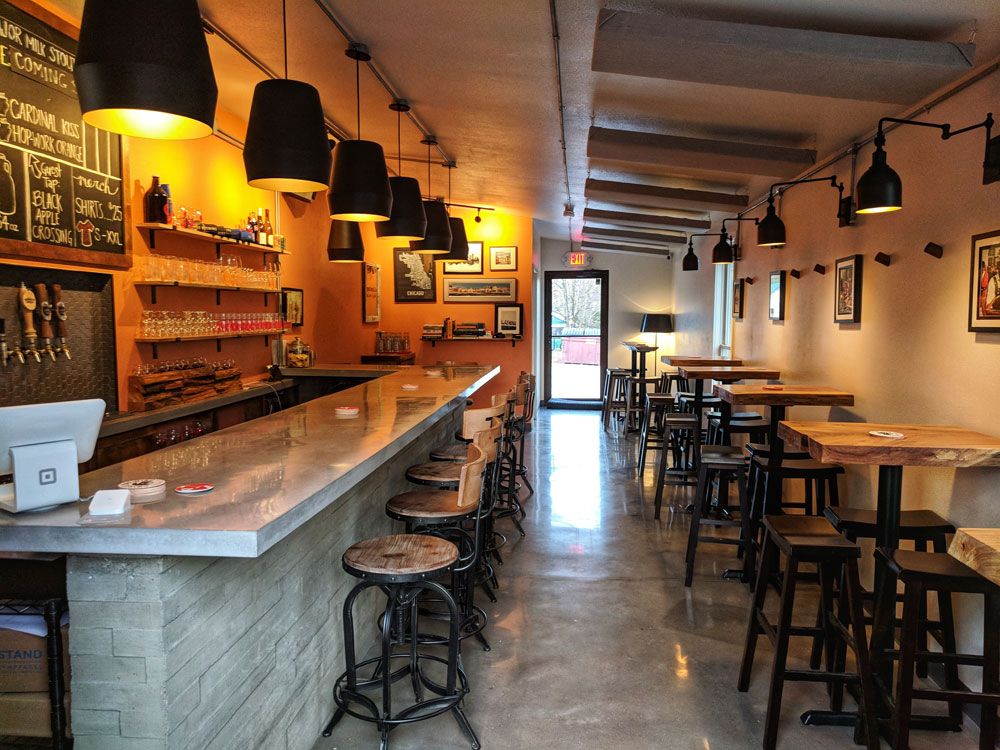 While sitting at the bar I noticed the person next to me checking the Dutch teletext pages (pre internet TV based information pages that used to be broadcast alongside the TV Signals). So I stroke up a conversation with Oane from the Fryslan (North of Holland) and his son Remco (lives in Las Vegas). They both were also visiting to watch the CX Worlds. Over the course of the weekend we kept running into eachother. Remco was telling that they had found Crisis brewing through booklet "Fayetteville Ale trail" they got from the Fayetteville visitors center that listed all the breweries in town.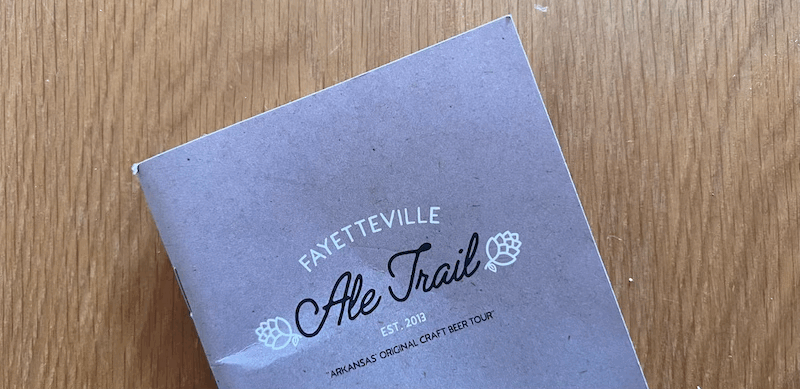 And indeed the next morning when we went to get breakfast at a coffeehouse called Doomsday Coffee & Roastery Remco and Oane waited in line behind us to get our breakfast order in. I ordered the breakfast Taco's which were great, also to caffinate myself up a litte both an Capuccino and a Coffee. The Barista apparently misunderstood my double drink order and I had so go back and reorder my Cappuccino. By the time we were seated the place got swamped so we were right on time at 9am.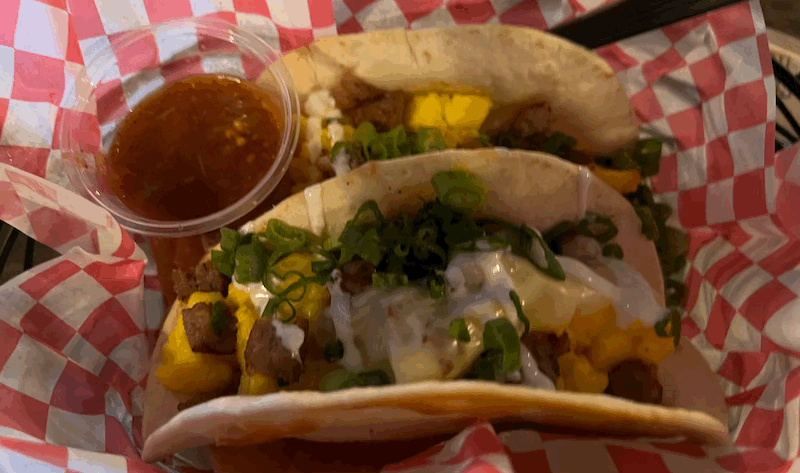 After Saturday's races and we had walked about an hour to get back to the car (the shuttlebusses were slow) we decided not go to the house yet, but straight to the town for drinks and food. The first brewery we visited was West Mountain Brewery it was a bar co-located in East Square Pizza. It was a family style pizza place, so we had one beer and then decided to find something else. After a short walk we ended up in a hipster place called Puritan Coffee & Beer on Dickson street. It had two sections, one section was darker and the other section has more light. We ended up sitting in the lighter section which has more guests. Turned out there were tables full of college students doing their home work together. While they were working hard on their future, Mike and I were enjoying our beers and reminiscing about our career and retired life. By the time we decided to order something to eat from the food trucks outside on the parking lot, they had closed. Instead we walked down Dickson and found Los Bobos Taqueria. Mike recommended to try the Torta. We brought our takeout back to Puritan and enjoyed the Torta with another beer, before returning back to the Airbnb.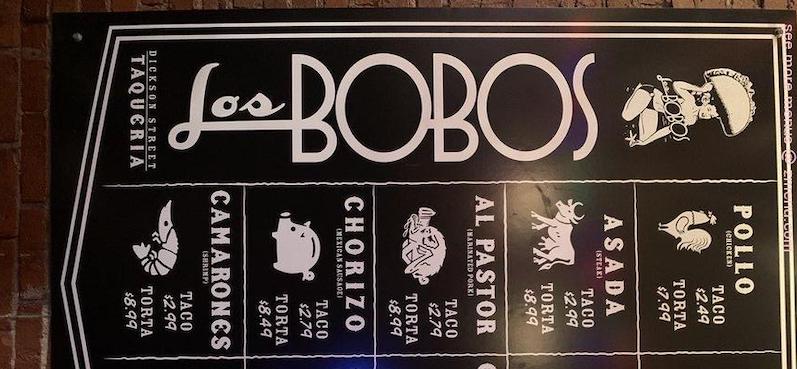 On Sunday morning we had breakfast at the Little Bread Company, a bakery on North Block avenue. There was a slight line when we came in. But at least we did not have to wait outside yet. I ordered the ham, egg and cheese croissant. And since they asked, I also ordered a side of salad. Again doubled up on the caffeine with a regular coffee and a cappucino. I actually went back to order a chocolate croissant. We saw a lot of folks who were also going to see the last races of the weekend.

After Sunday's races we had originally thought of going to Bentonville for dinner. But decided against it thinking of having the drive back 15 miles in the dark. Instead we went back to Crisis brewing since we liked their ambience and beer so much. This time we ordered a pizza in as the BBQ next door closed early on Sunday. We met Remco and Oane for a few beers and said goodbye.
The next day our flight was at noon and beforehand we went for breakfast to a famous bike coffee shop in Bentonville called "The Meteor". The interior was interesting but breakfast was a little disappointing with the breakfast taco I ordered. Was prefab and small. My double coffee order did work out well though. In the same building was also a Rapha store, unfortunately not open yet.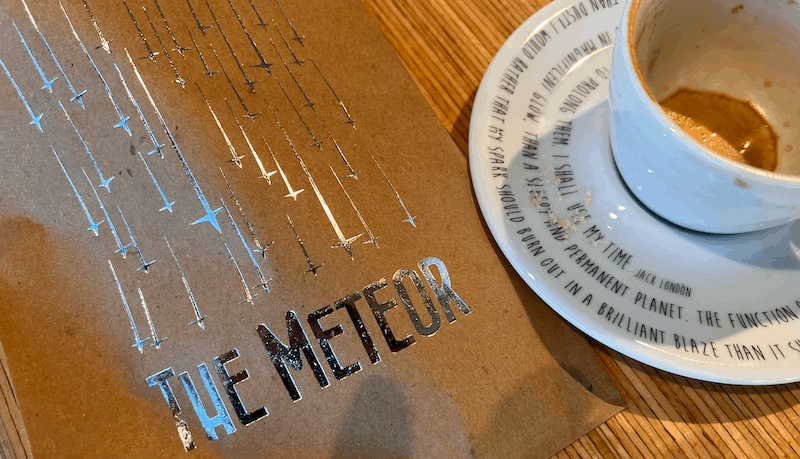 Once we finished our breakfast we drove to the airport and dropped off our Budget rental car. All and all a great weekend with great racing, good food and great beers.