After a rest day on Monday, Tuesday was time for another NCC time trial. This time the Deerfield timetrial, a long 12.6 mile out and back route along the Connecticut river on River road. I had created a 38 mile route that included the TT. Longer than I had expected, thought it was closer by.
When I arrived at the start, just before 6pm a few riders were gathering. I saw Zinji and David. Decided to quickly start and not dilly dally. The route was relatively flat except for 2 small hills about halfway. I had a little Best Bike Split note with recommended power outputs for the various segments. This time it was less helpful as basically it had the the first 3.5 miles (including the climb) as a flat 285 watts, which I had found hard to sustain. Not sure why, as I would be able to keep that output on the indoor trainer for that duration.
Anyway after carefully turning on the little triangle at the halfway point was on my way back and quickly saw the other riders come by: Zinji, Jonathan, Melissa, David and some other riders. I finished in 34:44 with an average speed of 21.6mph.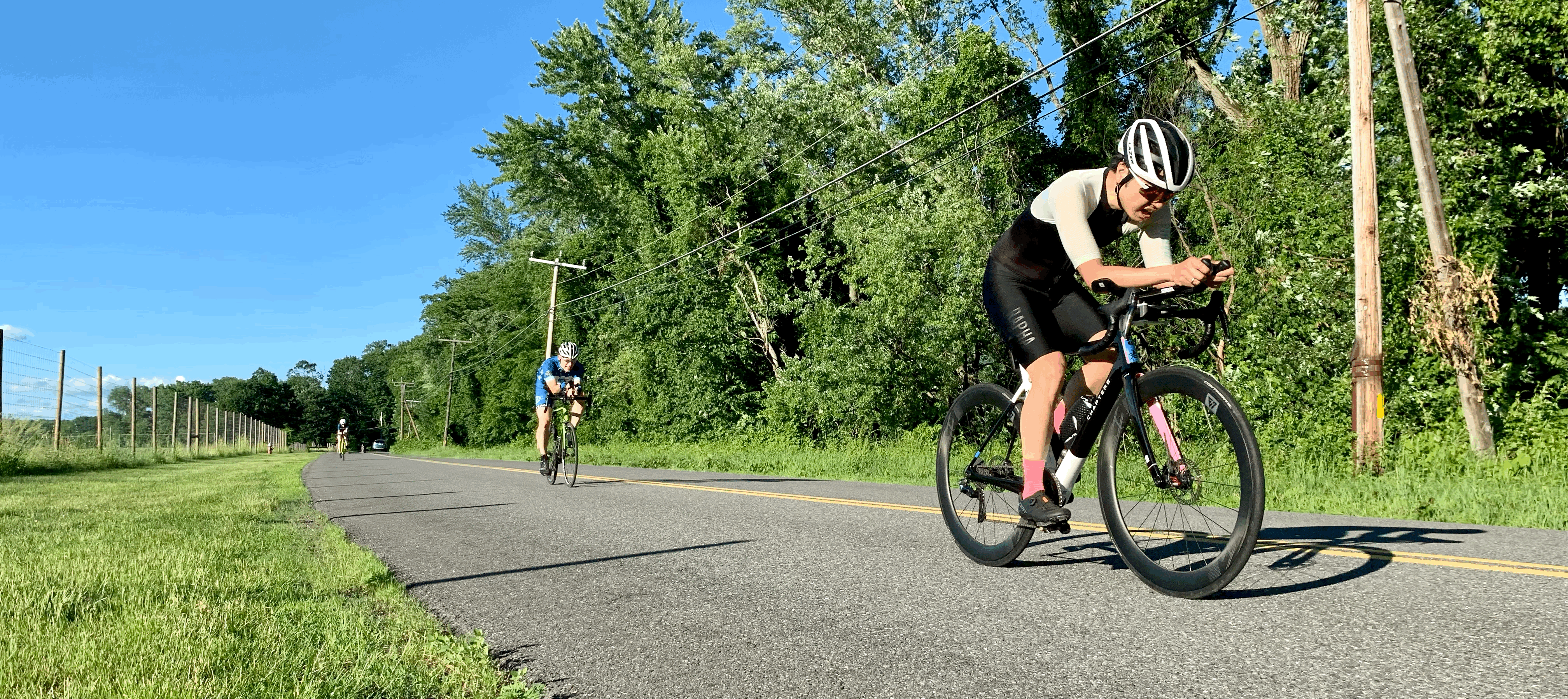 After a while the other riders finished and I was able to get some action photos of the riders finishing. After chatting a while each went their own way home. I rode for a bit with Scott, turned he worked for Wahoo. He had some suggestions on how to get the Wahoo Element I own, to show the lap times  while still recording a ride.
Wednesday morning went for a run and did the normal 5k route again, after cutting it short last week. I felt pretty good and had ran an average 9:44 min/mile.
Since I had enjoyed riding my fat bike on the Kingdom trails, decided to take it out for a spin on the trails near my house Thursday morning. We had ridden these trails when there was snow this winter. Was fun to ride them now. Loose sticks made the descends a little tricky. I took it ez as I was going to ride in the evening as well. Oh and my attempt to fjord the South river AND staying dry failed. The big fat tires were throwing up a lot of water, and besides that, created a lot of resistance, which required me to pedal during the crossing. Result: soaked.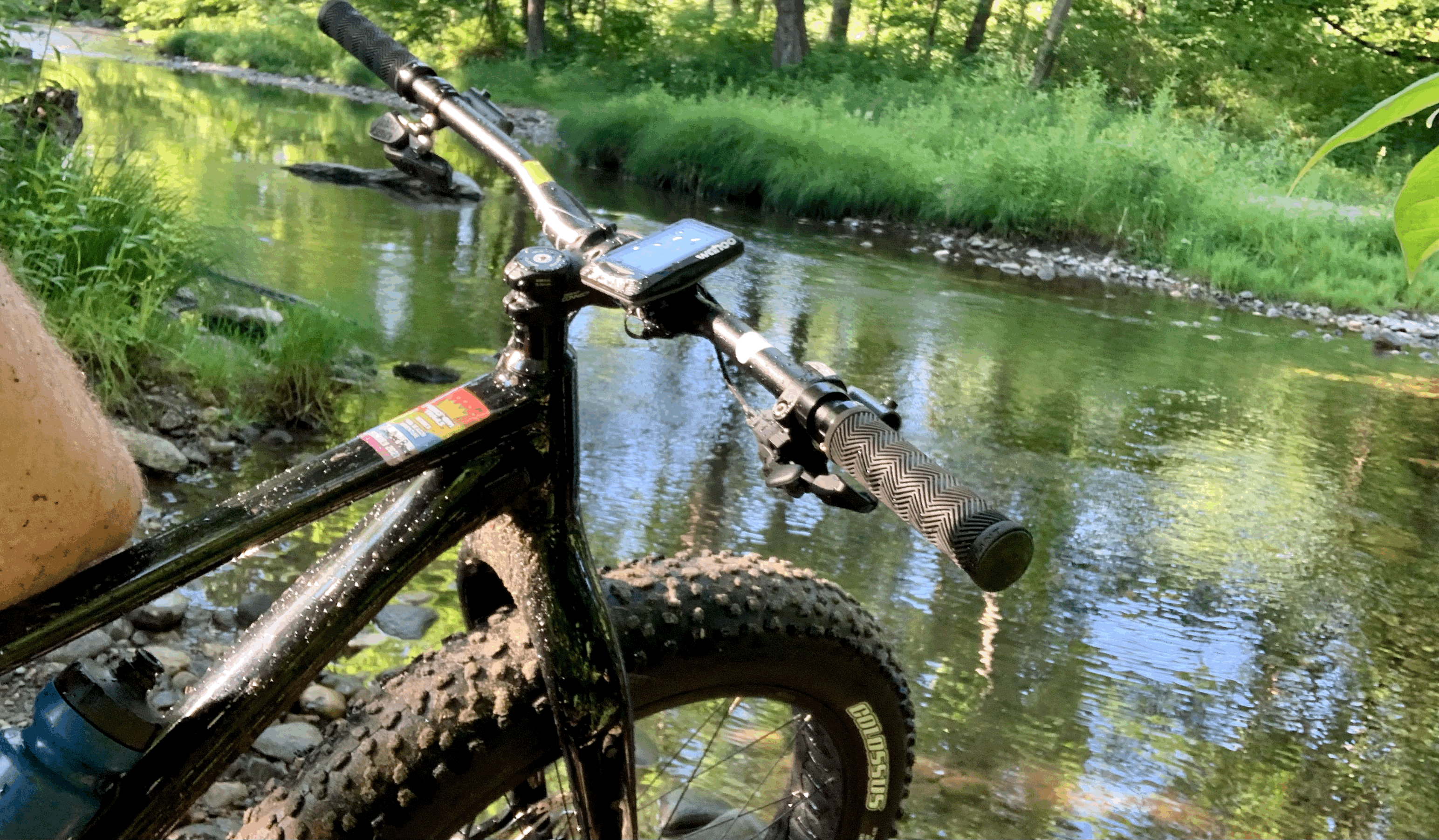 Thursday evening I rode to Northampton to ride the NCC Thursday Night ride. We had a good group heading towards Williamsburg and I chatted with Charlie for most of this segment.
After passing thru Williamsburg we continued on the more intense section uphill to South Ashfield. At some point Henry accelerated out of the group. I was looking for the rider in front of me the bridge the gap, but that did not happen, as I then saw 2 other rider jump, decided to jump as well. At this point the gap was already 50 meters and I definitely burned a match here.
I was able to stay with the lead group for a while, but after my last pull was not able to stay in the wheel and had to tell Henry when coming of his pull to jump in before me.
I was now riding by myself, when I looked back I did not see the 2nd group. I then  decided to time trail the rest of it by myself and make it a goal to stay ahead of the  2nd group. The last descend into South Ashfield was my fastest time on this segment.
After regrouping in South Ashfield we pace-lined down rt 116 towards Conway. This week we were a little less organized and did not go as fast as last time. And I managed to lose contact to the group after my last pull just before entering Conway. I really have to take it a little easier on these pulls.
Saturday went for a long 100k ride with John and Pamela, who were on the tandem. We hit some beautiful gravel roads in the Cummington, Worthington area. Especially the sections along Dingle and Kinne brook rd were beautiful. Definitely got tired in the last 20 miles. After a late lunch stop at the Cummington General Store, we rode back to Conway, fortunately the easiest way. My legs were pretty shot after a good week of riding.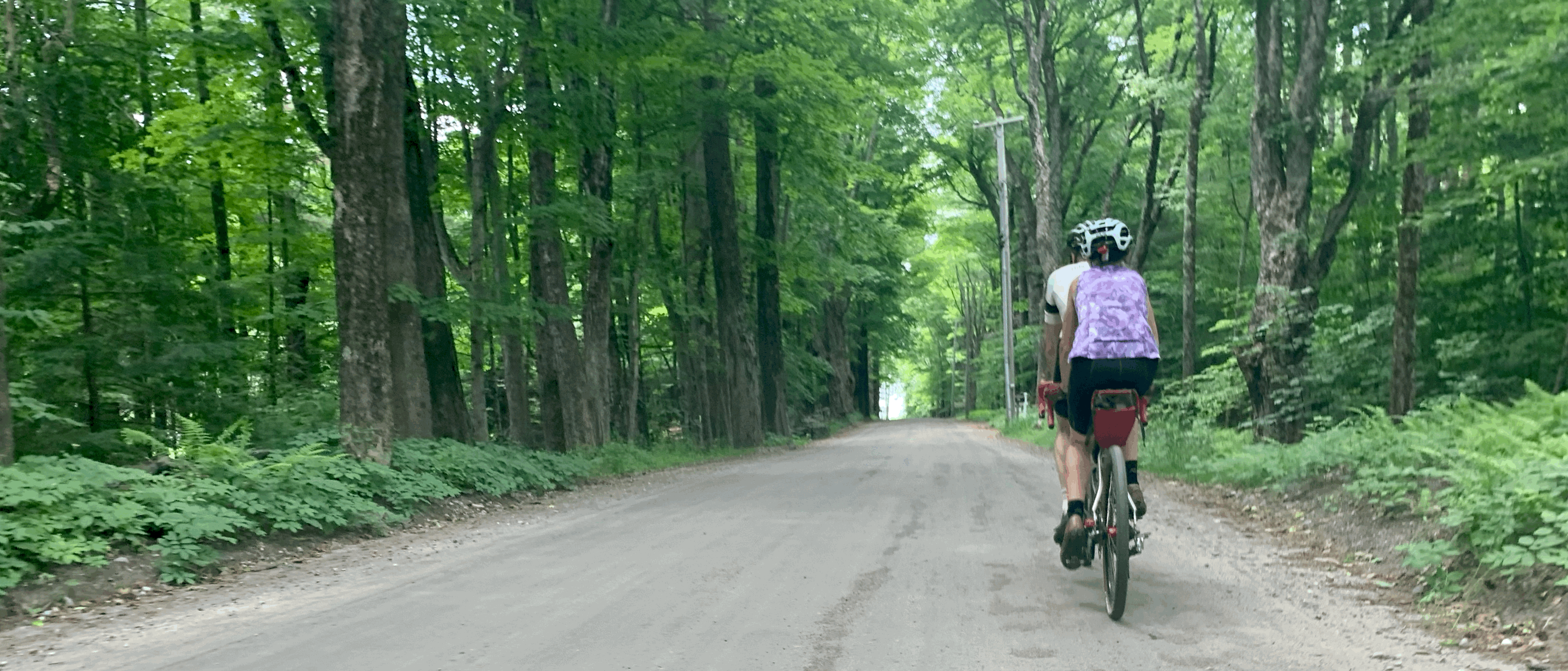 Sunday, Paula and I did a spin around Amherst. We parked the car in front of Cushman's and along Henry st ride towards the Norwottic rail trail.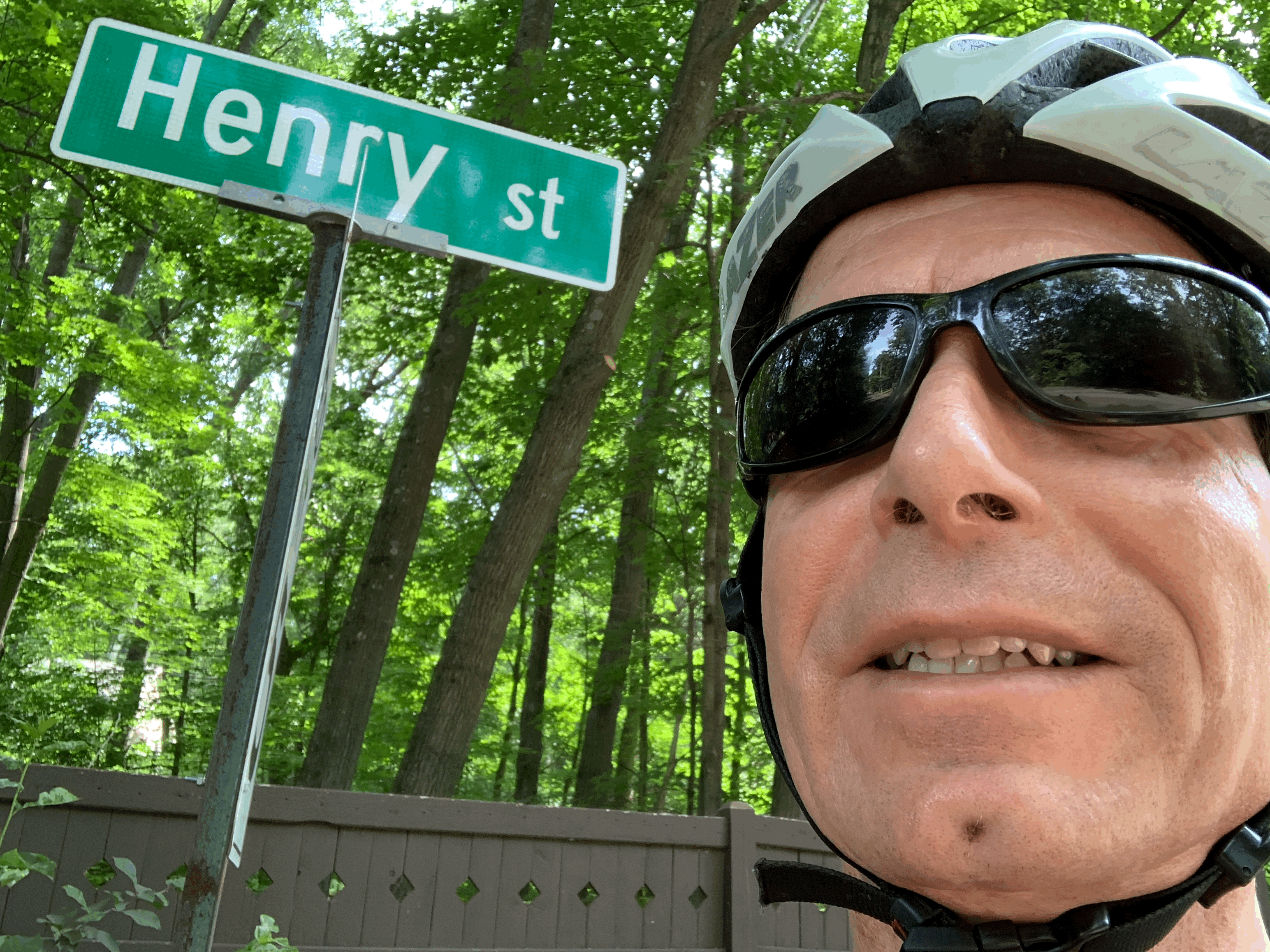 This trail starts south of Amherst and runs for 11 miles towards Northampton. We only rode it for about a mile as we turned right to pass thru Amherst center, first passing Amherst college. After the center we rode across the massive U-Mass Amherst campus. Just before finishing the ride we visited Puffer's pond with the beautiful fall. We finished the ride with an Iced Mocha at Cushman's.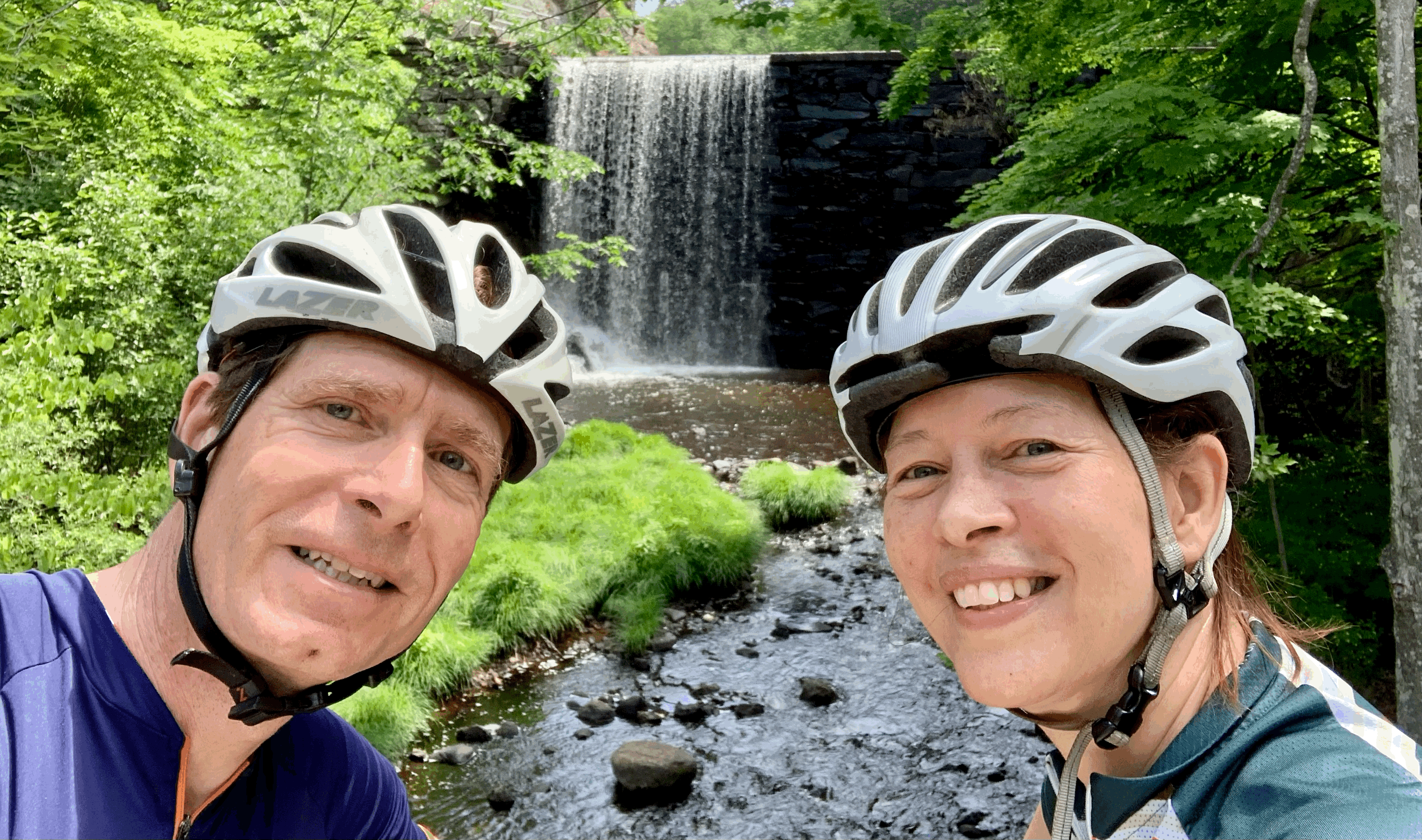 Here the Veloview overview of the week.