After a big snow storm Monday morning, just before dark, we went snowshoeing in the Conway forest. Jay had asked if we (John, Pamela and I me) wanted to snow shoe to pad down a trail for fat biking. The trail was about 3 miles, about half way in we had to turn our lights. After about 2 hours we were done. Unfortunately I had forgotten to turn on my watch to record the hike, so it never really happened.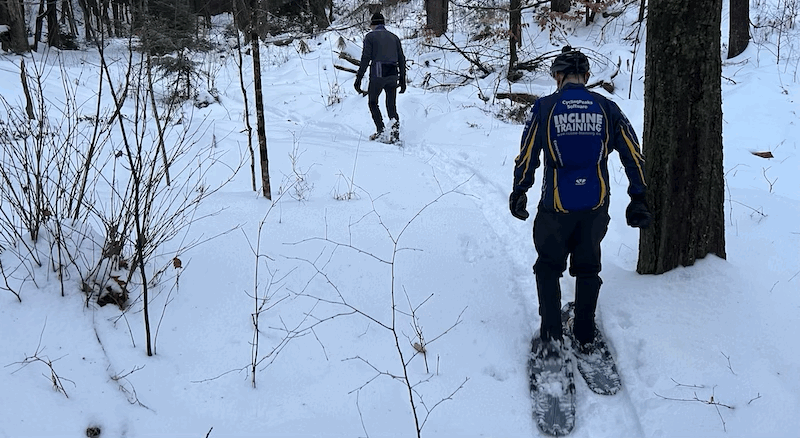 To enjoy the new snow Dusty and I went skiing on Berkshire East. The conditions were great with the fresh snow. Unfortunately after 6 runs the main skilift broke down. We were glad not being on it when it happened and decided to call it a day.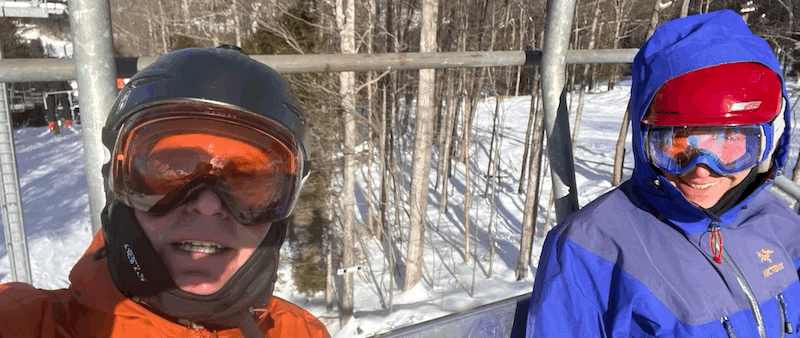 Later that day we did an NCC hill climb up the Innsbruck KOM, a 4.6 mile, 1311ft segment in the Zwift Innsbruck world. I finished in 23:13, no my fastest time, apparently last February I had been faster.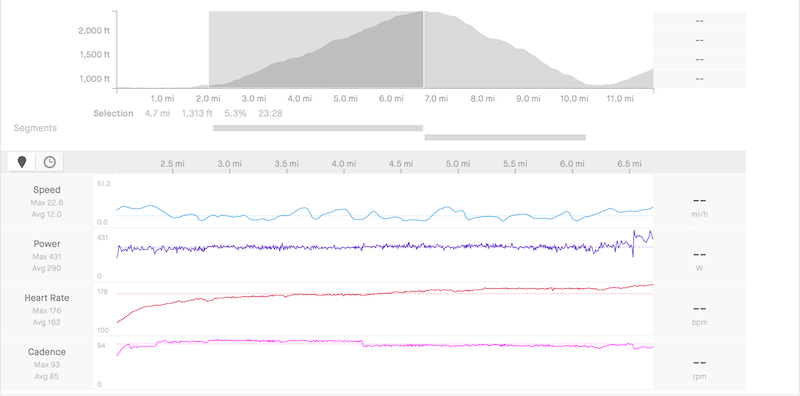 Wednesday I did a 46 min spin on the rollers to loosen up the legs, for the next day's NCC race.
Thursday morning I went with Jay and John fatbiking on the trails in the Conway forest, including the trail we had padded down on Monday night. Conditions were pretty good although I had some trouble staying in the narrow track. Bumps made it hard to keep my balance. I also had to force myself to look further up the trail and not right in front off me. We ended up riding 7 miles.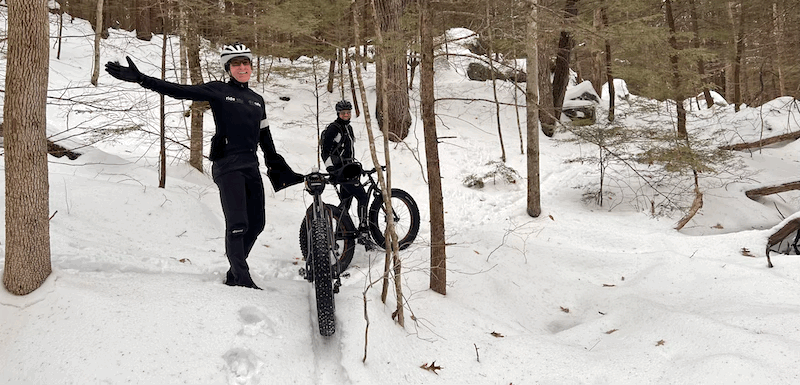 In the event was the NCC Zwift race we joined a A race with more than a 100 riders. The course Farmland loop was mostly flat, except for one small climb. It was was brutal with the cat A racers, notice the Farm loop lap times below: 10:15, 10:30, 10:47, 10:44 and 10:42. I relatively quickly fell of the lead group into the 2nd group and was able to stay with this group for the 5 laps, but got dropped in the last mile up that hill just before the finish. I was able to squeeze out a decent sprint. Getting better at it.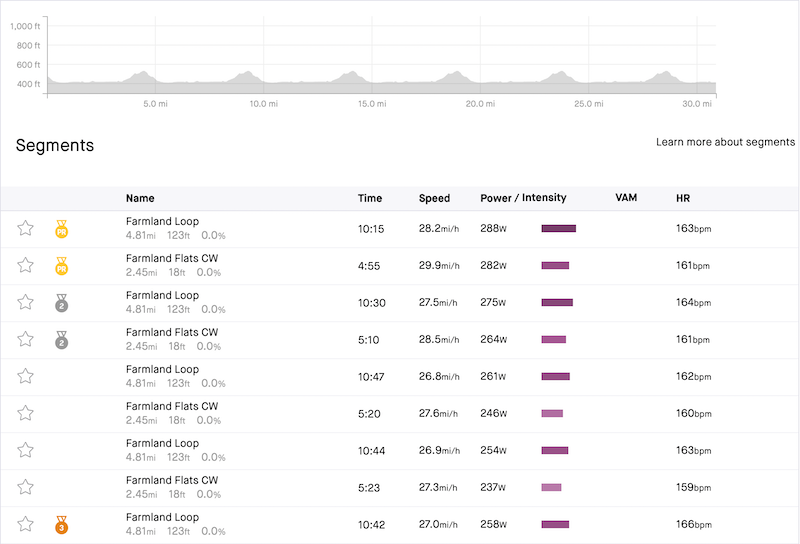 Saturday Paula and I drove to Lake Morey just under 2 hours north of us to do some skating. We arrived at noon and the temperature was still below 10F. Fortunately there was barely any wind and the sun was out in full force. Normally the had a 4.5 mile loop cleaned out around the lake, but conditions were not good so they had cleared a shorte half a mile loop. We first did a couple loops on that.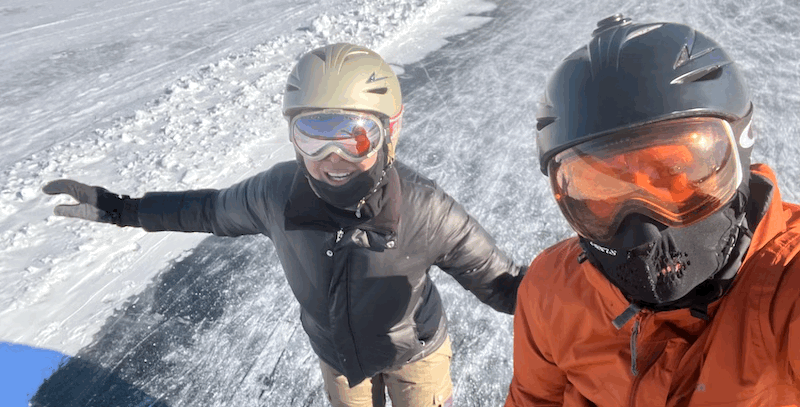 Then we got bored and went out on the wider lake. The wind had blown snow of the ice at certain spots and other spots had been frozen closed after the snow and were snow free. So with some puzzling and meandering we were able to skate most of the lake, not at high speed. But was another kind of skate fun.
Things got interesting when we were about the take a selfie on the lake and 2 airplanes on skis were taking off the lake just in front of us. It felt we were in a James Bond movie. Overall a fun day on the ice with a 11 miles skated.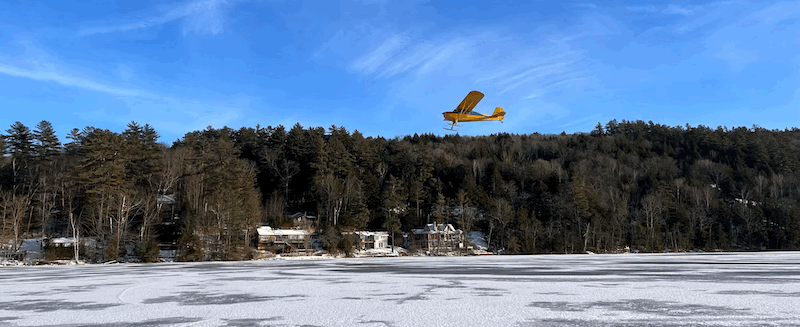 Sunday morning took it easy, watched some cyclocross. In the afternoon went fat biking with John and Sean. To warm up I had done a quick 20 minute row before the ride. Sean had brought Scott his dog, who had a great time on the trails, running around. Once we climbed up the road section we encountered a bunch of Fat bikers, including Kate with a group and Sarah.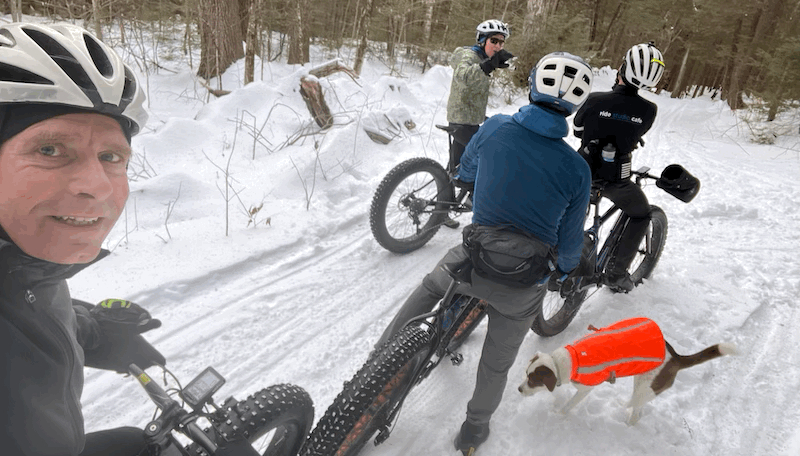 Sarah joined us for a bit, until we went across the ice, she had no studs. We finished the ride on the trail that we had padded down. The trail was in great condition and fun to ride it now I know it better. I also dropped the tire pressure in my front tire a bit, which made the bike less bouncy.

No Veloviewer summary as apart from the Conway forest Fat biking, no other outdoor rides. I hide these rides as they partially go over private land.