Still nursing a bruised rib from my mishap on the Kingdom trails two weeks ago, started the week easy. On Monday did an ez spin around town to loosen up the legs and see how the ribs felt.
On Tuesday rode a longer ride with John, mostly asphalt as he was nursing a bruised rib too. I called the ride "bruise cruise" and John called it the "bruise brothers". We did a 13 mile loop up rt 116, then Murray rd and back by Pine Hill and Shelburne Falls rd.

Instead of the regular NCC CX practice on Wednesday joined Joe for a cross practice in what he called the Pit, a former sand quarry in Florence. Joe showed us around the 1.3 mile course that included pump tracks, berms, sandy sections, runups and logs; a very technical, challenging and fun course. We did 4 laps and slowly dialed in the course. My ribs were not too happy but it was definitely worth it. Since the course was so technical, there were not long power sections and I only had a TSS of 18 for the 1 hour practice session, which was really surprising.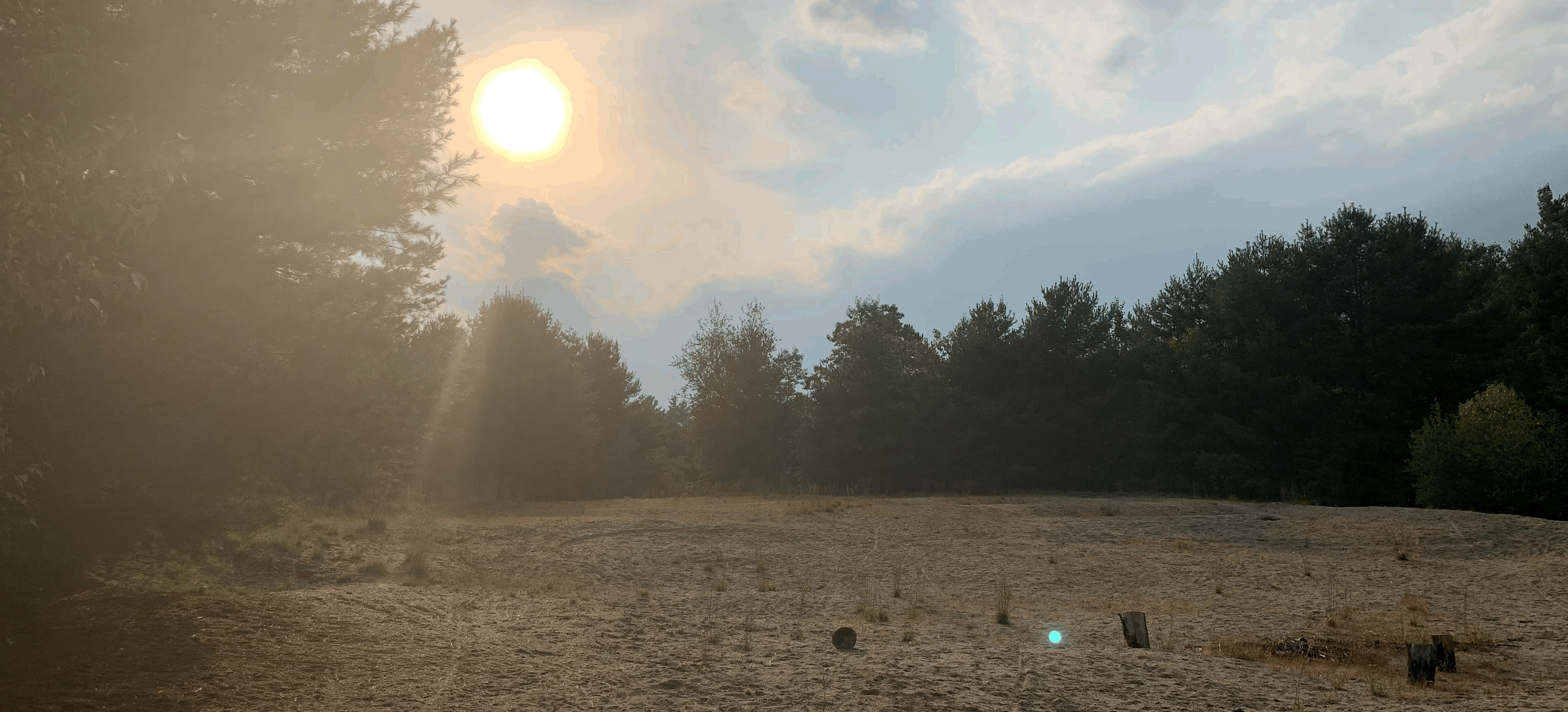 As a result of the low effort CX practice decided on Thursday to do a power intensive indoor training. Since the next race in 2.5 weeks is Night weasels, decided to do an interval training specifically modeled after the first section of the Ice Weasels course, including the 90 seconds climb up the ski hill. Each interval consists of:
10 sec @ 200-210 % of FTP (Start sprint)
40 sec @ 90-100 % of FTP (Turns to the foot of the hill)
1:30 @ 130-140 % of FTP (Hill climb)
1 min @ 30-40 % of FTP (Descend)
1:40 @ 90-100 % of FTP (Flatter sections at the foot of the hill)
5 min @ 30-40 % of FTP (Recovery)
I did this interval 5 times, which resulted in a TSS of 92 in 50 minutes.
Friday felt I could do another trainer interval training and did a CX focussed workout called "Crisscross", it consists of 2 blocks of 10 intervals of 2 mins at 90%, followed by 30 secs at 120%. I had done this workout before outside on the grass but never on the trainer. It turned to be a hard workout, I completed the 8 intervals of the first block but in the 2nd block the fatigue, from the training the day before, resulted that I could only complete 6 of the 8 intervals. In the end still good for a TSS of 72.

The weekend weather looked good. On Saturday Paula and I decided to ride up Patton hill. The route first brought us in Shelburn Falls where we had a sandwich and a Iced Mocha at Baked.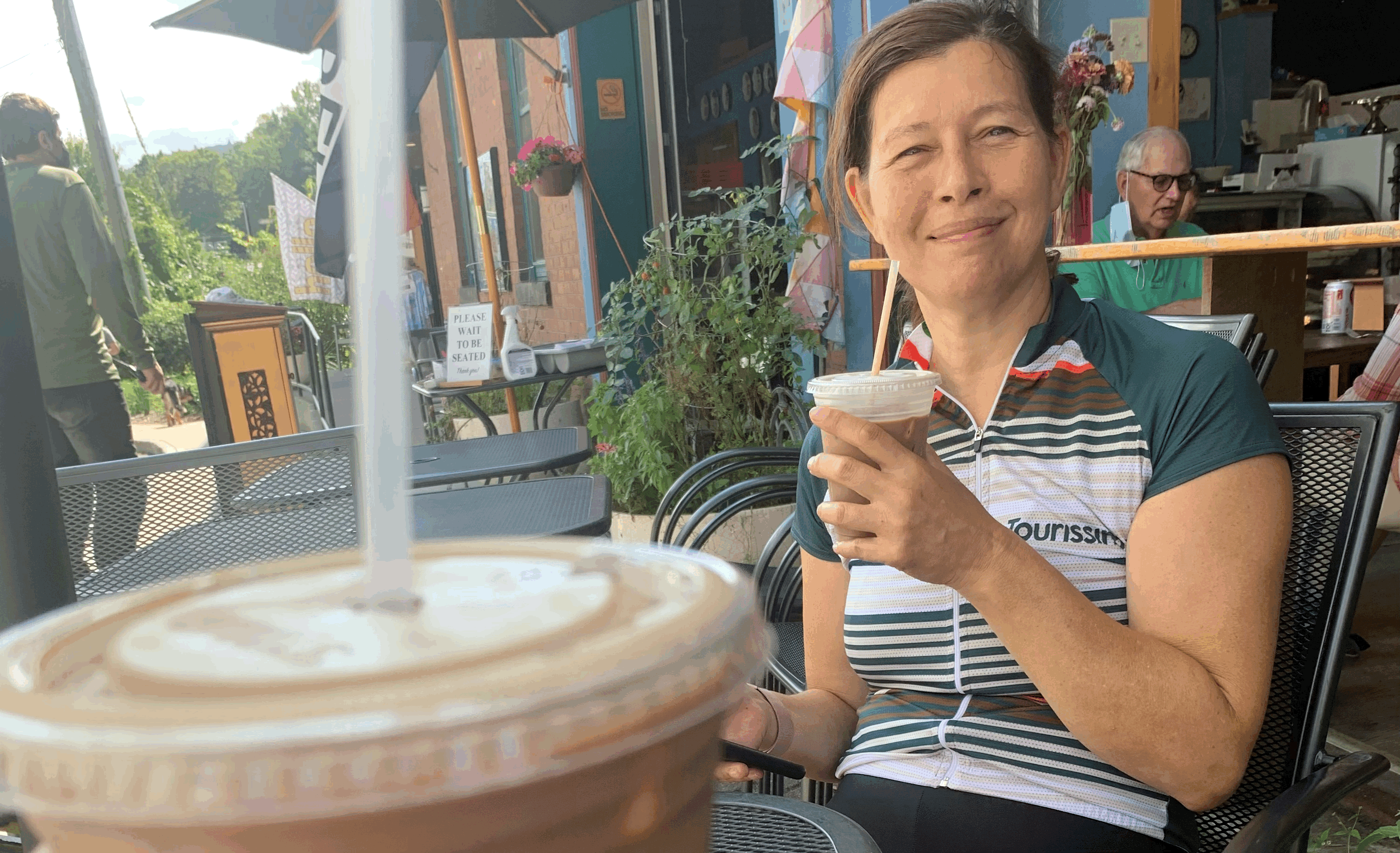 We then continued toward the foot of Patton Hill. Patton hill is (in)famous with the D2R2 participants as on some of the routes it is the last and hard climb before descending back towards Deerfield. This was Paula's first climb up the Patton and she did really well. She only had to walk the extra steep section towards the end. This was mainly because two cars passed us and forced her on the loose gravel. After finishing the climb and enjoying the view, we descended thru the beautiful Sherburne valley towards Hager's farm market for Maple creamees.

After admiring the ripe apples in the orchard and finishing our creamees we continued on our last section back to Conway.
Sunday I had picked a course that would bring me back to the gravel roads in Rowe, that I rode during D2R2 this summer. I routed it over Bray rd into Sherburn Falls and since I only had one coffee this morning, decided to get a cappucino at Baked. Well caffeinated I rode in the direction of Colrain and then onto Adamsville road and Heath rd towards Heath. The climb was not too steep and I used it as a slow cadence strength workaround. I ended up in Camp Demens, where I did not feel welcome, with all the private road signs, so quickly worked my way back t0 public road.
From Heath I rode towards Rowe and ended up on the Daves Mine rd, a beautiful gravel rd which brings you up to a ledge with a great view. Just after entering Dave Mine rd met 3 other riders; Luke from Berkeshire Bike tours with customers from Sommerville doing their Gravel camp. I chatted with them for a bit, before riding on. A little further down the road was a photographer from Berkshire Bike tours ready to take photos when the group came through.
After admiring the view descended into Charlemont. I stopped at the food truck and got myself a foot long hotdog and a coke. I chatted with a nice retired couple from Heath about their acedemic background and their travels in the US.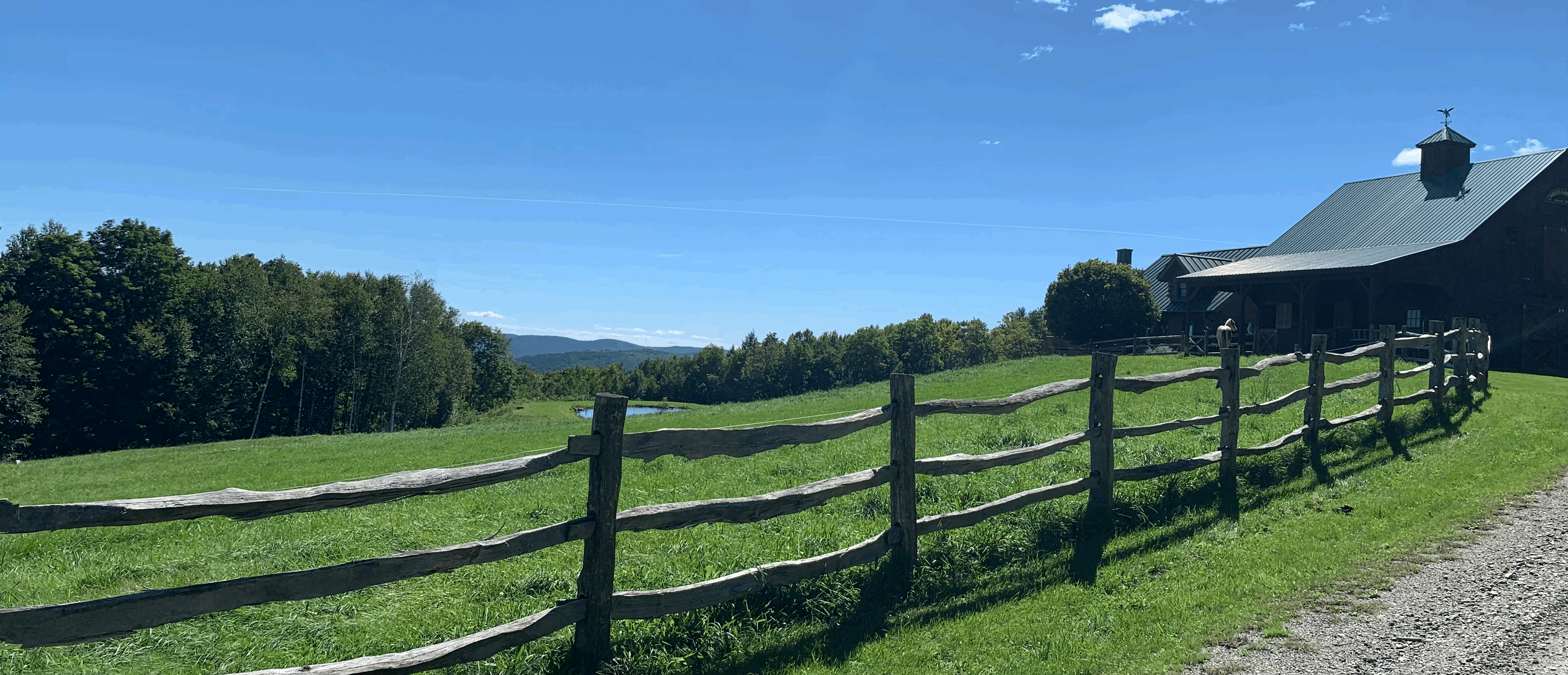 After the lunch break climbed up East rd, again tried to do some slow cadence strength workouts. The climb was longer than I remembered. Both on the climb as well as the decend on Labelle saw no cars nor any riders. I had the road all for myself.
I had only one climb left which was Smith rd into Ashfield, again here I did a slow cadence strength interval. Worked out pretty well, it was my 2nd fastest time up Smith. I then had an easy finish by descending rt 116 back into Conway. Overall a good ride with beautiful roads and vistas.
Here the week on veloviewer