No ride on Monday. But did I play 2 hours of pickleball in the Conway townhall. We were with 4 of us, so almost uninterrupted game play, the only interruption were some serve and net drills we did.
Tuesday raced the NCC TT on the Zwift Champs Elysees course. Two laps of pain. This time decided to ride my own pace to not blow up. That worked well as I had a negative split, first lap averaged 292 watts in a time of 9:55 and the 2nd lap hit 303 watts with a split of 9:44. and finished 5th overall. Missed the podium by 3 seconds.

The next day Mike joined me and we went out to Hawley to do some fat biking after the fresh snow we got on Monday. Fortunately a few Snow mobiles had come through and broke some trail. We rode 6 miles, and despite the snow mobile some sections were relatively tough to ride, especially the uphills where the rear wheel started digging in. Both Mike and I continued to lower our tire pressure. When later at home, I checked the pressure it did not even register on the pressure gauges, which means it must have been below 2psi.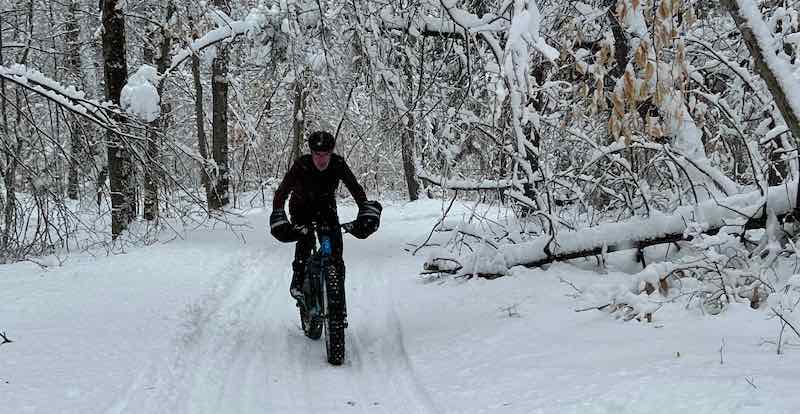 From Hawley we drove straight the Berkshire East where we did 12 ski runs. The snow was fantastic, no ice, and not too thick. Best skiing so far this season. We saw Daryl who gave me some ski technique pointers which really improved my skiing. Later we were joined by Melissa and Dusty before finishing off our last runs and returned home.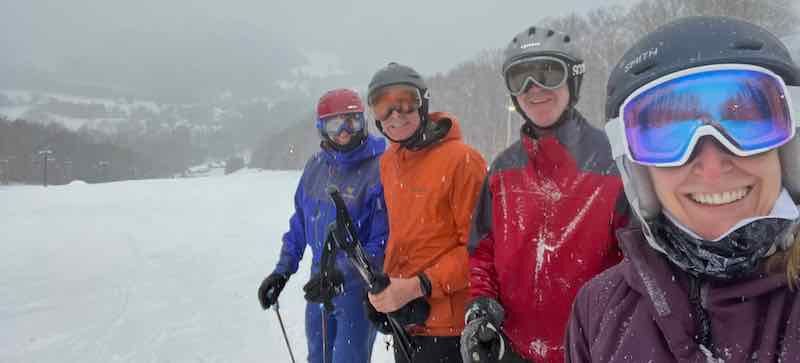 Thursday joined NCC for a Tour de Zwift stage race. This time we were racing on the longest NYC route called Everything Bagel. Wow I did not know there were such huge climbs in the virtual NY world. The first one started after less than 2 miles of racing and soon had to throw in the towel and got dropped from the first group. At some point Melissa and I rode together in a small group but then another climb we got separated again and I raced 2 others for 25th place out of 114.

No riding on Friday. But Saturday morning Paula and I played pickleball with 3 other towns(wo)men. In the afternoon we did a quick walk through town as the weather was so good.
The next morning we had an early start to take advantage of the freezing temps and did a cross country ski along the South river. The snow was icy and crusty but was reasonable good to ski. Although we were careful descending on the sometimes rutted icy snow.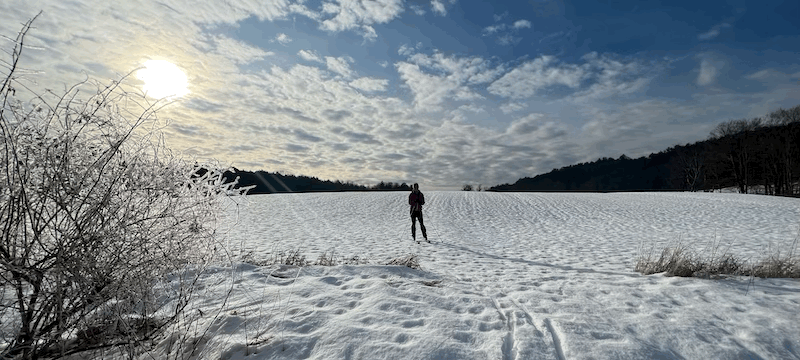 At the end of the day, I did a quick 40 min spin on the indoor trainer, watching some CX on tv.