This week started on a high and ended in a low. After feeling the form of the year and ready to race hard, unfortunately crashed during the course inspection and could not even race.
The week started with a an ez spin on Monday to loosen up the legs from racing two days in a row. I did a 40min ez spin in zone 1 on the training. Legs felt great after. Since GCN and Flosports start to stream the cyclocrosses races again, good way to be entertained during these indoor sessions and learn about race tactics.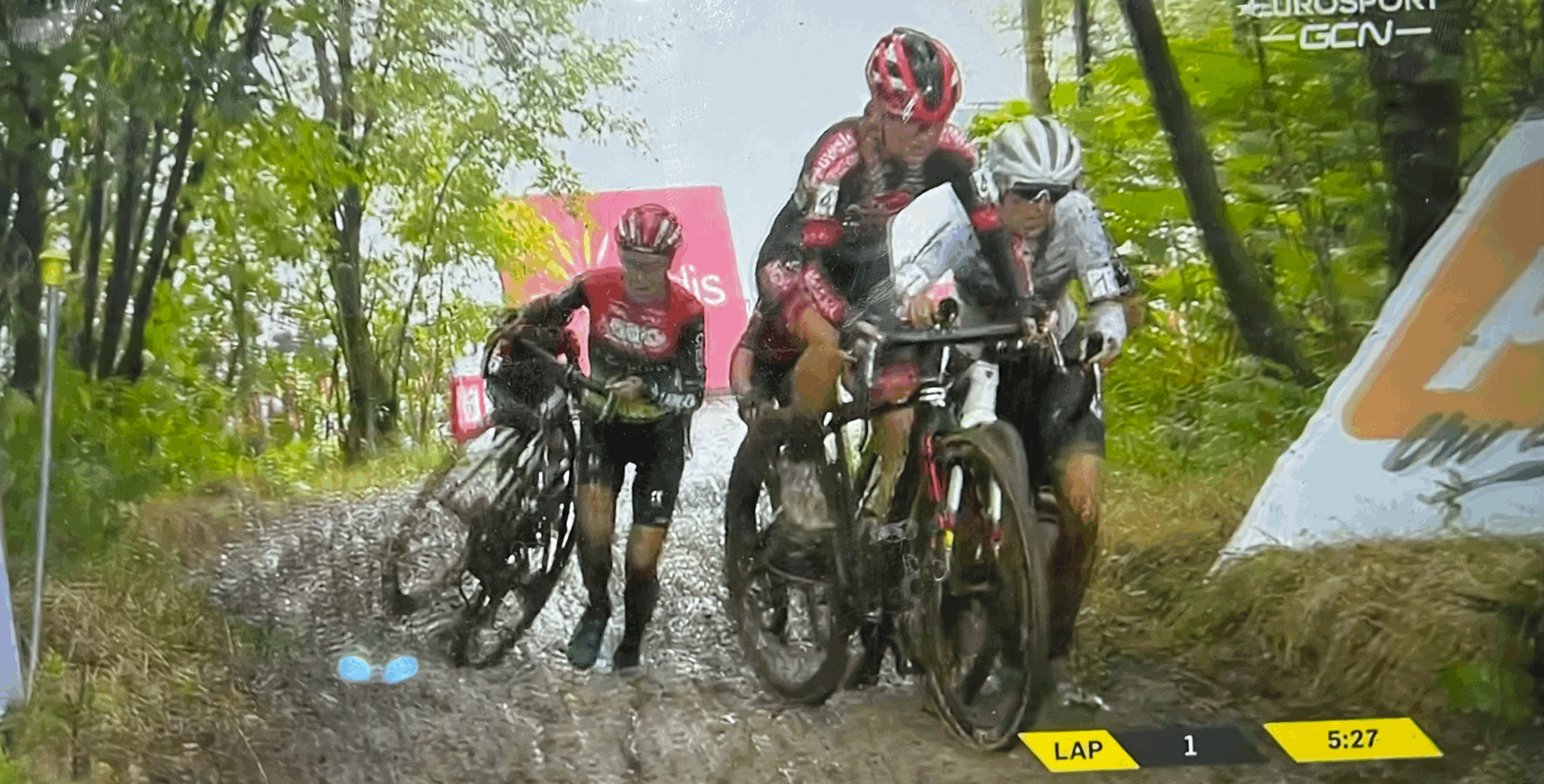 On Tuesday I started to do some leg weight training. I had chatted with Anja last weekend about leg weight training during the season, so decided to try it out. I did some squats with some light weights and then some lunges without weights. In the evening did my CX intervals in Central Park. However I had to stop after 20 minutes as my hamstring started to act up. Probably as a result of the leg strength training. I had not done any stretching after. At this point thought ok, maybe not a good idea, strength training.
The next day I did a run again 2. At the end of the day went to the NCC Cross practice. We started an hour earlier at 4 due to the earlier sunsets. We first did 2 ez laps on the regular course, but then went back to the Ghost of Gloucester course, since we could still see the tracks from the Sunday before it was easy to follow the course without the course tape.

Surprisingly enough my legs felt super strong. The long power section where during the race I averaged 310 watts, I now did a 466 average. Seems the spin and/or strength training was paying off. After 3 laps we went back to the regular course where we did 1 more lap and then did 3 power sprints up the hill. David and Melissa had to leave early, which left Tyler, Joe and myself. The sprints were brutal, lasted more than 30 secs. The fastest one I did was 36 secs and averaged over 600 watts. Overall a very good practice, lasted more than 2 hours.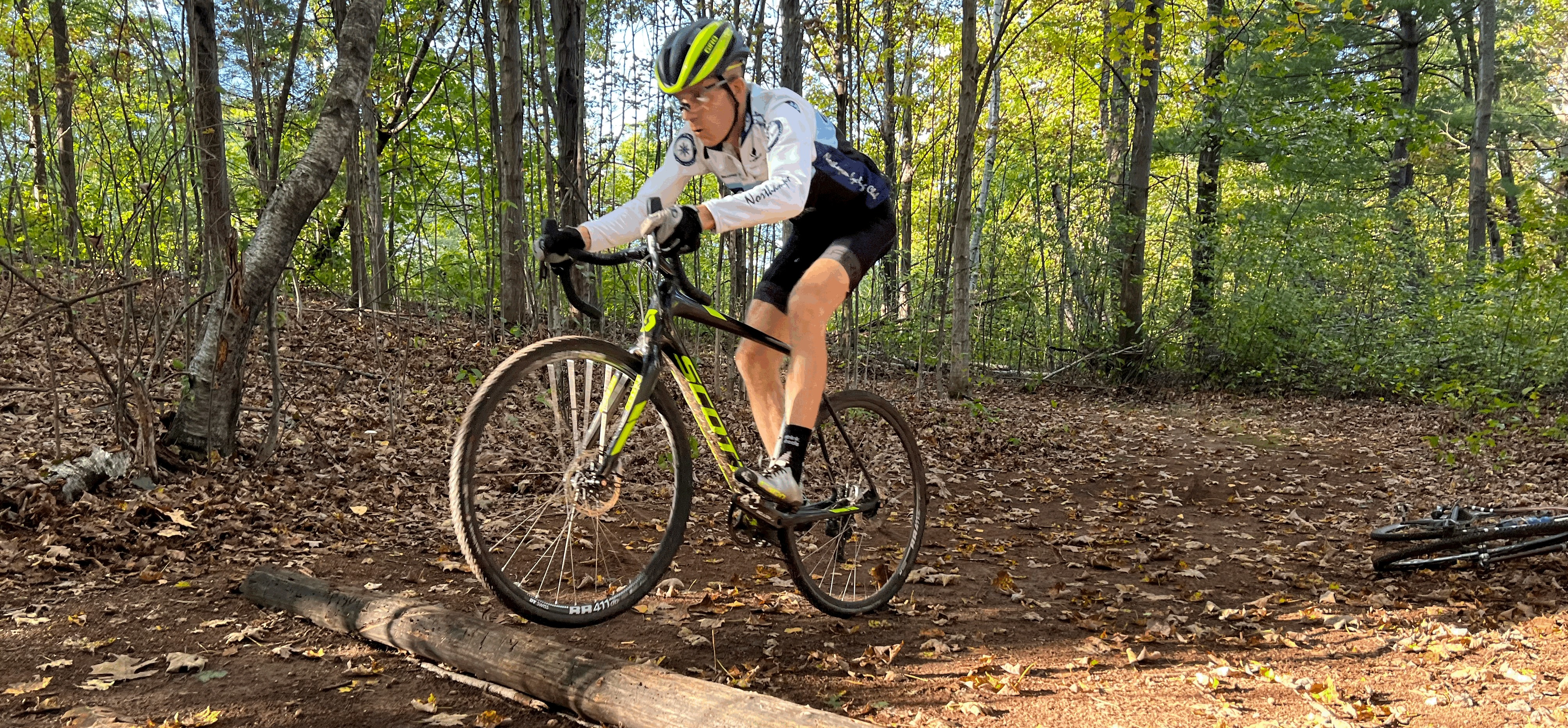 Thursday went out for a few hard CX laps in the woods. To warmup I first did a loop along Williamsburg rd and back via Reeds bridge. I ran into Dusty who returned from a long ride, but had some energy left to accompanion me for a chat during the warmup. The loop thru the woods is 1.4mi long and goes mainly uphill first and then levels out and the mainly downhill. It is pretty rough with lots of twigs and some rocks and was a bit slick. But it has some really nice turns and the uphills are super tough. In the end could only finish 2 laps.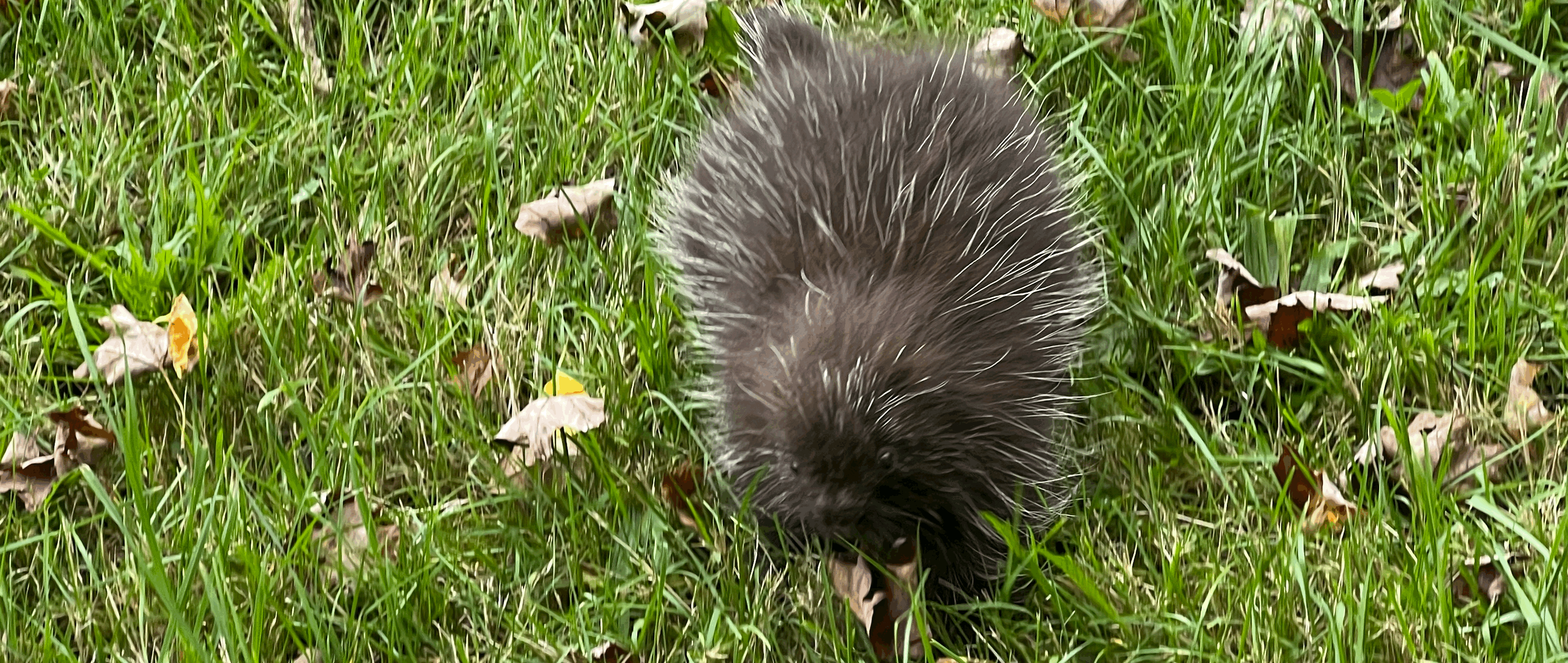 On Friday did another ez spin to loosen the legs and to try to get that great feeling in my legs again.
For openers on Saturday, Paula and I did a short loop around Roaring brook. I was able to do my 5 min zone 3, three times 1 minute zone 5 and three 10 sec sprints in to get ready for the race on Sunday.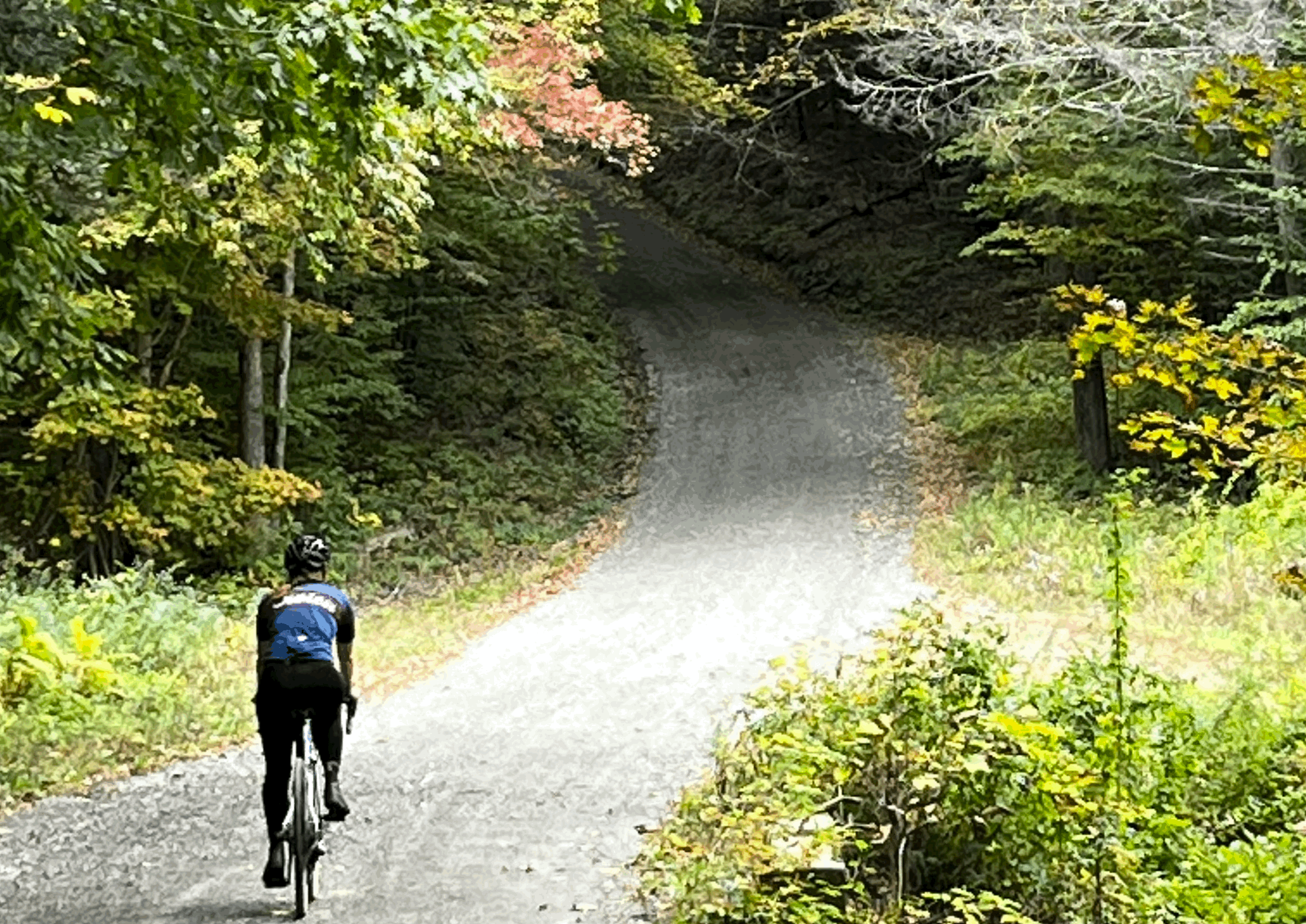 Paula joined me on Sunday for the Minuteman race in Lancaster. My race was at 1pm.  After we arrived at 11:30 I immediately made myself ready for a course inspection. There were a lot of folks pre-riding and it was pretty social. Then disaster struck when I misjudged the height of some logs by trying to bunny hop them. Right at the first log my backwheel did not clear it and I went over handlebars and face planted in the sand. An afterthought on how I could have mis timed it is that I had exchanged my stem for a steeper stem two days before. Thisbrought my handle bars higher and perhaps as a result did not pull up the bike enough. Anyway... water under the bridge.
I was able to get up but was bleeding from my mouth and nose. Also my sternum, knee and neck hurt. My helmet seemed to have hit the ground and had dirt on the front. Fortunately I wore my new helmet with the MIPS technology (minimizes rotational motion on impact), which probably prevented me from having a concussion.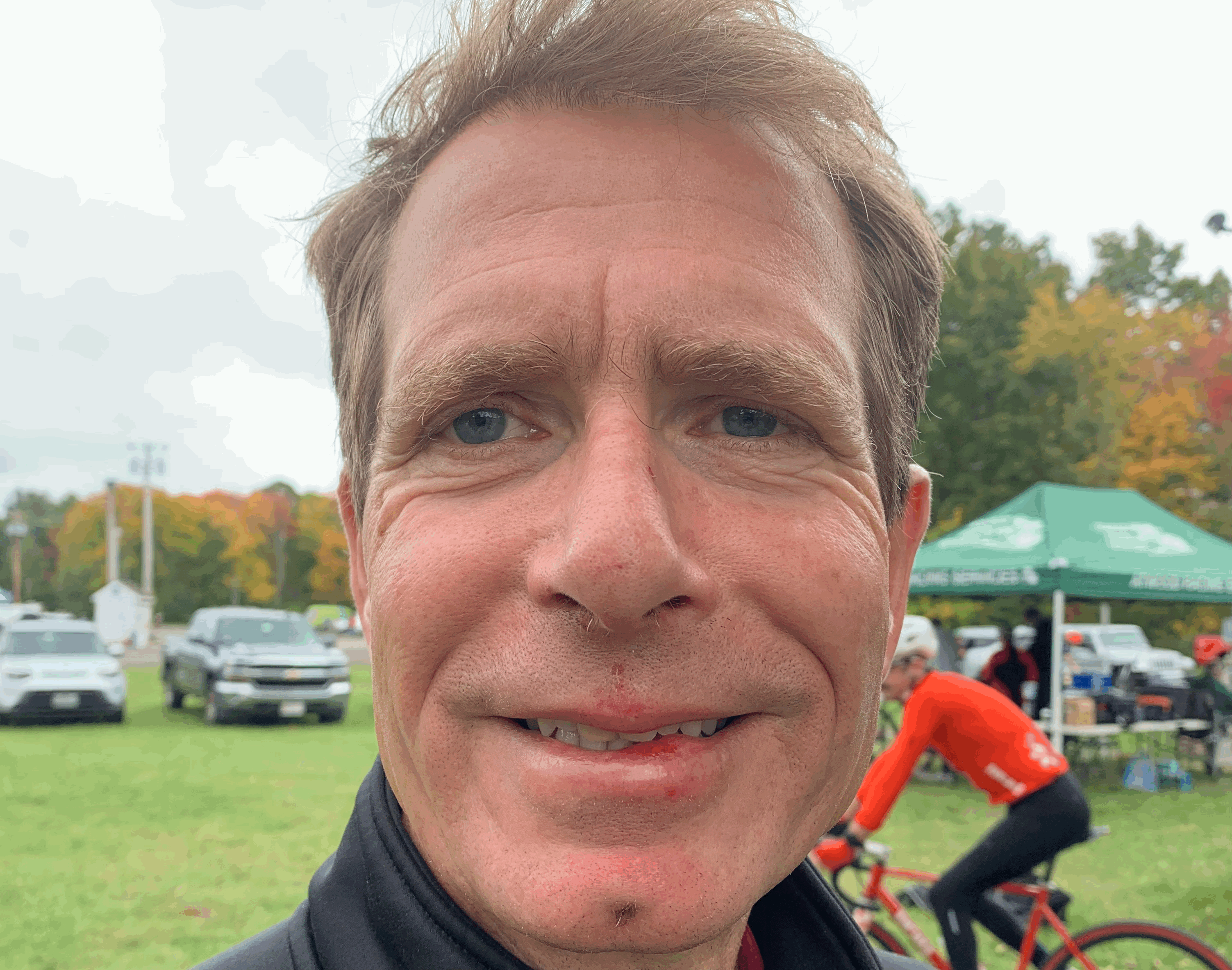 Cathy was right behind me when I fell and she made sure I made it safe to the EMT. The EMT checked out my wounds, but there was not much there was to do. He also did a concussion test but did not seem I had one. Although I failed the 2 finger test. I saw two pair of 2 fingers. But I just blame that on not wearing my reading glasses. Just in case I decided not to race. All and all a disappointing day. But got better when Jutta and Alexa and the baby showed up and we hung out to watch the race I was supposed to be in. So we could cheer the Mikes on.
Here the week on Veloviewer