This is supposed to be a cycling post. But there was no cycling this week. What gives...

The reason was that Paula and I were visiting my son Julius and his wife Taylor in LA. I had not brought a bike. But Paula and I did a lot of hiking. The weather was pretty cold very for LA standards. A high of 55-60F with lows in the morning even the 30s.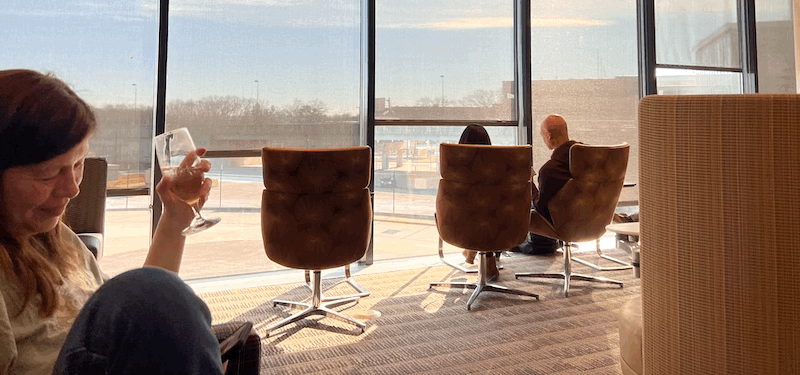 After a 12hr delay we arrived Monday morning in the early in LA. After a short night of sleep Paula, Julius and I went hiking in the Chino hills. It was a beautiful 6 mile route with vistas on the Orange county valley. I was definitely underdressed with my shorts. As there was cold north western wind.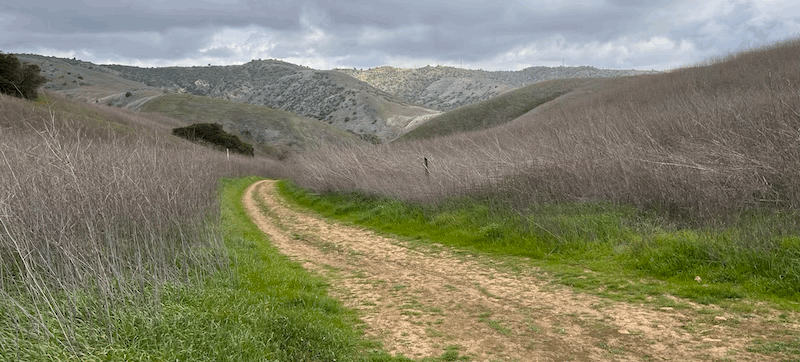 Tuesday morning Julius and I went for a run. For me a short 30 minutes run, as it was the first run since weeks. Conway routes were not too inviting for running lately. Julius made it a longer run with over 90 minutes!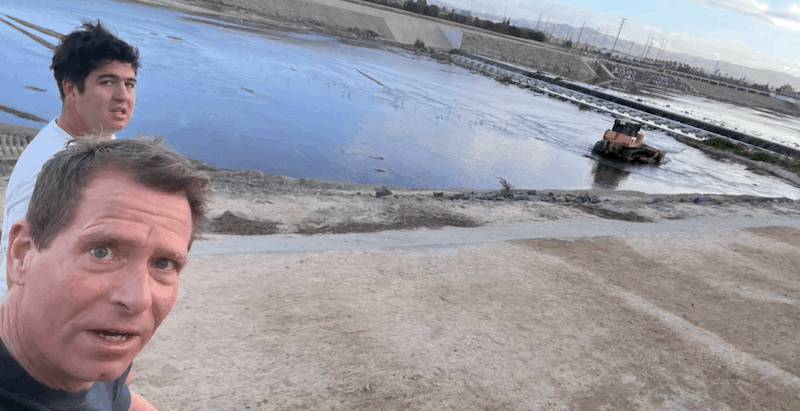 After breakfast, Paula, Julius and I decided to drive through Santiago Canyon rd to Whiting Ranch Wilderness Park. In the park we hiked a 5 mile route. This route had beautiful vistas towards Orange valley and the Pacific ocean.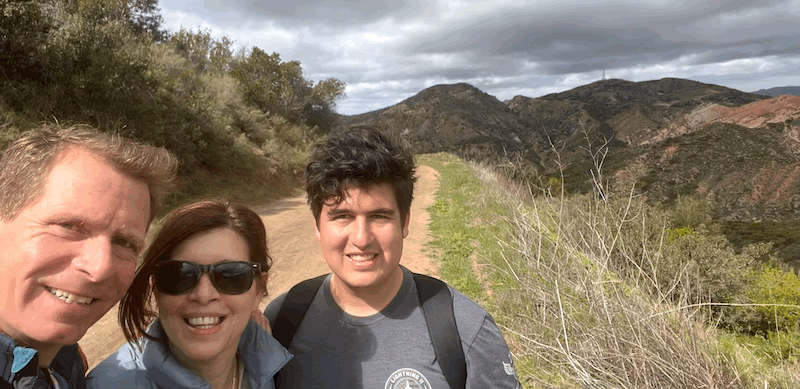 After a lunch in Lake Forest we drove to Downtown Disney in Anaheim. There we walked around the Disney shopping center. Other than the Starwars and Lego shop not too interesting. Was interesting to see the various visitors. We did not go into the Disney attraction park. Ticket prices were a bit too steep for our taste.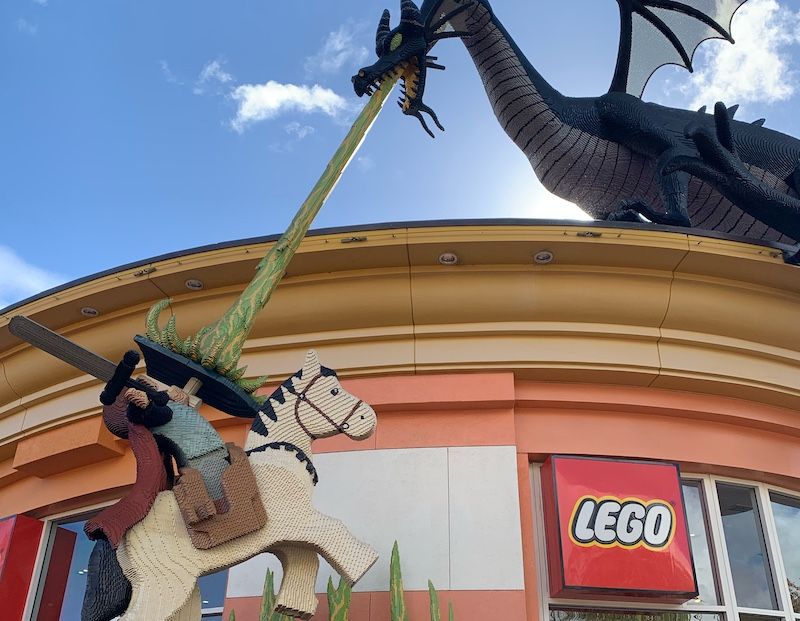 Wednesday the four of us; Julius, Taylor, Paula and I, drove to Laguna beach. Laguna beach is a picturesque beach town on the Pacific coast. When we walked along the beach we saw a pod of 4 to 6 dolphins swimming just 100 meters off-shore, parallel to the beach. They looked very graceful.

After the walk, Julius had planned for us to visit the local museum of modern arts, but it turned out to be closed that day.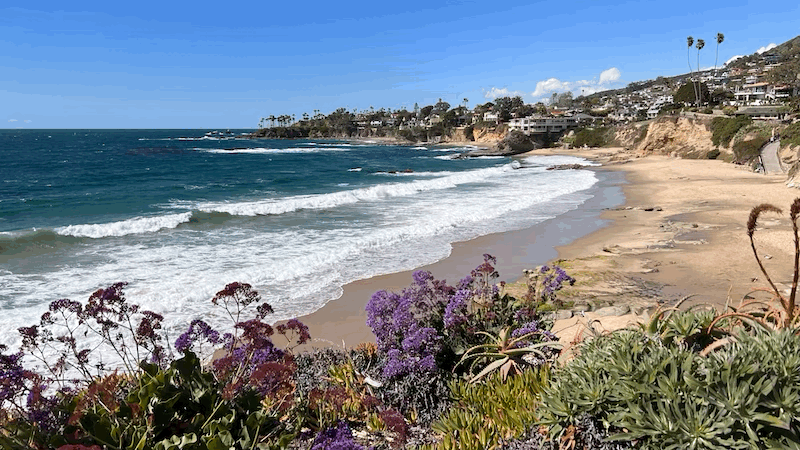 After some more walking around town and dinner we drove up to what is called "Top of the World". A hill just outside of town that gave great views of the valley and the Pacific. Here we saw the sunset, almost in the ocean, if it wasn't for Catalina island as that is where the sun set behind. When I came home I was surprised to see we had walked more than 5 miles.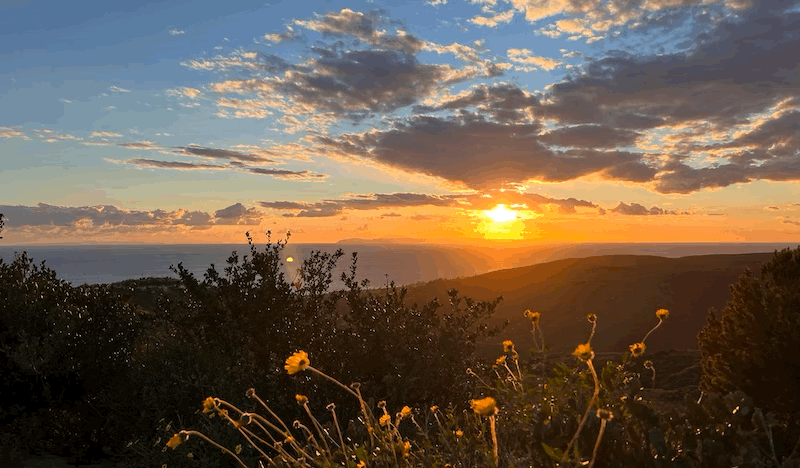 The next day we decided to do a hike to the Hollywood sign, Taylor had to go back to work, so the three of us drove to Griffith park. There we hiked along Brush Canyon to the Tyrolian Tank. It was a 5.6 miles out and back route. From Tyrolian tank we had a real good view of the Hollywood sign.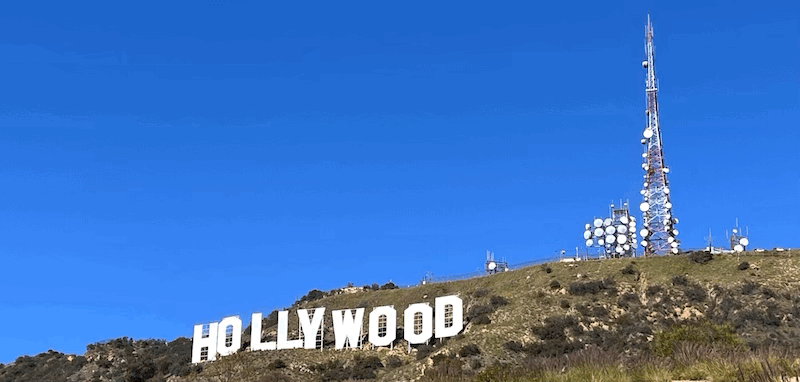 And we were not alone, there were plenty of folks that wanted to get a closer look off the sign. Although some were not really prepared for a long hike like that.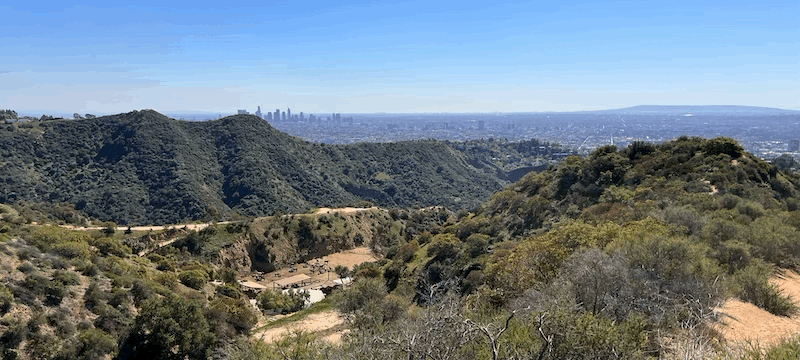 On Friday, the last day of our stay, I went for a 4 mile morning run along the Ana river. There were a lot of joggers along the river. Most of them seem college students, my guess was that they were from nearby Chapman University.

Since Julius had to get back to work, Paula and went to explore Fullerton by ourselves. Paula had connected some trails into a 4 mile loop. It was kind of a suburban hike with: sidewalks, mountain bike trails and lovely neighborhoods. No spectacular vistas this time, but some of the houses were very interesting.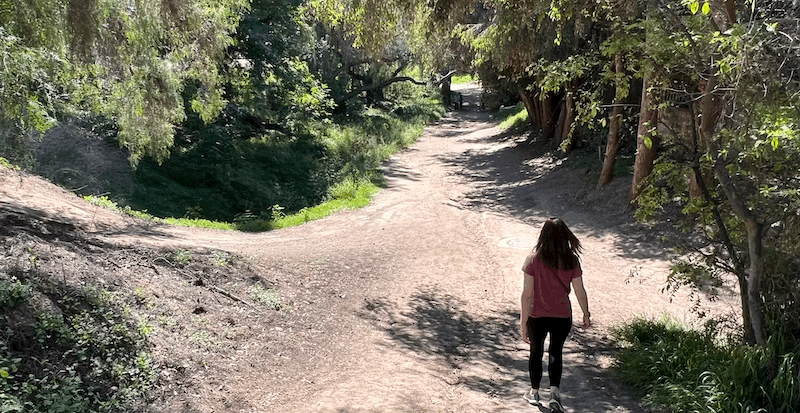 Saturday was a travel-back day. Sunday Paula and I had a chance to do some cross country skiing on all the fresh snow that had fallen, 2 days before. We went onto field next to our house, and then on the more hillier trail in the Conway woods.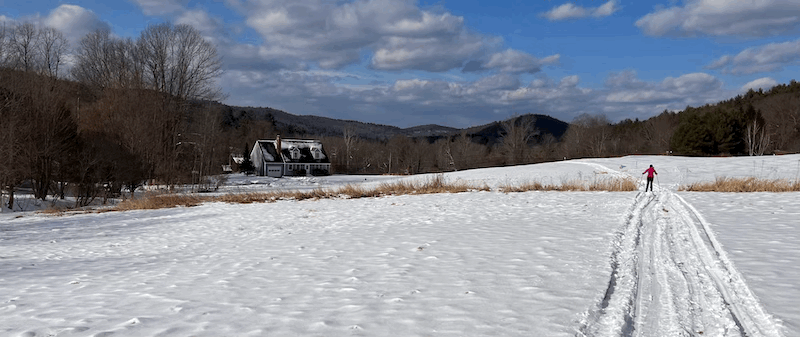 Don't think I had hiked as much in a one week for a long time. I averaged more than 16,000 steps a day and 35 miles in total.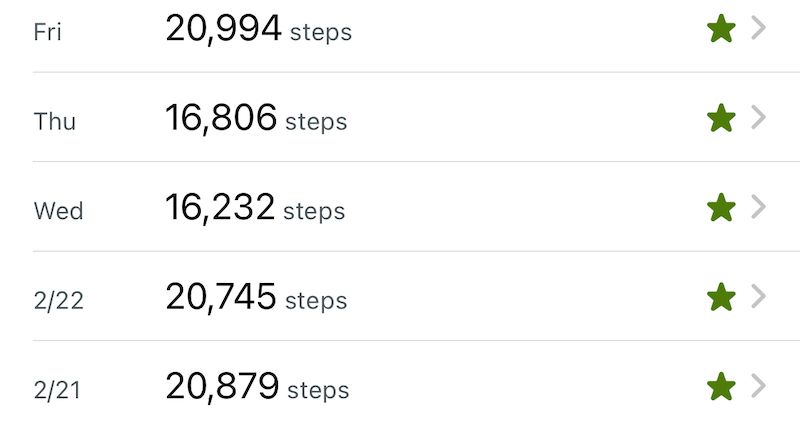 Next time I'll visit Julius and Taylor will need to bring a bike, perhaps even a mountain bike as most of the trails we hiked on were perfect for mountain biking.