After last week's trip to LA with no biking at all, this week I made sure to get some biking in.
On Monday however I started out with some skiing. I met Dusty and Henry at Berkshire East. I had forgotten to start my watch so don't have all the stats but, I think we skied from 1:30pm until almost 4pm. Henry was on a snowboard and the trails we skied, were not treating him nicely as there were a lot of flat sections . That meant he needed some pulls.

After I got home, I went on the trainer to loosen up my legs after a week not riding. I used my openers workout, which I normally do a day before a race. Made sense as I was going to do the NCC hill climb race the next day. The opener workout lasts just over an hour. The harder sections are a 5 minutes in zone 3. Three 1 minute Vo2max efforts, followed by 3 10 sec sprints. The legs felt rested after last week off the bike and in one of the sprints peaked over 900 watts.

The next day was the NCC hill climb race, the route we did was the Zwift KOM, an almost 6 mile climb averaging a 3.4% grade. During my best effort so far I had completed it in 23:51 and this time I finished in exactly the same time. This time I had a PR in average power 304 watts for the section. Unfortunately this meant that now I was heavier than during me previous attempt. Since the effort was around 20 minutes I also made this an FTP test. The best 20 minute effort was 3o3 watts which meant my FTP is now 287 watts. Was interesting to see that the average wattage over 23+ mins was better than over 20 minutes. I checked it out and turns out the average at the beginning and at the end were higher than in the middle.

On Wednesday I went skiing with Dusty and Melissa. I started out with an effort up the mountain on my snow shoes and than skied down.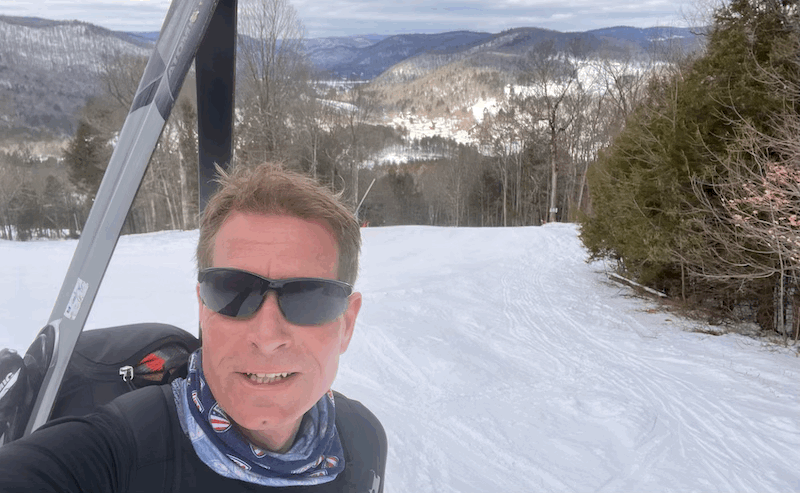 After I dropped off my bag with the snowshoes, I skied the rest of the day with Dusty and Melissa. Unfortunately the watch was not charged so I only recorded a short session. We skied probably about 15 runs and the conditions were great and it was not cold.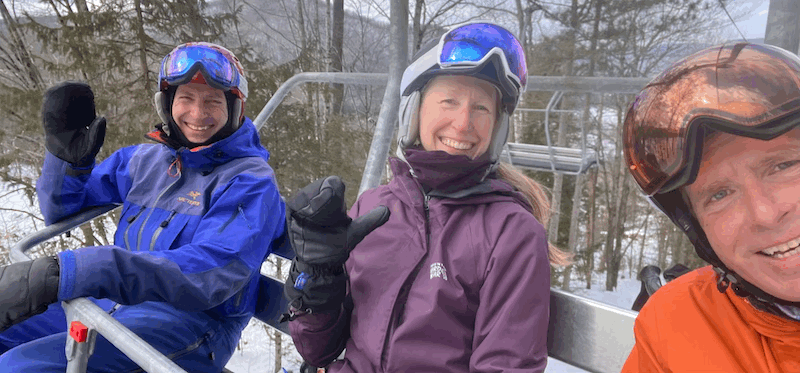 Since I was driving to Arlington Thursday night for my trip to Aruba the next day I wanted to do one more training session before I left. I rode up the virtual Mt Ventoux at sweetspot pace. This was a solid 1hr and 20+ mins. In order to break up the effort, I stood for 1 minute every 20mins. I finished the climb segment in 1hr and 24 minutes with an average wattage of 263 watts.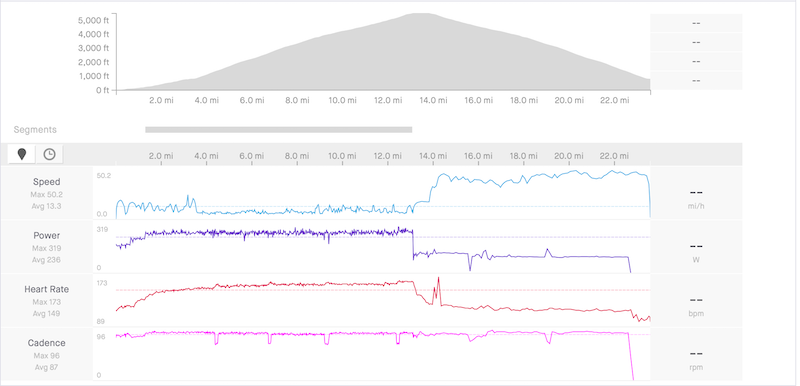 After a travel day on Friday I made it to Aruba in the evening. The next morning I went for a 3 mile run. The airbnb I stayed in was only 3 blocks from the Surf side beach.

I then ran along the beach, first on the hiking trail along the water and then on the beach. I finished the run with a nice cooling off swim in the Caribbean.

After breakfast I went to beach were the wind surfing and kiting rentals and schools were. At the Blue highway surfing company I rented a surfboard. I reserved 4 sessions of 2 hours. The first session I started with a larger board and a 4 square meter sail. I had to get used to it first, but was able to do a number of back and forths, in total I surfed 9 miles. My fastest speed was 11.6 mph.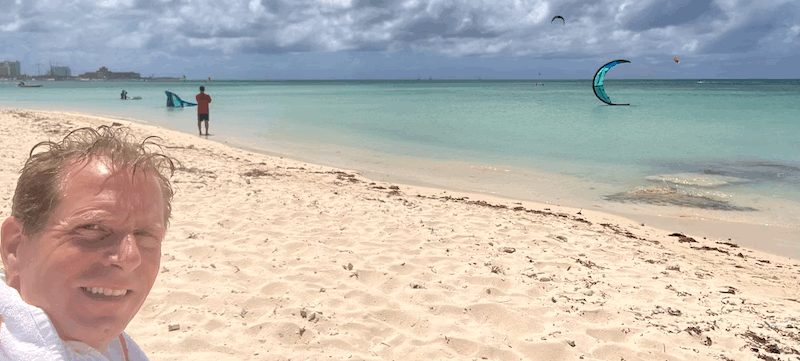 By the time the 2 hours, I had rented the board for, were over; I was done. My hands were hurting and I also hurt my back a little with a weird jump to avoid some kite lines hitting me.
After surfing went to the store to buy some snorkeling gear. I ended up in Intertoys, a toy store. A a result the only snorkeling kit I could buy was a kid version, bright yellow. The flippers were useless but the snorkel mask and snorkel worked great.
Now it was time for some relaxing snorkeling. I went to Arashi beach which is a little north of the beach where I surfed. Immediately after going under water I found some cool looking fish. No photos yet, as I had not brought my gopro. But I was in the water for about 20 minutes.
Sunday before breakfast went for a walk downtown Oranjestad and looked at the colorful buildings in various state of maintenance.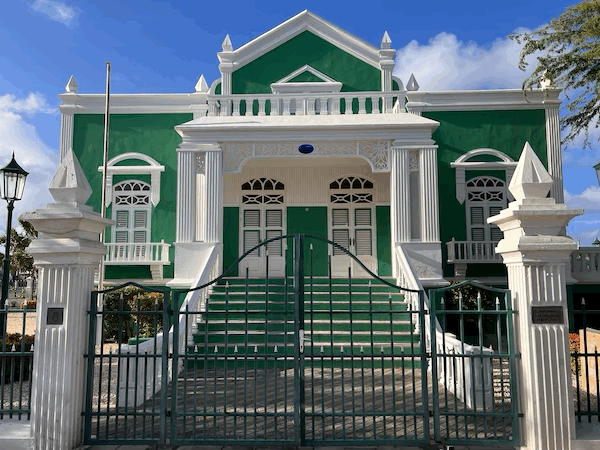 After breakfast went back for a 2nd day of wind surfing. I started out with a larger sail 4.5 square meter on the same board as the day before. With my arms and hands still sore from the day before it was definitely harder. Also the wind was stronger. I hurt my lower back by trying to pull up the sail to fast. So after less than 45 mins went back to theshore to get a harnass. With the harnass in place it was much easier on the hands an arms. Now I had a couple good "runs" with fast planing, where most of the board comes out of the water. Total distance surfed was 9 miles and fastest speed was 14.7 mph.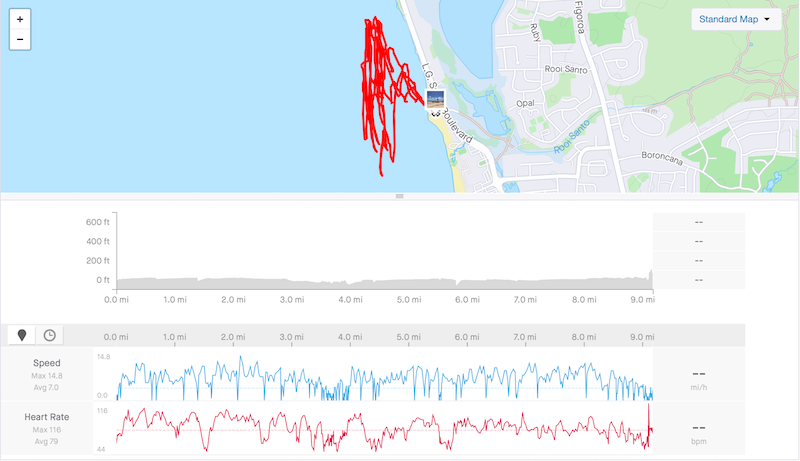 In the afternoon went snorkeling again. I had spoken the day before to some snorkelers that had some professionally looking gear. They mentioned coral north of Arashi beach. I went out and swam for 25 minutes but did not find any coral. Did see a few fish. Oh and at some point saw a 10 Aruban florins bill at the bottom of the sea so I dove it up.