Finally, I had a chance to ride the JAM Fund Grand Fundo. I had wanted to do this ride for the longest time, especially now that I live close to the start location.
The JAM fund grand fundo is presented by The JAM (Jeremy Powers, Alec Donahue, and Mukunda Feldman) and Northampton Cycling Club. The JAM fund raises money to financially support young motivated cyclists.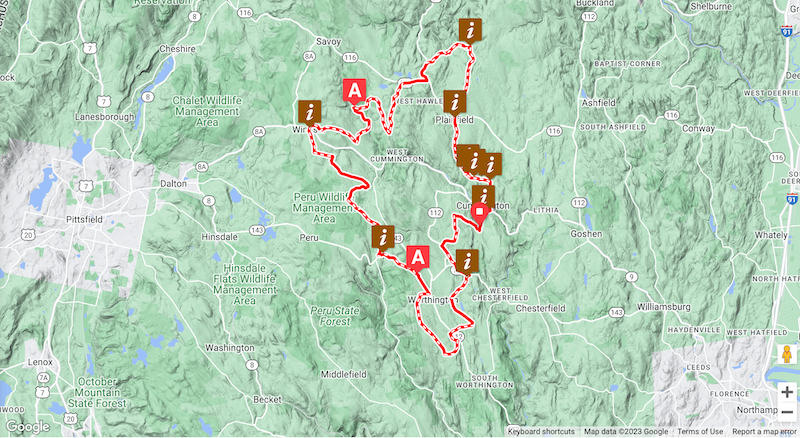 The event start location is at the Cummington Fairgrounds. The routes, Mini Fundo (29mi / 2400ft), Grand Fundo (52mi / 5100ft), and Adventure Loop (81mi / 8000ft), explore the beautiful dirt and gravel roads between Cummington, Hawley, Windsor, and Huntington.

I had signed up for the Adventure route. But after an unfortunate brief summer flu a few days before the event decided to take an "easier" route: the Gran Fundo. And that allowed me to ride the event with my buddy Mike.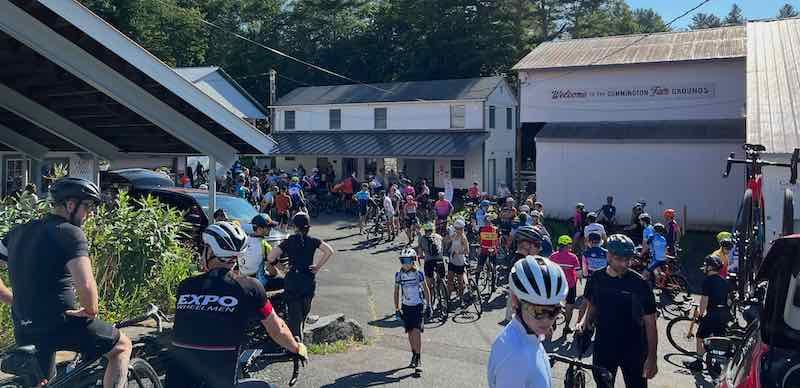 Sunday morning, 7:45am arrived after a half an hour drive at the Fairgrounds, and the activities were in full swing. Volunteers (I saw Dough and Ari) directed cars where to park. Within 5 minutes, I was registered and enjoined a tasty breakfast with a nice Coffee Cold brew. Lots of friends to talk to, old friends I had not seen in a while and made some new friends.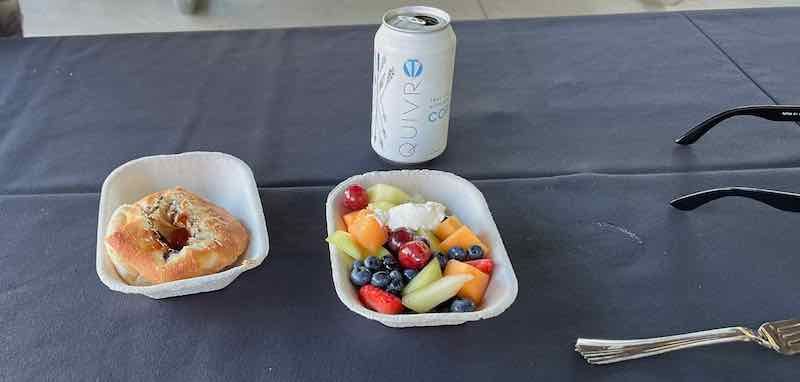 Just before 9am, all riders lined up behind the 12 JAM fund grant recipients. Ellen Noble (multi U23 US National Cyclocross champion) introduced all the JAM fund recipients.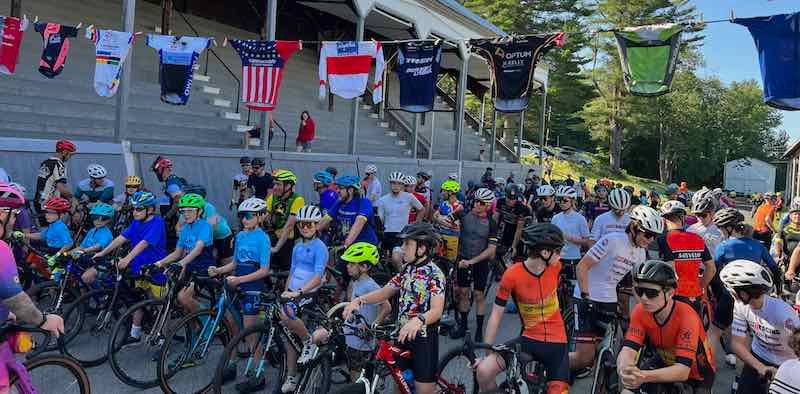 Followed by Jeremy Power (multi US National Cyclocross champion), who, after giving safety instructions, sent us riders off under a police escort.

After the first few climbs, the field started to break up a little. The gravel descent towards River rd was fun, and I knew that at the bottom waited a dangerous sharp left turn. Jeremy himself was there to warn riders about the upcoming tricky turn. Even though I was prepared and rode slowly, I still was almost caught off-guard by the washboard surface of the inside corner.
You could see that rider safety was a big priority for the event organizers, as there were many signs everywhere announcing: hard stops, tricky turns, and washed-out sections. And at certain spots, course volunteers were personally warning of the upcoming trickiness.

River rd was a fun dirt road; the recent rain storms had made it very wet, and finding the right lines and seeing riders try to do the same was a joy. Once we came off River rd, there was a steep climb into Plainfield. At the start of the climb, it was muddy, and if you did not have enough speed and/or the right line, you were walking.

After crossing rt 116 in Plainfield, we headed towards Hawley and entered the Kenneth Dubuque Memorial State Forest. We first had a fun gravel descent and then turned left onto a jeep track I had only ridden on my fat bike in the snow before. Without snow, there were some really tricky washed out sections.

Fortunately, with ample warning signs and a course volunteer, we were prepared. Deep wet ruts and a 30 feet long puddle made it hard to keep yourself dry. Once we dropped out of this fun and technically challenging section, which was a handful, some folks took a quick break to grab a bite and take a swig from their water bottle.

We then headed towards the first rest-stop along a beautiful gravel road I had not been on before: Winsor Bush road. The Adventure route diverted on this road. The routes were all well-marked with colored arrows on the road surface and arrows indicating how to turn.

At the first rest stop at mile 20 in the visitor pavilion of Winsor State park, many riders were already hanging out, filling their water bottles, and eating the delicious food. It was hard to not eat, and that is what I did. I first had a delicious sandwich with, I think, peanut butter, Nutella and fluff, a banana, and then a cookie I could not resist, also due to its name: brookies (van den Broek is my last name, and in our family app we call it the broekies app).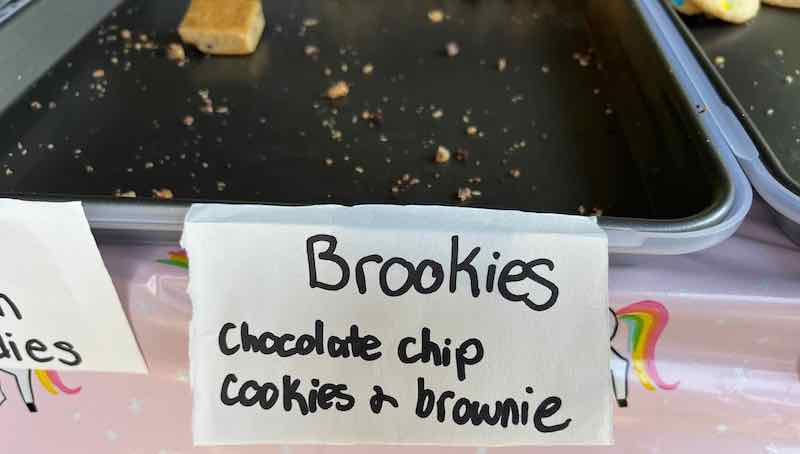 When we left the rest stop, we heard folks mention something about a fun climb coming up. And indeed, we were not disappointed, as we hit High st Hill Road, with a right turn onto Shaw Rd, a 3-mile gravel climb with 800ft of climbing. I had been keeping my eye out here for a beautiful vista, but could not find it.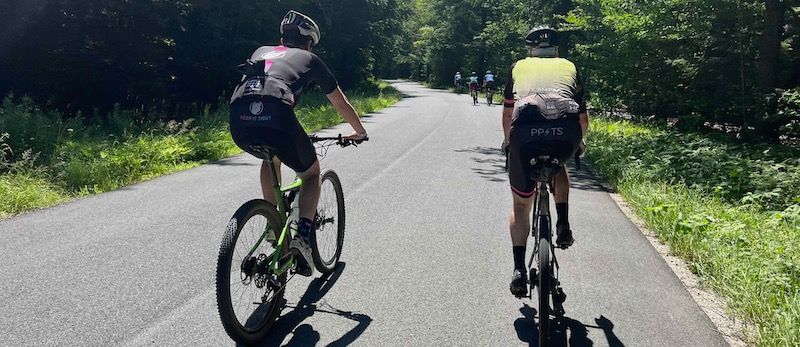 After the climb, we crossed Route 9, just east of Winsor. I told my co-riders that you can buy freshly baked Somosas (Indian snack) at the Winsor general store. More on that later.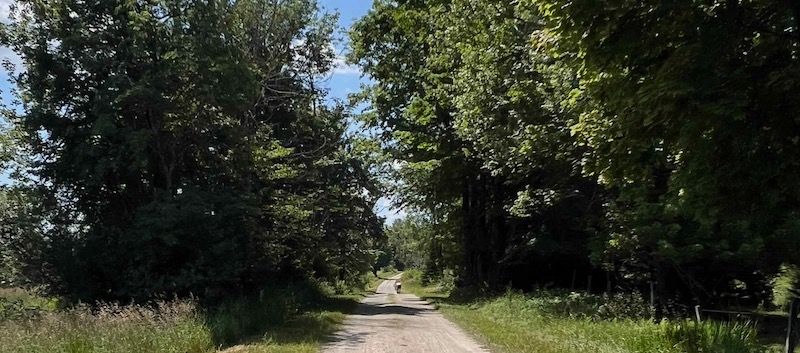 We now entered territory I had not ridden before, and the (gravel) roads were terrific, rolling, and with lovely open views. Just before the second rest stop, some washed-out sections required all your focus and attention.
The second rest stop was at Sena farm at mile 37 in Worthington. Another great display of food, including the Somosas I had mentioned. A Coke and a Somosa was exactly what I needed at this point. It was great to see Jonathan Brody, who had started earlier that morning for the Adventure ride. After a quick visit to the facilities inside the farm, I stopped to admire the beautifully decorated walls. One side with vinyl records and the other side with posters.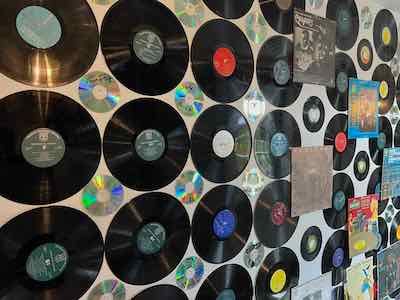 Leaving the stop, I chatted briefly with the mechanic who provided mechanical support for the event. Besides fixing 2 broken chains, and some flat tires, he mentioned he was also asked for sunscreen a lot.

Continuing our ride, Mike and I rode briefly with Jonathan and crew, until we turned left, and they went straight on to what turned out to be the most challenging and longest of the Adventure ride diversions.

We now had still 15 miles to go, and fortunately, it was mainly downhill, except for one noticable climb on Cudworth Rd.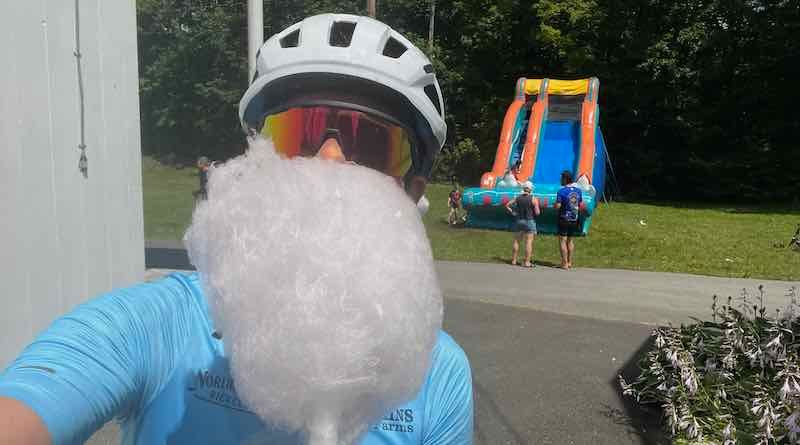 After just over 5 hours, we were back at the Fairground and were greeted with upbeat music and a Cotton candy!!! The ride after-party was great, with excellent food and beers from Burgy Brews. I was bumped to have missed purchasing some raffle tickets, as some great prizes were won. They also had a giant water slide for those who wanted some cooling off.

All in all, a fabulous day with beautiful riding, delicious food, and even better company. I will definitely be back for more...