Monday, we were still in Stowe when we were hit by torrential rain. When it eased up a little, we walked downtown and saw the swollen river roar underneath the Mountain rd bridge.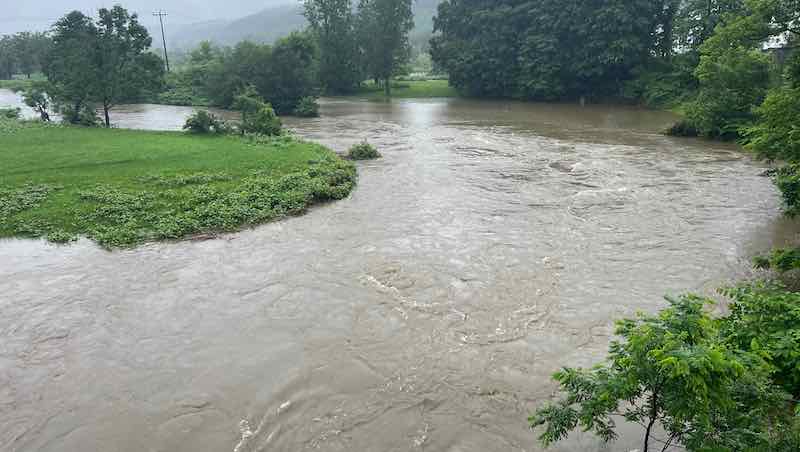 The following day we drove back home, where we heard the extent of the devastating rain. Various towns flooded, and houses were in the water. We witnessed some of it in driving along I-89 near Montpellier.
When we got home, we read that the South River in our town had a flash flood the day before and washed over the Natural Roots Farm fields. They asked for volunteers to come and help out. Paula and I rode to the farm that afternoon and helped clean up the mess and put plants up and back into the ground.

Wednesday, I did an indoor training session. It was an interval training with 9x3min VO2Max efforts. I was only completing 5 of the 9, and then my legs got tired. I had to shorten the last 4 intervals.
The next day, Paula and I decided to check out the Deerfield and South river. We rode the unmaintained Conway station road to where the South river flows into the Deerfield River. The road was even harder to ride. It now had huge ruts as a result of the recent rain storms.
We had to navigate carefully and occasionally even got off the bike. The Deerfield River was higher than usual, but it had even been higher. I had brought my drone and made some photos and videos until I crashed it and it fell into the water. I thought it was lost, but I recovered it and got it working again the next day. In the afternoon, we played an entire session of pickleball.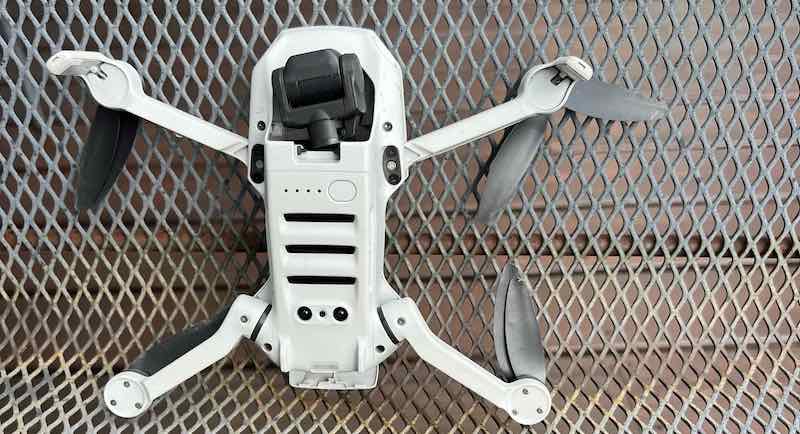 I wanted to do an NCC road ride on Saturday, so I mounted some road tires on my Honey Cross bike. I had to tweak the brakes derailleur and then went out for a test ride on Friday to see if it all worked, and it did, so I was ready for the next day.
On Saturday, the NCC B group ride started at 9 in Northampton. I was going to drive there but noticed that the route passed right along our house. So I texted Melissa that I (like Dusty) would join the group in Conway. We met them just after 10 and, after a little detour in Conway due to road closure, were on our way to Sherburne Falls with about 10 riders. When we arrived at Shelburne Falls, it was already pretty hot, so we stopped at McCusker's for a break and gave folks a chance to refill our water bottles. I went for a quick peek at the Salmon Falls. Soon we were on our way towards Colrain, and soon, we were on the featured climb into Heath.

The climb was 4.8 miles long with 1200ft of climbing. We were now hot. Fortunately, there was a little breeze at the top while we regrouped. The descent was long, and I even was a little chilled. With my 1-by gearing, I could not keep up on the descent and was the last to arrive in Charlemont.

We stopped at a gas station to get more water and then crossed to the river to ride towards Buckland.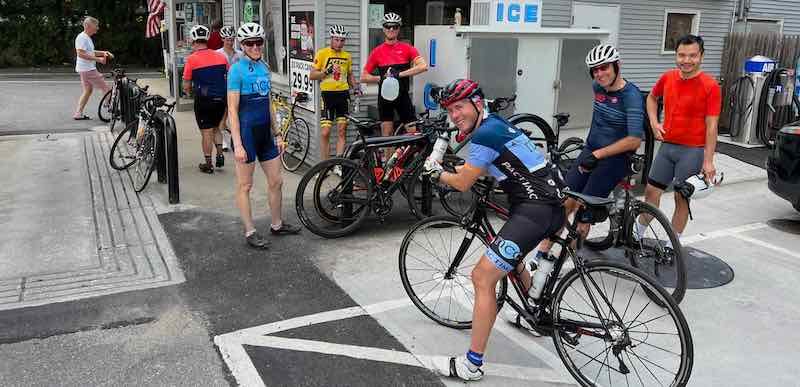 Here we had 2 big bumps, after which we regrouped and descended into Buckland. There were some festivities in town, and we saw Mike (yes, who lent his name to the McCusker general store). The next stop was Ashfield after riding up Route 112. Dusty and Zinj kept a solid pace, which I could barely hold, but did. And we were going to stop for water at the gas station. But instead stopped at Laughing Crow Cafe as we saw John, Jason, Sean, Jonathan, and some other riders having pastries and coffee.
After this stop, Dusty and I beelined back to Conway. We kept it dry. However, the crew riding back to Northampton got soaked. An excellent 50-mile ride with almost 4000ft of climbing.
Sunday, no workouts as we drove to Boston to attend a First Aid Kit concert.
This week on Veloviewer