My daughter Margot and boyfriend Brendan temporary live in Salt Lake City. Since we had not seen them since last summer, we had planned to visit them in early January. Now Paula is back at work, we had to squeeze the visit in a weekend. Leave Friday evening and return Sunday night.
We flew with Delta airlines. That meant we had to go to terminal A in Boston Logan airport. Due to the snow fall in New England Friday morning the flight was delayed with an hour and left at 6:45pm. Turned out the flight was fully booked and the seat between us was reserved. I moved to the middle seat when the passenger showed up. The flight took over 5 hours and we landed at 10:30pm. Margot picked us up with her car.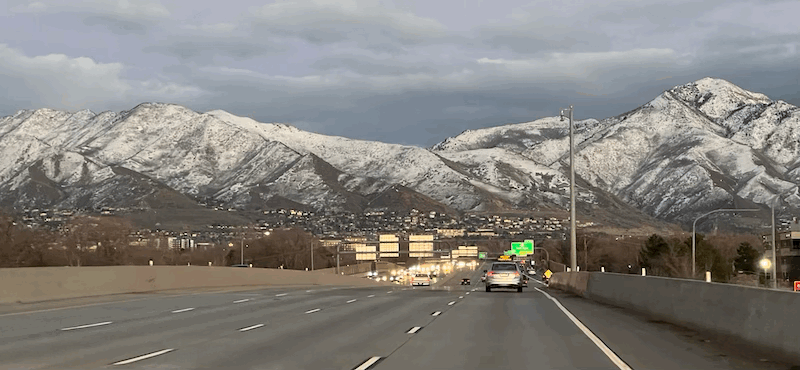 The next day Brendan and I went skiing at the Soltitude mountain resort. Paula and Margot had other plans; they were going to see the musical Hamilton. We left at 6:30 am to catch the 7 am bus to the ski resort. Before hand we picked up some breakfast and coffee for on the bus. The bus was packed and we had to stand for the hour trip.
Once we arrived Brendan bought me a ski ticket (his Christmas present for me) and I went to the ski rental area to get boots, skis and poles. I had brought my own helmet and goggles.
Before nine we were on the slopes, quite different than what I am used to on New England ski slopes. First the danger avalanche signs and booming sound of explosives that trigger controlled avalanches, then the multiple peaks, lots of trails and..... fluffy snow. It turned out that the skilift safety bar is considered obsolete by the skiers there, which was a little harrowing for me, especially when we were on a lift that not only went up, but also down (a first for me).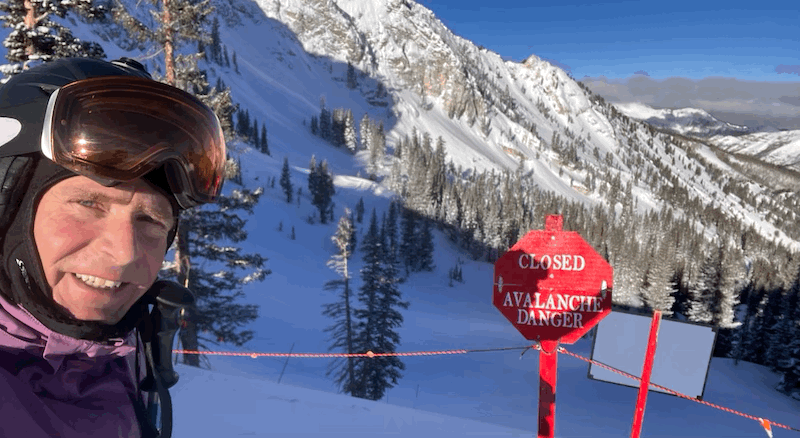 I typically stay at the blue slopes. Here they were more dark blue, but the fluffy, long, well groomed slopes were amazing and very predictable to ski. After 2 hours of skiing my legs were already getting tired, so it was time for coffee and an energy bar. We then explored a bunch of other slopes and by 1pm we were ready for some lunch. We got the chili and a beer, which tasted so well I had another beer. That turned out to be a mistake.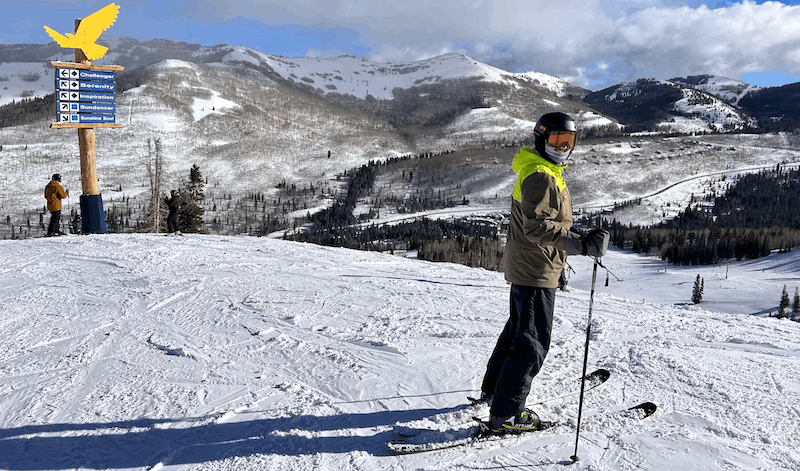 After lunch I changed my shorter curvey skis for some longer skis. These longer skis were fine on some easier blue runs, but when we went to a more challenging trail, I had a hard time making the turns(even though I had already skied it that morning). What didn't help was that on top of it I took a wrong turn and ended up on a black trail, which I felt it was vertical. I crashed and left a ski 10 meters above me and had a hard time getting back up. Fortunately, a helpful (and more skilled skier) picked it up for me. In the end I just slid sideways down this monster.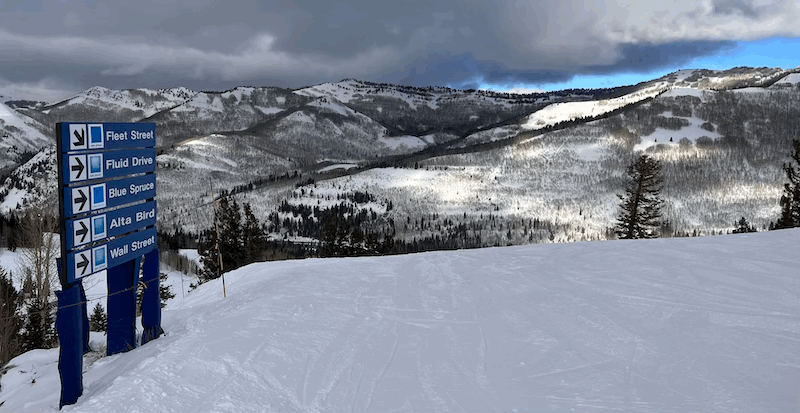 With a severe dent in my ego and confidence I decided it was enough for today, it was 3pm by now. Brendan and I had gotten split up at this last run, he skied down a steep trail that had just opened up when the avalanche danger had gone, but ended up on the other side of the mountain. So it took a while before we were reunited and skied back to the lodge to return the skis and catch the bus.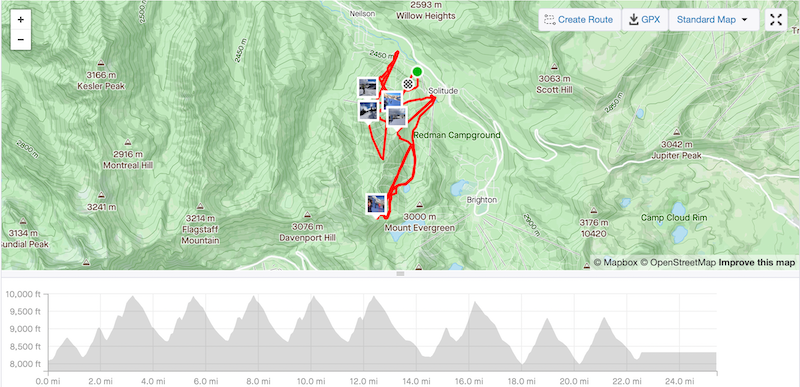 We were not the only ones, there were lots of folks and we were lucky enough to get the last few standing spots on the bus. The way back took much longer with all the traffic returning along the narrow, winding canyon road. And we were back at 5:30pm. Paula and Margot arrived soon after us from the Hamilton performance.
That evening we went out for dinner in the Sugarhouse district at the Wasatch brewery. Food and beers were great. Interesting fact is that the Utah law does not allow draft beer to contain more than 5% alcohol; higher octane beers can only be bought in a can.
The next day Margot and I took Moose, their dog, on a walk. Along our route we saw a plaque commemorating the first encampment site.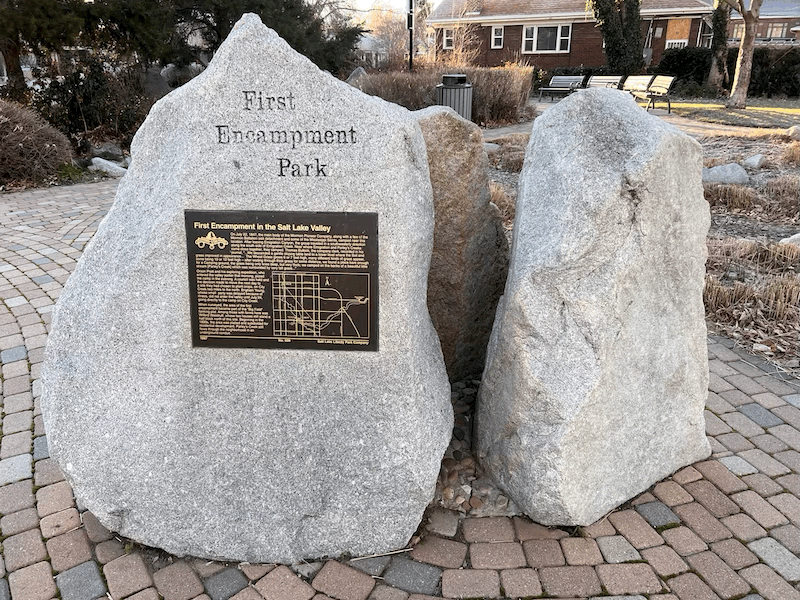 Afterwards we walked, without Moose,  to a coffeebar called Red Moose. I had a delicious breakfast bagel and a large capuccino.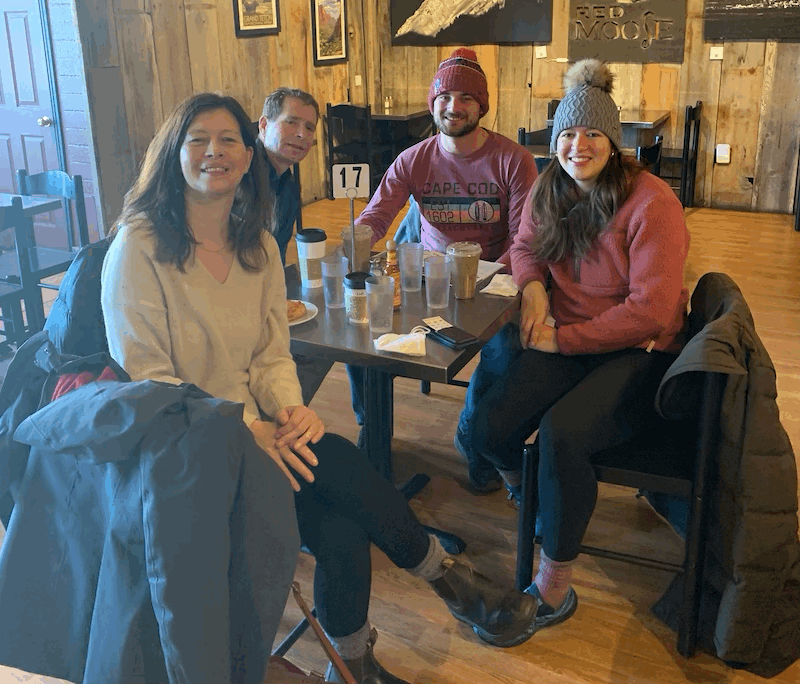 After breakfast we drove, with Moose, to Dimple Dell Park in the Sandy district. We walked for about 2 miles. The views from the park were amazing, in all directions mountain range vistas.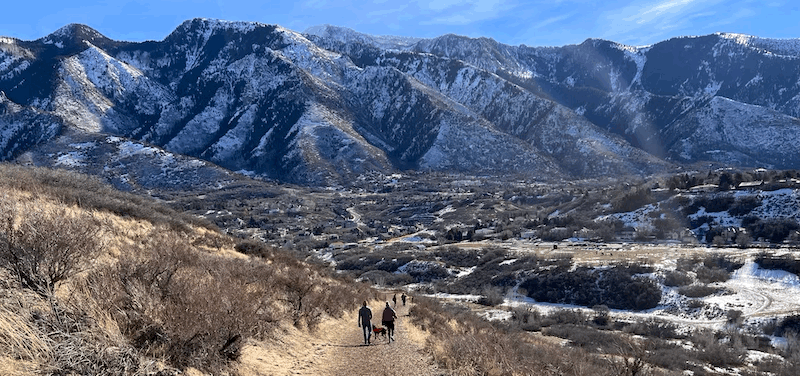 Moose was also very excited as the trails were also used by horses and the smell triggered his instincts.

We were almost at the end of our visit, but before we went back to the airport for our evening flight, we stopped for drinks at the TF Brewing company. We picked this brewery as they allowed dogs and could sit outside. They were pretty strict about Moose wearing his rabies tag. So after a quick stop home were we picked up the tag and our lugagge, we went back to the brewery.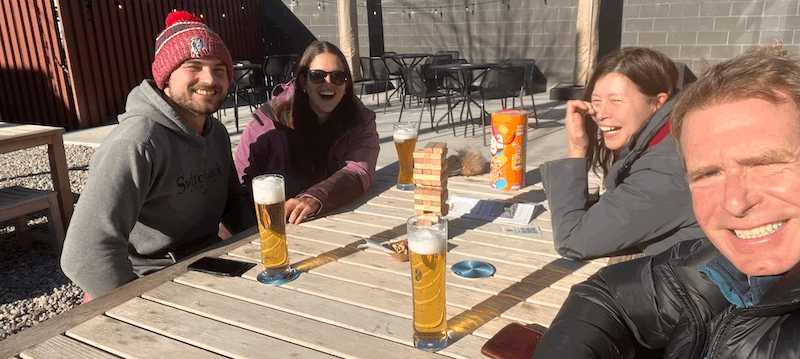 We set outside at a picknick table. But despite the low 30 degrees temps, the sun made it warm enough to enjoy their patio. I tried their pilsener, dunkel weissen and a stout, all very good, smooth and easy to drink. We also ordered some finger food: mixed nuts and a charcuterie platter.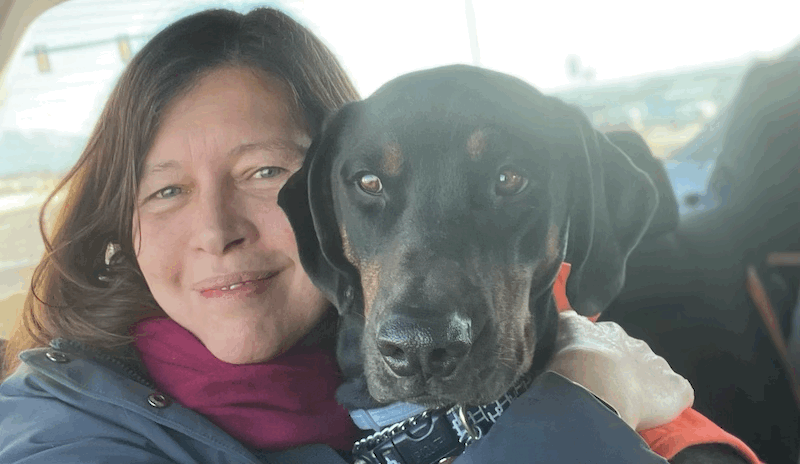 Too soon it was time to go to the Salt Lake City airport. The drive did not take too long. After saying goodbye to Margot, Brendan and Moose, we went in to checkin. I had to go to the checkin counter to get my ticket. This was because my first name on the booking was Henry. On my driver license it says Hendrik. The TSA agent in Boston made me change the name on the ticket.  As result I was not able to checkin online the night before.

Once that was fixed we went into a long line for security. The TSA PreCheck security line was almost empty. I have Global Entry, which also gives access to TSA PreCheck. Paula does not have it yet, but hopefully soon Paula will have Global Entry as well.
Once boarded turned out our trick to reserve aisle and window with an empty middle seat worked this time, as the middle seat stayed empty.
We arrived in Boston Logan airport at 1am, pretty late, but fortunately we had our car in Central parking and were out of the airport in no time. It was a late night though.
All in all a great trip, it was a little scary with the Covid Omicron strain going around. Later that week Margot had a some cold symtoms, but fortunately we all tested negative.