This was the last week before a rest week, where we also had some visitors. But managed to make a decent workout week.
Monday, we started off with a good pickleball session. We taught our daughter Margot how to play the game, and before long, she was playing along with us like a pro.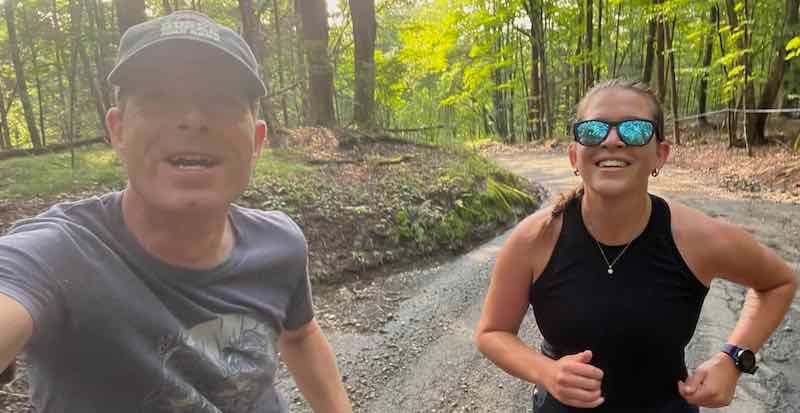 The following day Margot and I did a long run up Pine hill road. It started with a steep uphill, and soon we overtook Paula, who had left earlier walking. Pine Hill was very washed out; at certain spots, we had to jump from dry to dry spots to keep our feet dry. After 3 miles, we were almost at the end of Pine Hill, and we turned around. On the way back, we stopped for a photo shoot of the donkeys.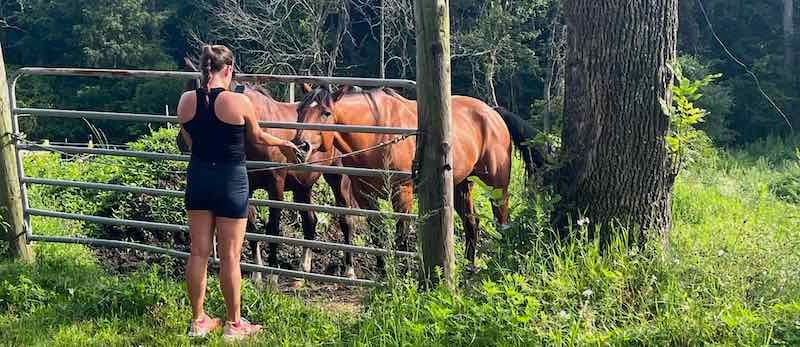 Margot also fed the horses. While going uphill, my legs started to feel great, and I accelerated to the top, but on the way back down paid for that as my left knee started acting up, and I had to walk some of the descents. We finished the 6.4-mile run with over 800ft of climbing in 75 minutes.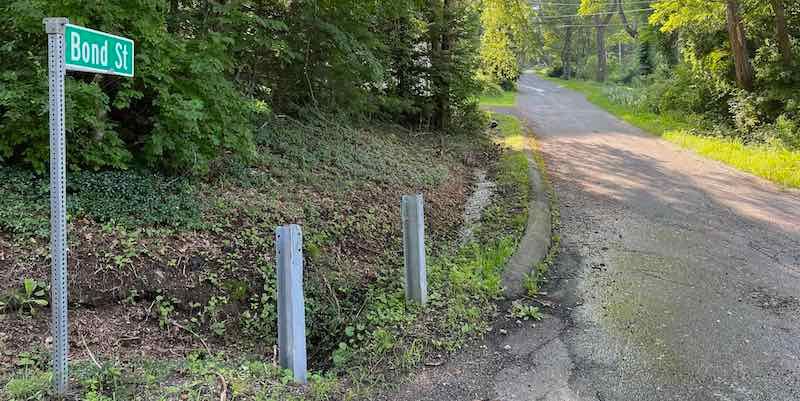 Wednesday did some intervals this time, not on the trainer. I had been painting in the basement, and the smell was still too strong. I decided to do intervals up Bond St. It is a short steep climb, and I did the twelve 30s intervals at the lower end. After I finished the intervals, I came back for a KOM attempt. It was partial successful, my legs being tired and all. I still got a PR and a 7th!!! overall on the "007" segment.

Thursday, Paula's nephew Nils and girlfriend Julie came to visit us. Since the weather had been crappy, we went for some sightseeing hikes.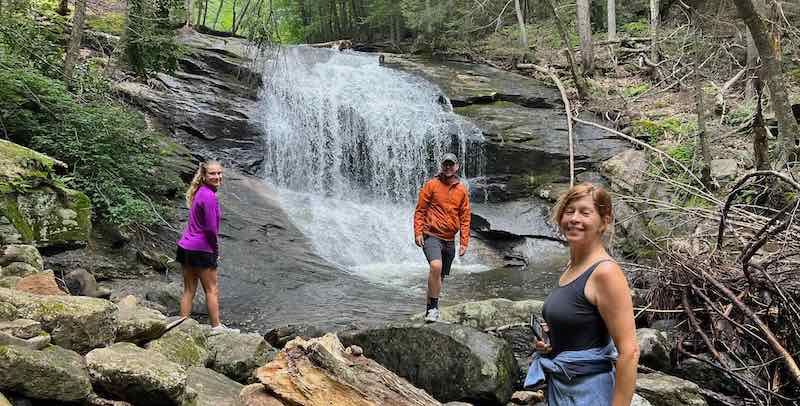 First, we visited Chapel Falls, and in the afternoon, we walked through downtown Sherburne Falls.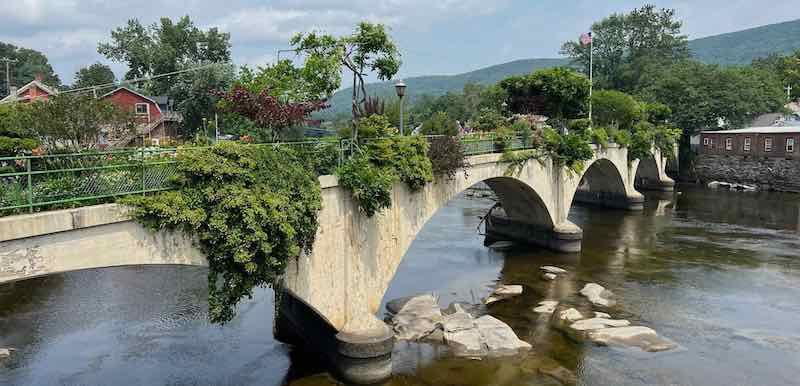 Since the weather was hot and steamy on Friday, I took Nils and Julie tubing down the Greenriver. After Paula dropped us off, we tied 4 tubes (1 spare) and a small tube for the cooler together and let us float down the river. Soon we saw the first otter, soon followed by another one.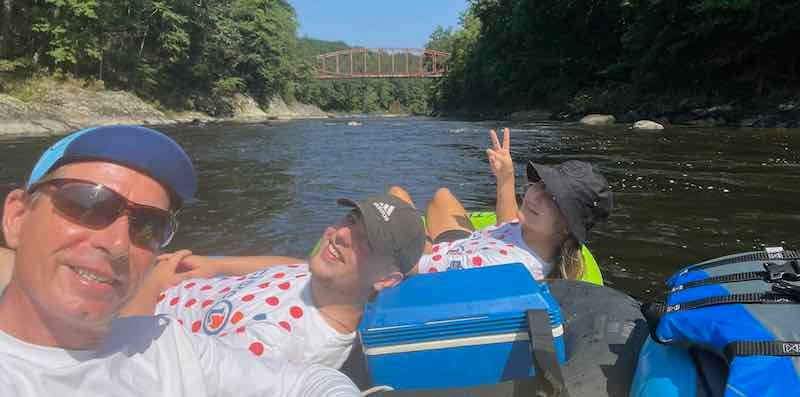 And then we saw the Bald Eagles, magnificent birds, and we had a great view of them hunting fish from the river. At the end, we stopped at the swing rope, and each took turns for some swings into the river. I also cooled my back under 1 of the waterfalls. A super fun way to spend hot midday for 3 hours.

Saturday morning, I was going to join the NCC B-ride. After their start in Northampton, I planned to join them in Conway. It turned out they started counterclockwise and visited Conway at the end of the ride.
So I had to change my plans. While waiting for the group, I ran into a couple that had flatted a tire. They were new to tire-changing thing , and I helped them out. A little complication was that the new tube's valve core was loose, and his screw-on emergency pump loosened it when removing the pump. I quickly rode home to pick up my valve core fastener gimmick and brought a better pump. Soon they were on their way after mentioning my tire pressure app, Ride PSI. They later contacted me via Facebook and let me know they arrived home safe and bought a Ride PSI copy :-)

When I rode home to return the pump, I ran into neighbors John and Pamela on their tandem and decided to join them. They had planned a mostly road ride toward Leverett. Along the way, we saw some very washed-out roads like Hoosac Rd, which had turned into an enormous canyon, and we had to jump over the new small stream to get across. A good 48 miles with a beautiful long gravel road called Dudleyville Road. Just when we got to Sunderland, we got hit by a shower that soaked us. Fortunately, it stopped after 15 minutes, and I was almost dry by the time we got home.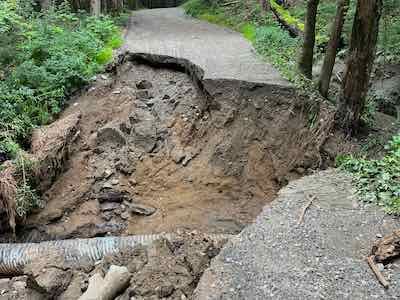 Sunday morning joined John, Jason, and Sean for a ride into Vermont. We worked our way through Sherburne Falls and, via some challenging gravel climbs, ended up in Vermont near Jacksonville. Here I had to return to be back in time for a pickleball game. I took rt 112 back to Massachusetts and decided to ride back via Patton Hill and did a few 3 min Vo2Max intervals to get over the hill. I descended via Cooper Lane into Sherburne. Cooper Lane was closed to car traffic but was ridable on the bike.

Big ruts were on either side of the road, marked by plenty of orange cones. I was almost home when I got hit by a big bonk after crossing the Bardwell Ferry bridge. After eating some candy and a gel, I kinda felt better and got home with 20 minutes to spare before pickleball started. A quick yogurt and a change of clothes, and I was on my way to pickleball. I had an excellent 2-hour session and seemed to have recovered from the bonk.
This week on Veloviewer.