Started the week with a bang. A 70 mile ride from Princeton to Conway. The day before we had dinner with Neil and Takako. I stayed overnight while Paula continued to Arlington after dinner. The next morning at 9:30 I took off. I had created a northernly route that would bring me above route 2. And I already saw on Ridewithgps there would be some gravel routes along the way. And indeed the route did not disappoint. First some nice quiet roads to Hubbardston and Templeton.

When I arrived in Baldwinville I found a treasure of  road called Old Royalston rd. It started well with a road closed sign and a view of the lake. Kinda random saw a guitar player jamming along the side of the lake. I had asked him if the road was passable, he indicated he had never been to the other end. Fortunately the road did go through with some interesting features such as fist-sized boulders.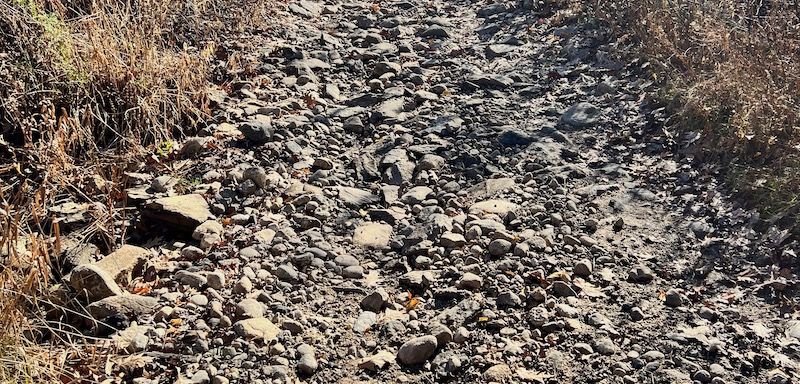 Back on the regular Royalston road I soon entered Royalston which had a great river view.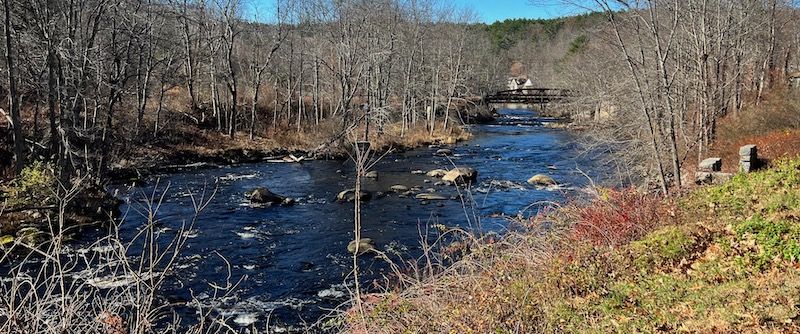 I then climbed out of the town and rolled onto Guld rd. This 3 mile segment started as a regular gravel road but then became a gnarly jeep track with leaf covered boulders.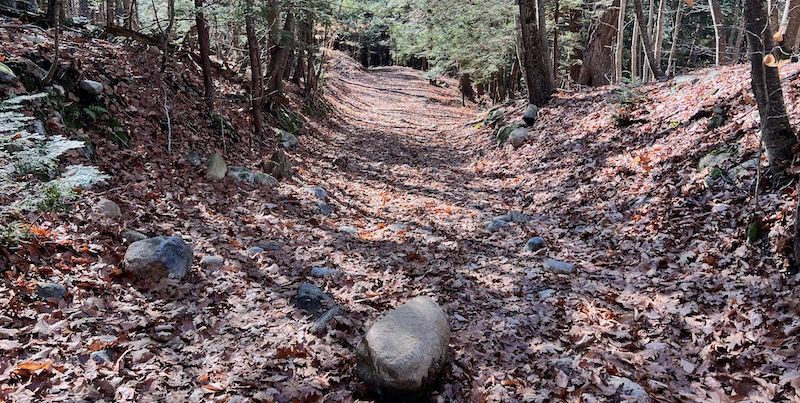 Initially it was uphill which I was able to ride but there were a few down hill sections where I walked as it was hard to see the rocks. The last section was actually quite sandy and I had to use some of my cyclocross skills to keep moving. Shortly after the sand section I was back on the road. After passing through North Orange I ended up on a nice gravel road called Gale rd. It had a closed bridge but was passable on the bike.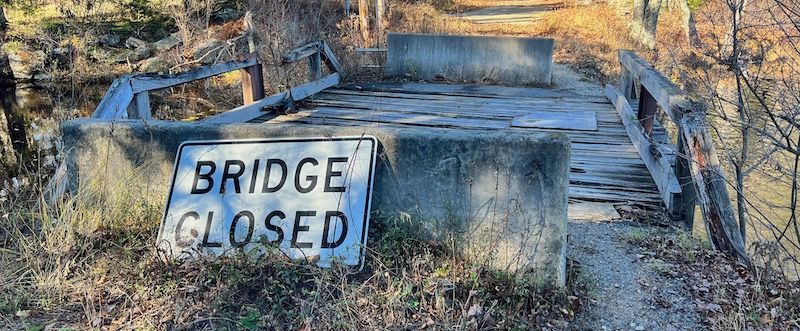 This brought me into Warwick. I remember the town green from a rainy 300k brevet as there was a control/foodstop from the New England Randonneurs. From Warwick it was a long descent along Northfield rd to the Pioneer valley. Here I rode a short gravel section along School street before arriving in Northfield.

At the local general store I had a some chips, a sandwich and a coke for lunch. I was now on the home stretch.  I crossed the Connecticut river, then rode over the Mount Hermon campus towards Gill. Via the bike path in Turners fall rode to old Deerfield and up the hills into Conway. A long day, but the beautiful route made it worthwhile.
Unfortunately the next day I felt sick; muscle pain, headache and chills. A result I canned my training plans for the day.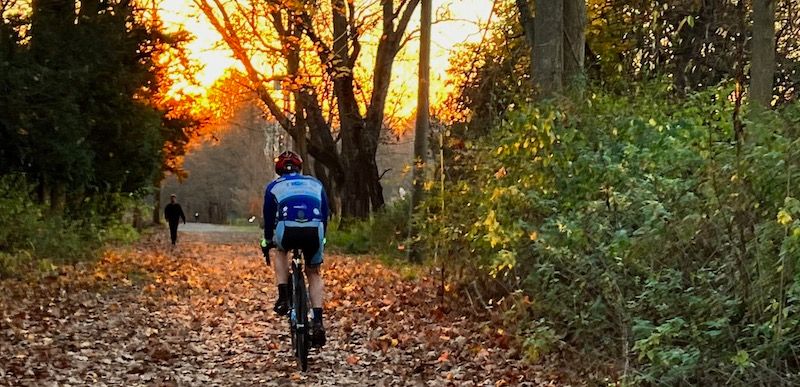 Wednesday I felt much better and went to the NCC Cross training. I arrived too late as with the time change it started at 3 instead of 4. Still managed to squeeze in 2 laps with David and Melissa.

Since I felt that my cornering was a little off at the last race, I decided to do a cornering specific training on the soccer field near my house the next day. Especially the sharp left and then right turns was where I had trouble going through smoothly. I also did some off-camber cornering practice. During the practice I heard a bang from downtown, turned out later a car and a motorcycle had collided. Police cars and ambulances where all there. According the Recorder (local newspaper) motorist was brought to hospital with severe injury to his legs.

This weekend was cyclocross fest at Look park in Northampton. It already started for me on Friday. In the morning 10am I helped out with taping up the course. Since it was going to be very windy overnight, only taped the lower tape.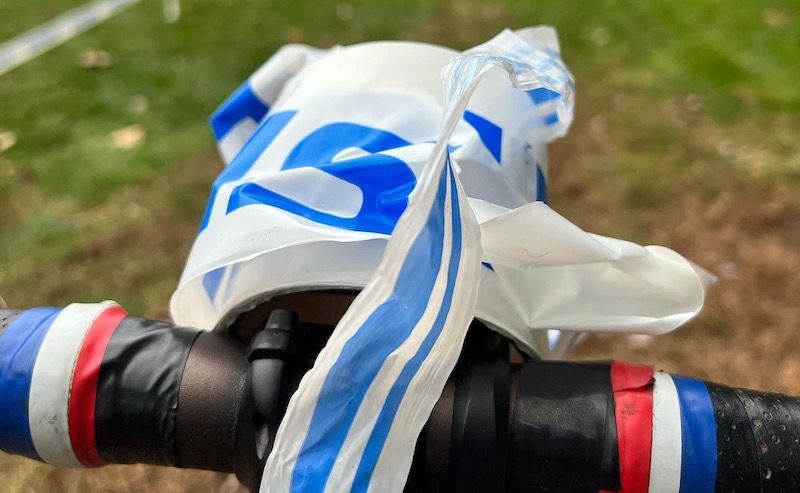 At 2pm there was a course inspection clinic by Adam Meyerson. I had signed up for that last year and this year too. And again it proved to be very useful. This time Adam himself lead the clinic. We first rode the course slow as a group. Then we went for a second lap and highlighted some troublesome sections. And lastly we rode at speed by ourselves. By now it was raining and a good indication of the conditions for the races.
Saturday morning my race was at 10:15am, so I was there at 8am, which allowed me 2 inspection laps for the 8:30 race and another lap before 9:15am race. Since it was very muddy, I raced on my Seven as it had more aggressive mud tires. The start went pretty well, although was not feeling my strongest. Where lately I had been able to accelerate out of the corners, today I could not. Then I also noticed at some point my front wheel's quick release had come loose and I had to stop to tighten it. That little delay costed my about 15s just enough to get lapped in the 2nd last lap by the first 40+ racers that started 1 minutes ahead of us. Result was 30th place, 4 places higher than I was predicted at.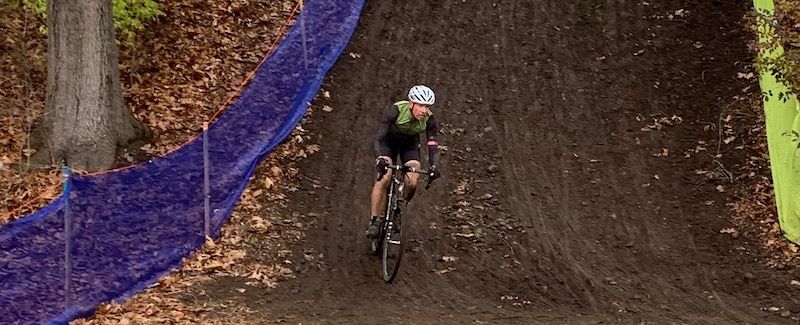 After the race Mike and I stayed to watch and cheered on the other racers. When the elite men finished we went home. There was another race waiting for us the next day.
Sunday's race prep was similar to the day before, however with less mud decided to race with the mudhoney, as it is a lighter, more agile bike. Again I had a relative good start and started overtaken a bunch of folks. Today I felt much better and I was able throughout the race to accelerate out of the corners. There was 1 small mishap where I lost control in the mud and lost some time and places, but a lap later already made up the lost places.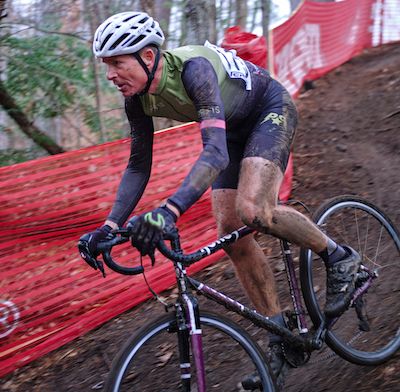 I finished 18th, 13 places higher than I was predicted at and my first good points result of the season (358 points). Later Jeff Diepenbach send me a funny photo where you see me riding into mayhem unfolding right in front of me. The expression on my face priceless (see cover photo).
This week in review