This week Beppe texted me, "You are in Forbes!". Beppe is my friend who runs the bike touring company Tourissimo. The text contained a link to an article in Forbes magazine titled: "5 Epic Bike Trips - Your Best Cycling Adventures For 2023 And Beyond".
The author Larry Olmsted, a Vermonter writing for Forbes, loves cycling tours in foreign locations, but thinks they are often a little too tame with not enough daily milage and too slow of a pace. In the article he describes 5 touring companies that offer harder touring options without giving up on the great food and settings.
One of the 5 Epic bike trips the author describes in the article is the Strade Bianche tour organized by Tourissimo and is based on a custom tour that Beppe created on my requirements (Tuscany, Gravel, Friends,  50-ish miles a day, Wine tasting and Hot springs) for me and a group of friends in 2019. I wrote about that in a post Tuscany trip 2019.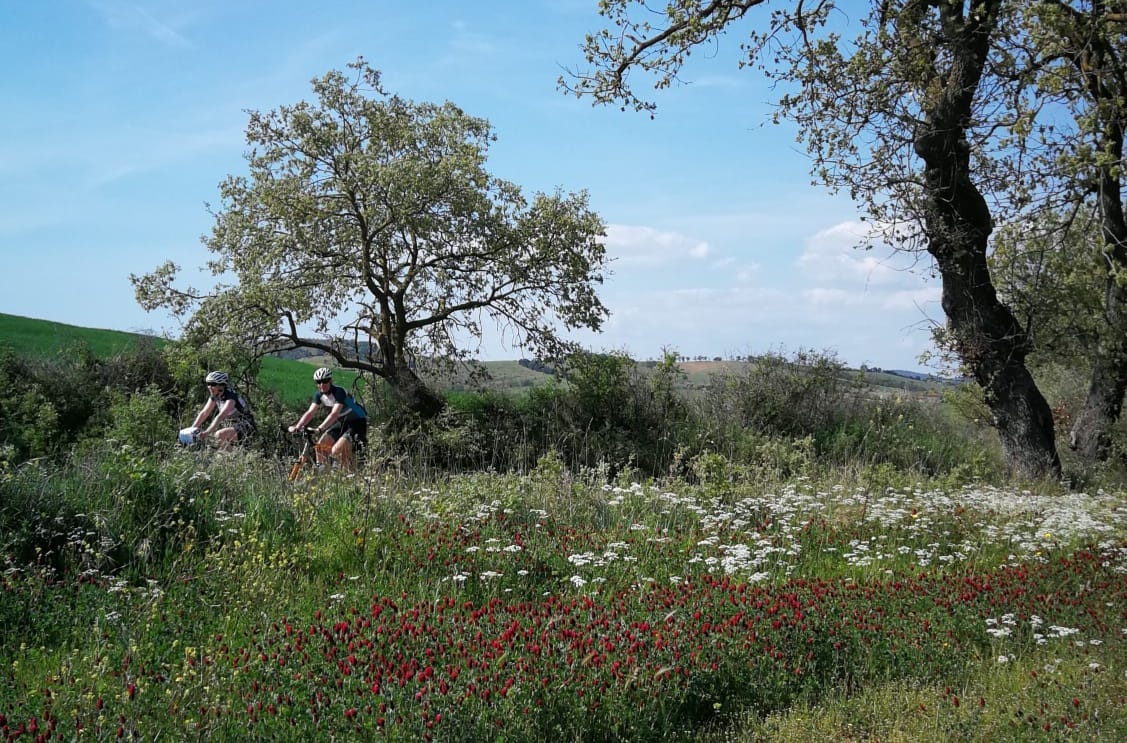 Here the Tourissimo part of the Forbes article, in the article it featured a photo of Paula and me riding on the white gravel roads (Strade Bianche).
"Tourissimo Strade Bianche: For the past few years "gravel grinding," or riding heavier duty road bikes with slightly beefier tires on dirt roads, has been the fastest growing category of cycling, falling somewhere between traditional road cycling and mountain biking, but closer to road. The biggest appeal is the marked lack of automotive traffic and getting into more escapist settings. It's also physically harder, thanks to greatly increased rolling resistance versus pavement on dirt, potholes and loose gravel, with heavier bikes. In many popular gravel riding spots, such as Vermont, where I live, it's also very hilly. That's certainly the case in Tuscany, home to the most famous gravel riding in the world, the strade bianche, or "white roads" that crisscross the agricultural region. They are named for their distinctive white gravel, and the tradition of riding these roads existed for decades before anyone thought to market gravel grinding, and long before it was popularized in the most famous race of its kind, also the Strade Bianche, launched in 2007. This local spectacle is part of the UCI World Tour, pro cycling's highest level, which includes the three grand Tours, Tour de France, Giro d'Italia and Vuelta a Espana.
Many, many miles of these white gravel roads wind through Tuscany's countryside, and despite Tuscany long being arguably the single most desirable cycling vacation destination on earth, they have largely gone unnoticed by tourists and cyclists. But not by Beppe Salerno, an avid road and mountain cyclist and co-founder and co-owner of Italy and Boston-based Tourissimo, a hiking and cycling active travel tour operator specializing in all things Italy, armed to the teeth with insider knowledge and contacts (the company is also a passionate sponsor of the acclaimed PBS show Dream of Italy). Interestingly, in the travel industry, Tourissimo is best known for its culinary-focused cycling trips led by famous guest chefs, which I have written about here at Forbes before.
Salerno has traveled the white roads for many years, and has included his favorites in a weeklong tour that is as beautiful as it is challenging. It is hard to believe there are still so many unknown and hidden corners of this wildly popular tourist destination, but there are, and these are literally the roads less traveled - and more graveled - but still fully supported in high style. It begins in the Chianti region and then traverses the Val d'Orcia, a rich green valley between Sienna and Grosseto so beautiful and well preserved with medieval farmhouses that it is a UNESCO World Heritage Site. It finally ends in Tuscany's less visited coastal Maremma region, at the Tyrrhenian Sea.
The 7-day ride averages 52 miles daily but that's thrown off by the first day, a 23-mile warm up, leaving a couple of 60-plus mile gravel rides, all with considerable climbing, over 5000 feet daily. But it's beautiful, and the food is great. You hit two world-class wine regions, Chianti and Montalcino-Brunello, while visiting Siena, Pienza, Montalcino, and Gaiole in Chianti, all fairy tale towns, plus less well known Maremma villages such as Sorano, Capalbio and Pitigliano. There are stops at wineries, hot springs, and all meals (breakfast, lunches and dinners), tours, bikes (with GPS) guides, shuttle van and lodging are included, with accommodations in charming family-owned local hotels. It's a bargain for this kind of high-end bike trip at $3,995. There are two 2023 departures, May and September."