As usual, we started our week with a pickleball session. We had to cut it short due to incoming thunderstorms and, in record time, stowed away the nets and just made it home before the real rain started.

Tuesday morning went for a walk with Paula relatively short, to check out the river. In the afternoon, I did a fitness test. I used the new Zwift, Tour de France-inspired climbs. They are trippy as the climbs are based on actual stats, grade, and length but have no real-world textures as the other routes. The steepness color-coded the road and had some trippy bubbles floating around. The route I took was the Col de Asprin.

Unfortunately, the fitness test did not work out as I had hoped. I aimed for an average of 280 watts, but after a third of the 20 minutes had to let it go. I ended with a power average of 268 watts. That would mean my FTP is 254, yikes. That is 35 watts lower than the 289 watts from last December at the end of the CX season. Lots of room for improvement.


Wednesday, we played a 6pm pickleball session. We moved it to 6pm from 4pm as it was a hot and steamy day.
The next day, Paula and I joined Mike and Sandra in Stowe, where we stayed for a long weekend. After dinner, we walked to town and got ourselves a maple creamee.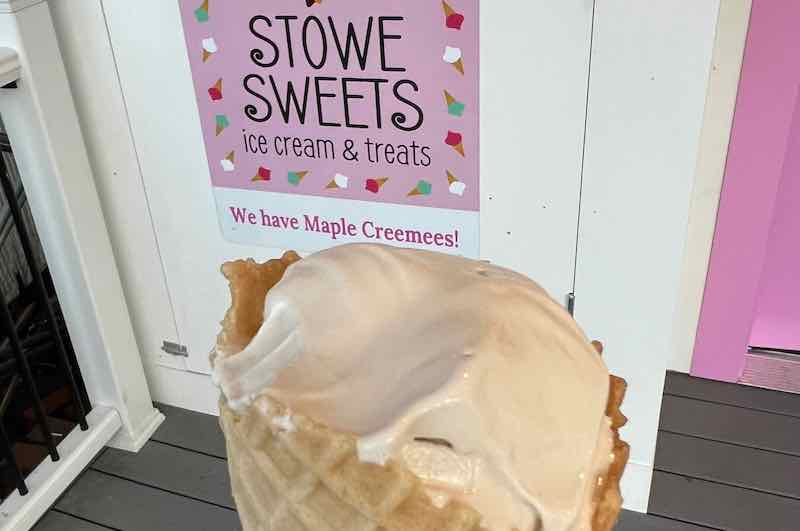 Friday morning, Paula, Mike and I went for an 18 mile gravel route around Stowe. After the first loop, we stopped for coffee in Stowe, and Paula went home. Mike and I continued and finished the next loop.
Came home just when the t-storms and rain started, and got a little wet. In the afternoon, we checked out 2 breweries, first the Von Trapp brewery, where we had lunch, followed by the Alchemist, where they brew the famous Heady Topper.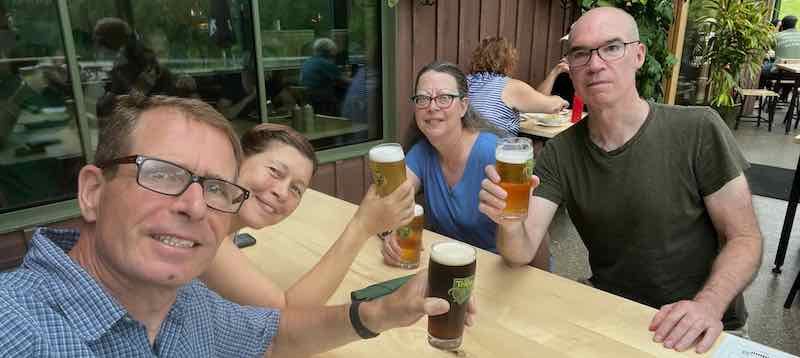 I had also brought my fat bike for mountain biking. So Mike and I went to the Stowe mountain bike trails, just 2 miles from the house. After an initial loop, we met Sandra and Paula for more trails. Since the trails were fairly technical, Paula and I tried to stay on the green trails, which we mostly succeeded in.
Later in the afternoon, we checked out the Stowe pickleball fields, which were only a 10 minute walk from the house. We showed Mike and Sandra some of the basics, and soon we played some sets. We spoke with some other local players we mentioned that in the morning at 8 is when there are many players.

Hence the following day, we went again, and indeed soon after eight o'clock, all the 6 pickleball fields were played on. We played with Mike and Sandra but also some of the skilled local players. Apparently they liked playing with us, and they even asked us to return the next day. After the pickleball session, we went back home to watch the finish of a Tour de France stage.

Mike and I had scheduled a 30-mile gravel loop after lunch. It was front-loaded with a reasonably long climb near Mt Mansfield. After the beautiful quiet gravel climb, we descended a tricky gravel road with loose gravel. We started our next slightly less long climb. But had to abandon it as the T-storms began rolling in, and we rolled back into town. We did have time to score a maple creamee, before the rain started to get serious.
This week on Veloviewer