Slowly recovering from COVID-19 but still with a nasty cough, I started the week playing pickleball Monday afternoon. It was pretty chilly, but fortunately, I could play the whole time without a break and stay warm.
The next day, we flew to Salt Lake City to visit our daughter Margot for a week. We arrived late, and Margot picked us up. Before bed, we joined Margot to walk her dog Moose.

Wednesday, after a 4.5-mile walk with Moose, we drove to Moab. The drive was long, almost 4 hours. We arrived in the early afternoon, and after we checked into our Airbnb, we went for a hike to see the Corona Arch.

The hike was beautiful in the afternoon, with sun-lit glowing red rocks. There were some tricky trail sections, including a climb along a steel cable, but we all made it to the Arch.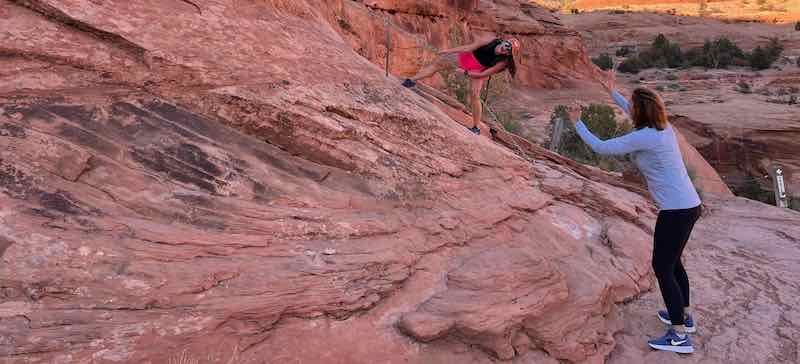 Here, we hung out to enjoy the view and took many pictures. The Arch was very impressive, about 50 feet high and wide.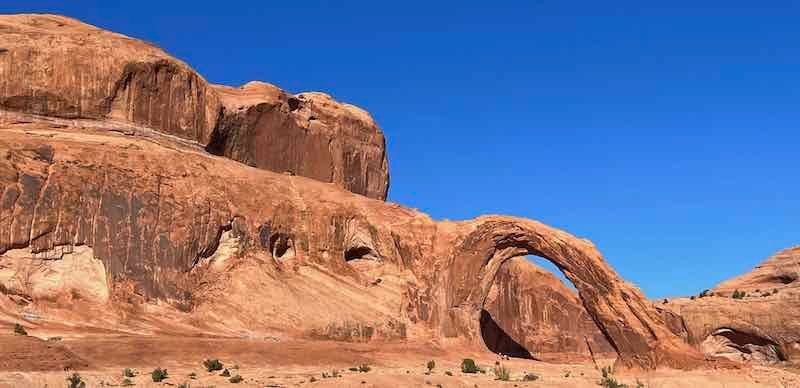 After we walked back and drove back to Airbnb, we stopped to see the Petroglyphs. These are wall carvings from thousands of years ago.

The following day, early, we went to Arches National Park. The park has various arches and other rock formations. It is so expansive we had to drive between the different viewing spots. When, after a 10-minute drive from the entrance, we came up to the plateau, our jaws dropped at nature's beauty that was revealed to us.
Our first of the four stops was the famous Delicate Arch. It is featured on the Utah license plates. It was just over a 1.5-mile hike to get there. It was not too technical, but the last 100 yards involved walking along a 5-foot path with exposure, which was a mental challenge.

But after overcoming that, we were rewarded with the majestic view of the Arch. We were definitely not alone, but Margot and I could stand alone in the Arch and take a photo. We had to be careful and quick as there was a fierce wind that seemed intended to push us off the ridge below the Arch.

The next stop was called Devil's Garden. It was indeed Devil's playground with beautiful arches such as Landscape Arch, but it also had crazy ridges the trail took us over.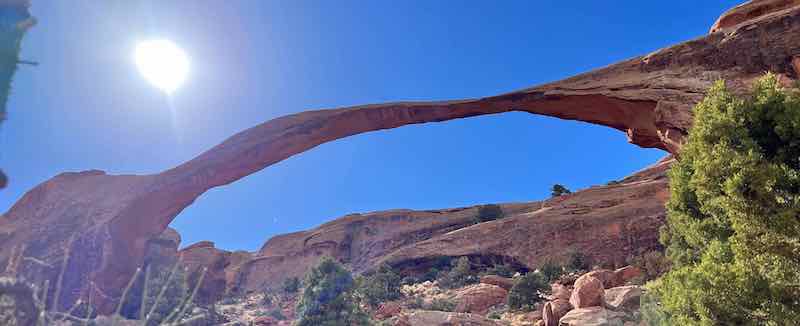 In the end, we were not able to get to the Double O Arch as the ridge, dark threatening clouds, and wind beat my determination.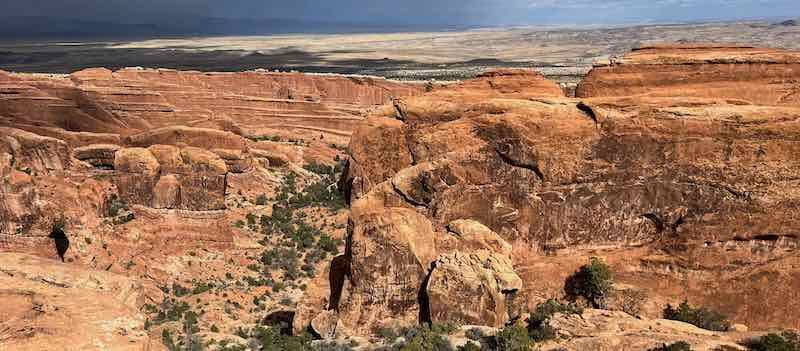 After being chased back by some spits of rain and dusty gusts of wind, we drove to our third stop.

Here, we visited the Sand Dune Arch, a short walk in a tight split between 2 massive rock formations. It looked like two Sandworms from the Dune movie were kissing. Another Arch at the same stop required a long hike; we decided to skip that one.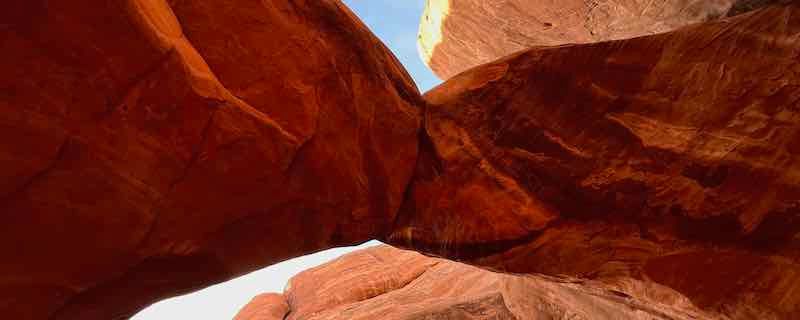 The fourth stop gave us a lot of arches for the buck. After a short hike, we were at one of the two Windows arches, and after looping around, we saw the other. I confused it with the first one. But after some convincing from Paula and Margot and a step back, I saw the two identical-looking Window Arches.
Close to that was the Turret arch, which Margot skipped, but Paula and I walked and climbed underneath. The last Arch we visited was the Double Arch, which resembled a giant alien spider with 3 legs, It was very impressive. This concluded our hikes, and we drove back to the Airbnb in Moab.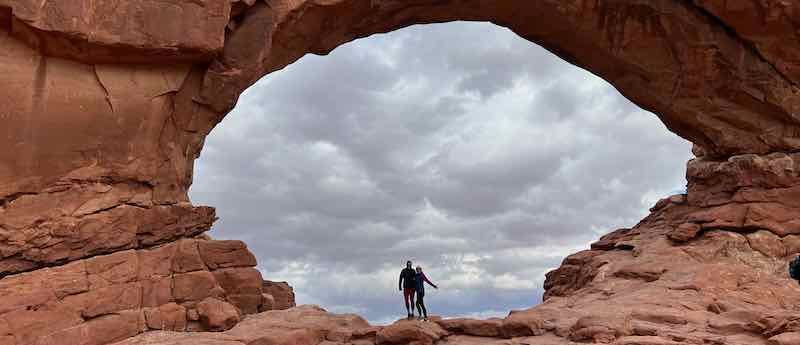 The next day I rented mountain bikes for the 3 of us at Rim Cyclery bike shop. After some fitting, we rode an 8-mile stretch on the bike path to the Moab Brand mountain bike trails.

I found a relatively easy figure 8 loop in the park. The first part was green (easy) trail, and we could ride most of it. When I double-checked the 2nd loop of figure eight with a trail map, it turned out to be a blue trail.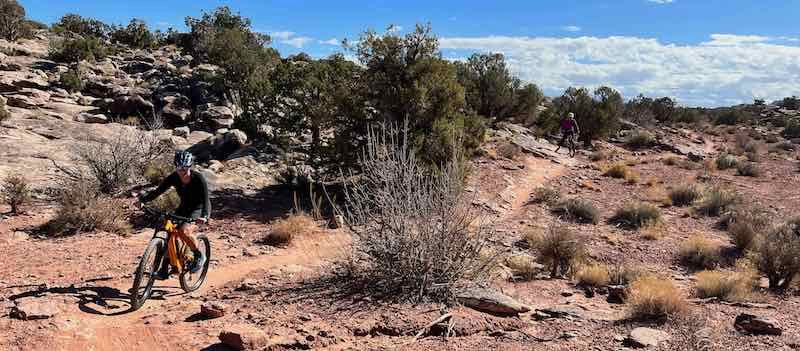 After we finished our picnic lunch, Paula and Margot stayed on the first loop and worked their way back to Moab. I continued on the second loop, which was more technical, with more challenging rock gardens and drops.

With my confidence increasing, I was able to ride most of it. When I completed that loop, I did the first loop again, now without having to get off the bike. At the end, I also rode a blue trail, Sidewinder, back to the bike path. This fantastic trail, with an awesome but exposed descent, was a bit scary.

I made some cool video footage with my drone, Stalkie (Hover Air X1), chasing me down the trail.
When I was back in Moab, I had finished all my water, so I rode to the Moab brewery and picked up some Pilsners to quench my thirst.

Saturday, we left early at 6 a.m. to see the Utah college football team play. The game started at 1:30 p.m. But there was a tailgate before with beer and chili.

The next day, Margot brought us to a trail in Mill Creek Canyon. It had snowed some, so the North-facing side of the canyon was snow-covered. We did a 3-mile out and back on a trail we shared with many dog-owning joggers.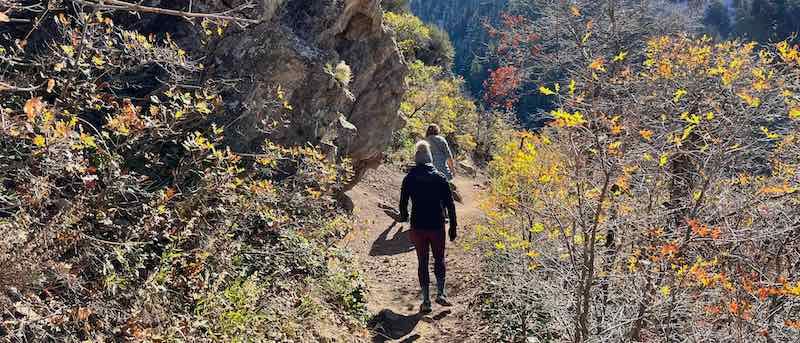 In the afternoon, we introduced Brendan to the game of pickleball. Margot already got a taste of it when she visited us last Summer.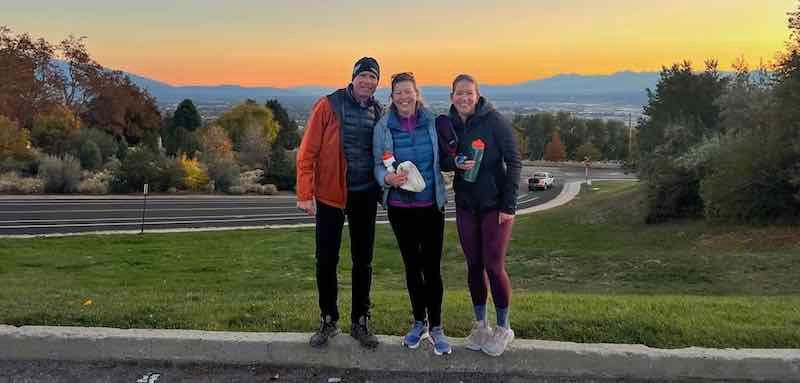 Paula and I had purchased a pickleball set at the local Walmart. We went to a gorgeously located park with 6 pickleball courts, and we played for about two hours. Afterward, we enjoyed the spectacular view of the sunset-lit city and mountain slopes.
This week on Veloviewer